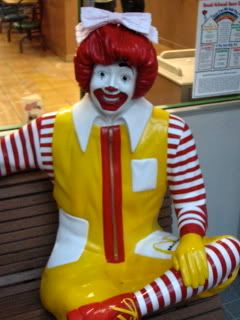 It was actually more of a Philly/MD/VA meetup held in DC lol.

My camera kept dying throughout the day, but I did get some pretty interesting shots.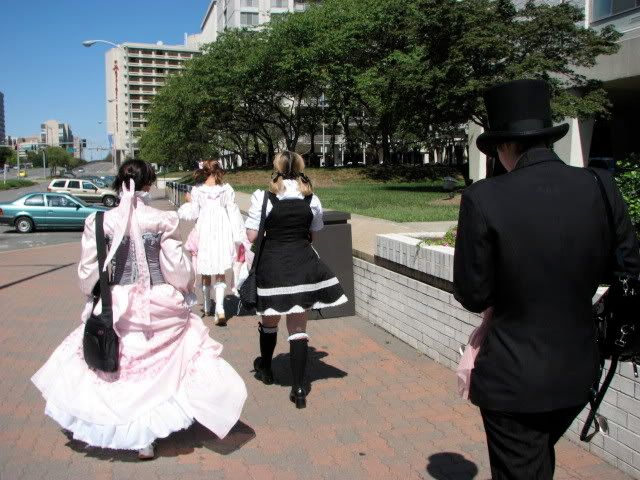 The T-mode group heading over to the Metro. It was pretty breezy.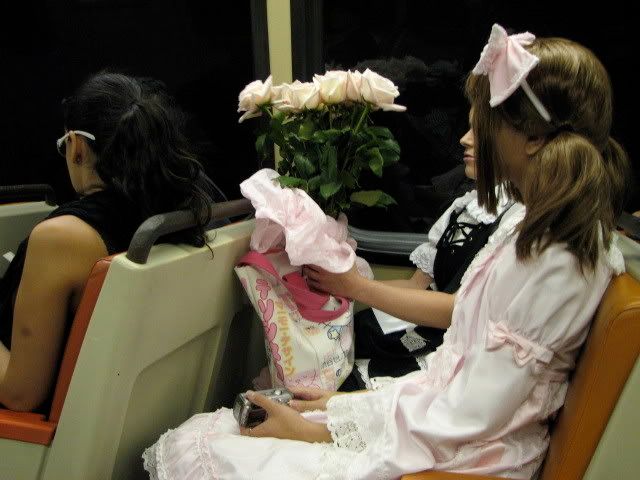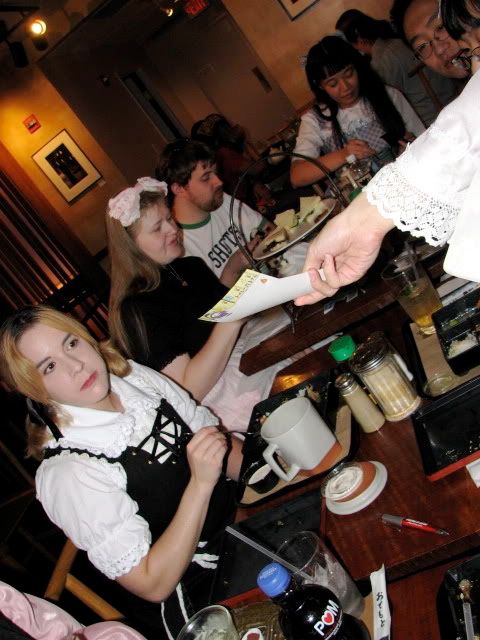 Later the MD & VA lolitas joined us at Teaism. I would have more from lunch but the lighting in there was terrible.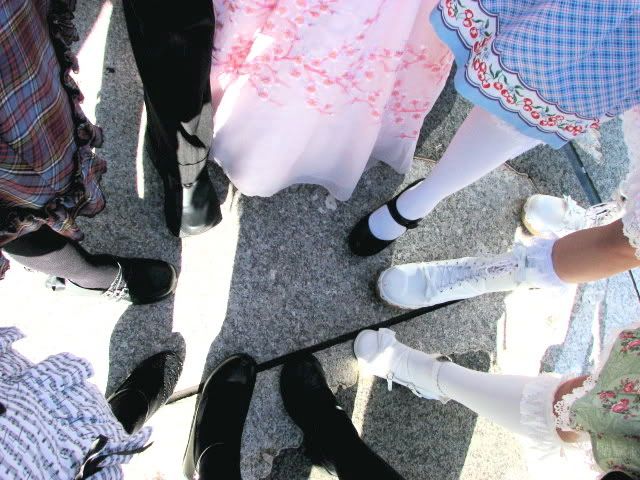 Shoeesss.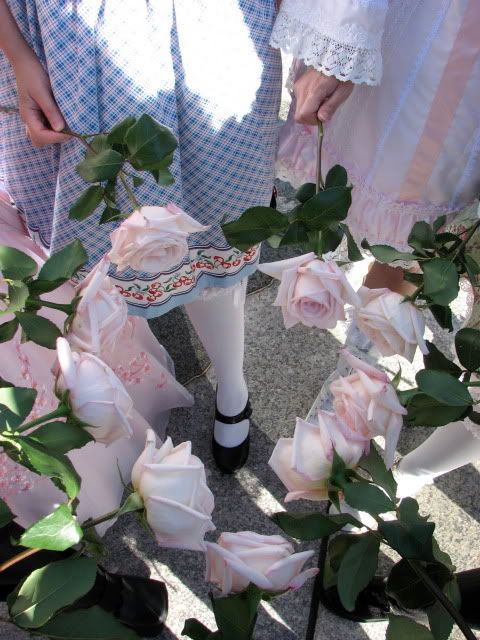 And a rose shot. Originality ftw? :D The roses were a thank you from
thislonlyflower for meetup attendees.


We then wandered over to the Sculpture Garden.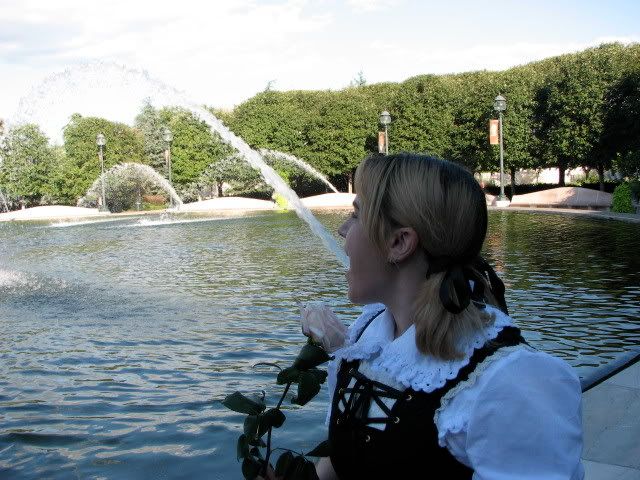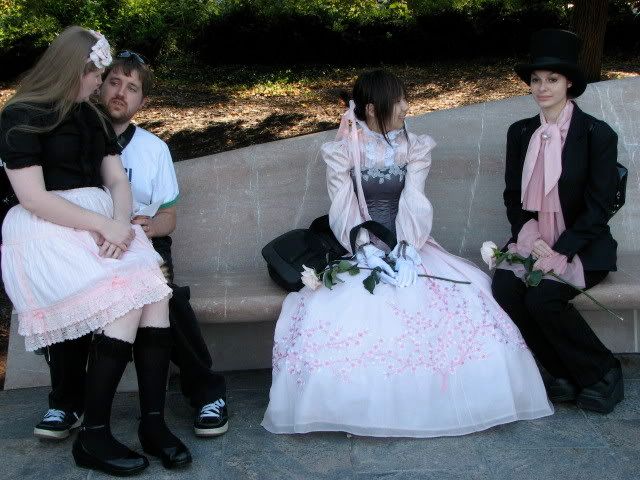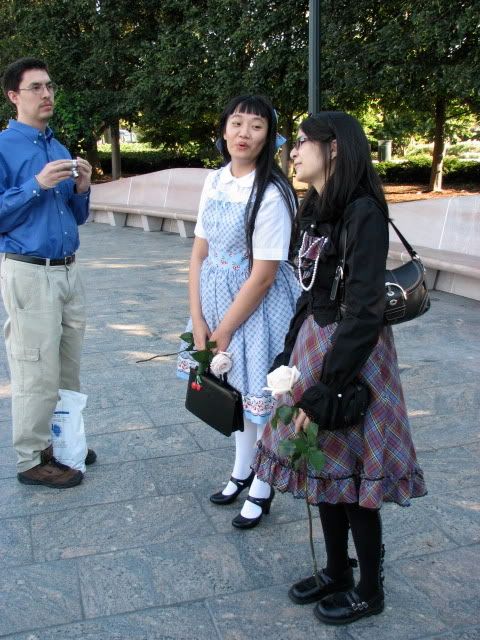 But they seemed to be closing the area so we headed across the street to a fancy looking building.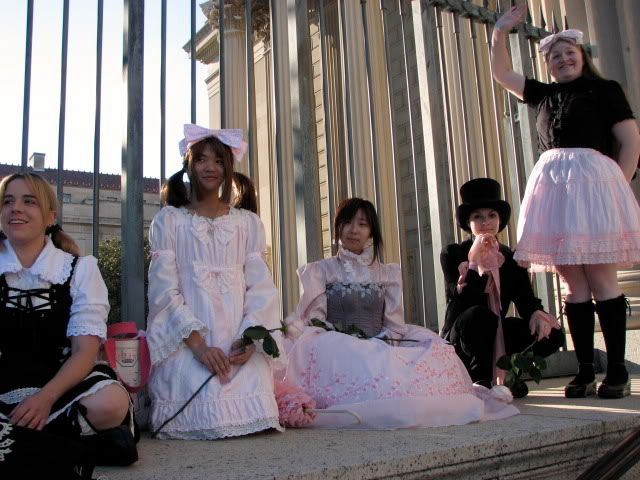 The black & pink group likes ledges.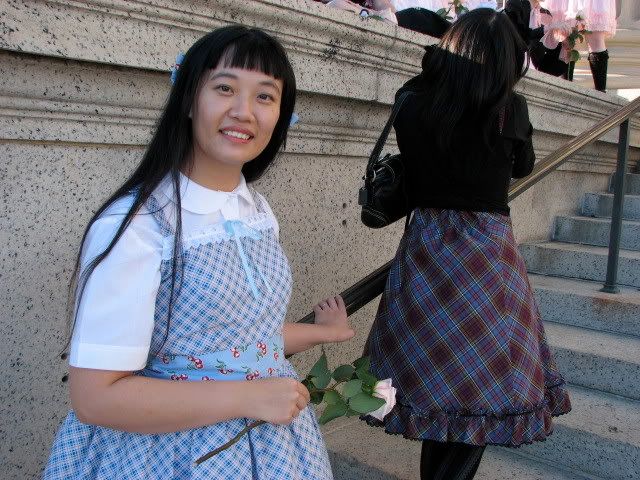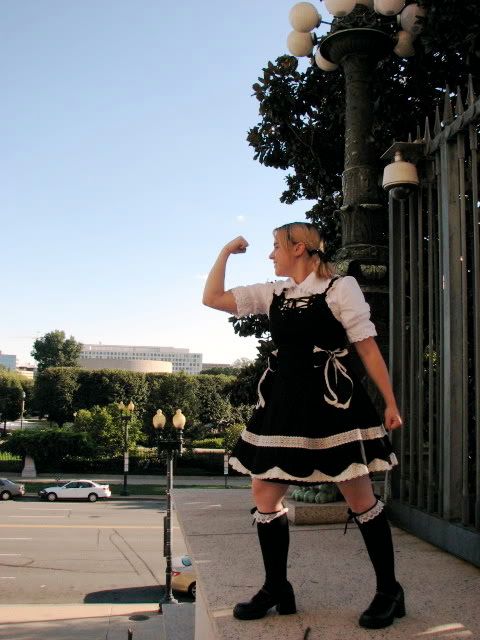 kiyomi23, claiming the ledge. We didn't have much competition for it though.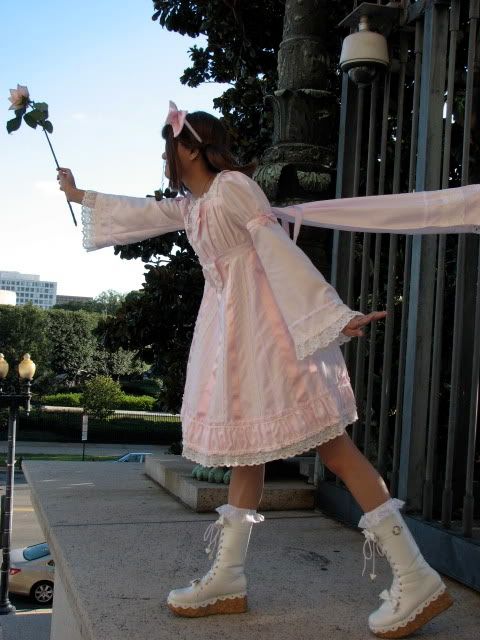 SUUPA RORI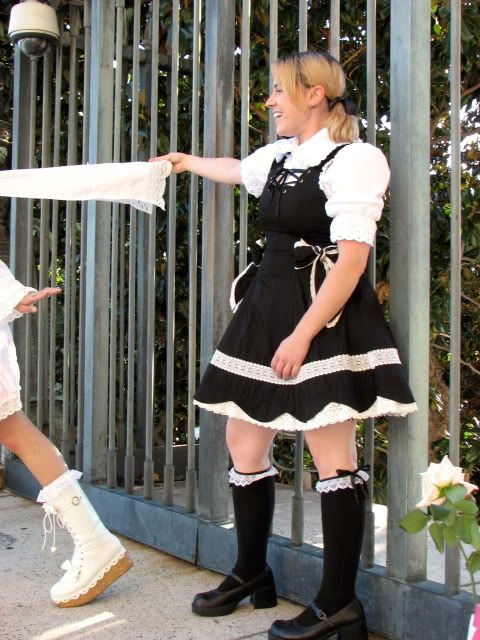 The real source of her power...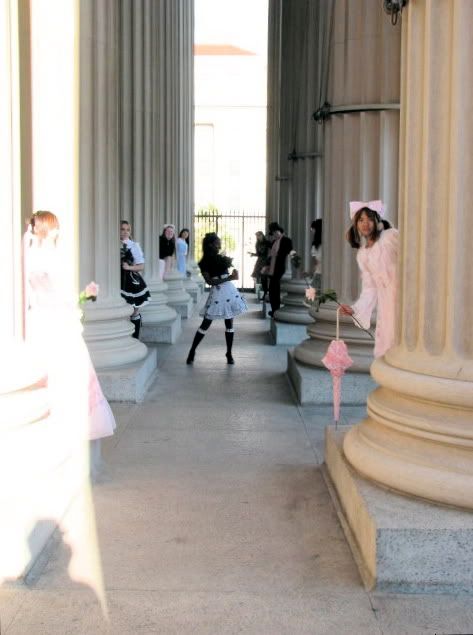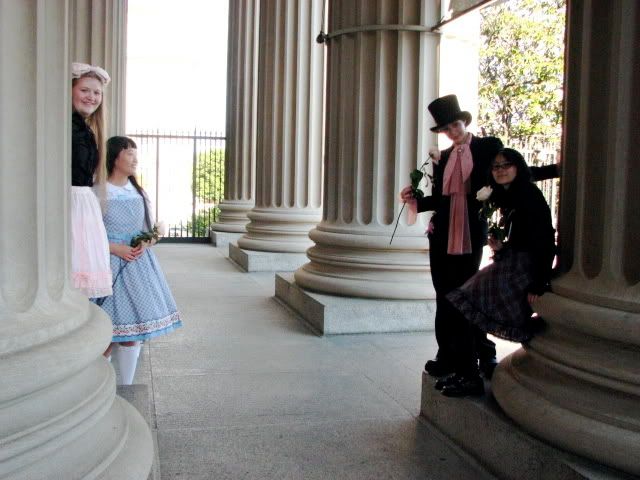 At the top of the building's giant staircase, we found the gates of hell.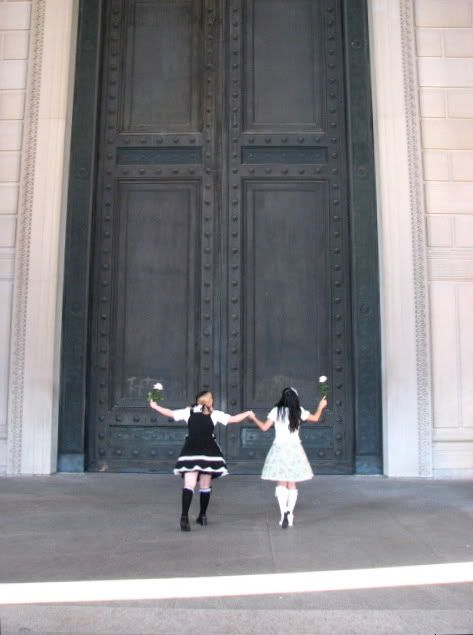 kiyomi23 &
tian_shi want in.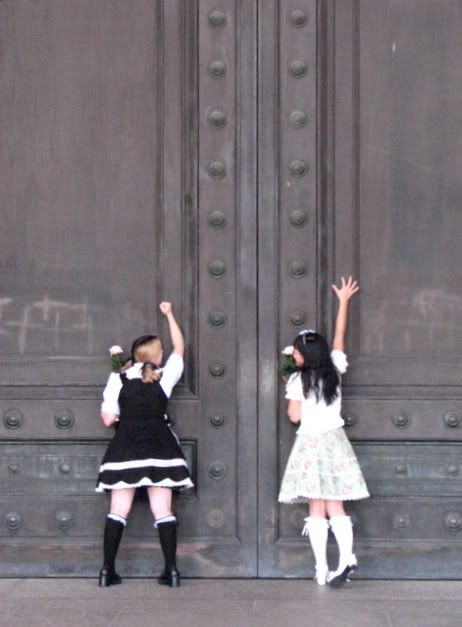 But they are denied entrance.

Surprisingly, we only had 2 people ask us if we were in a play. So here goes the play, starring
envirion &
dear_mo. A tale of love and betrayal.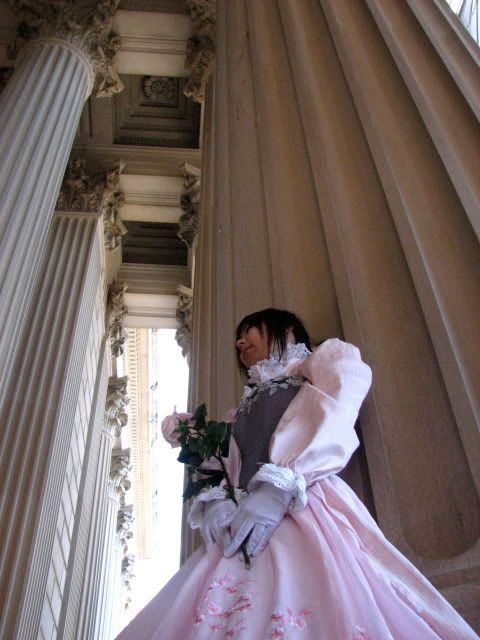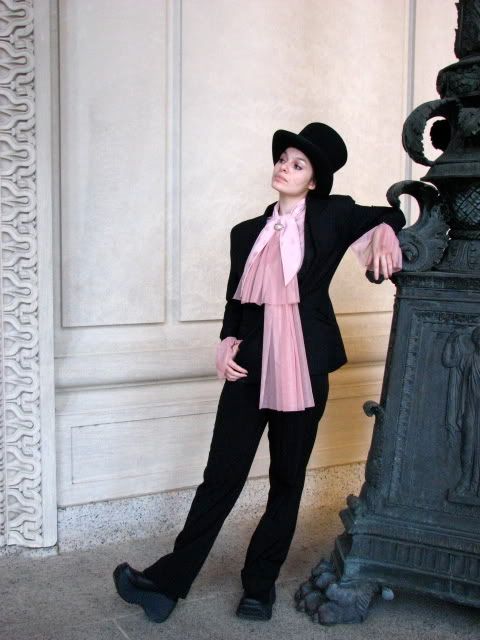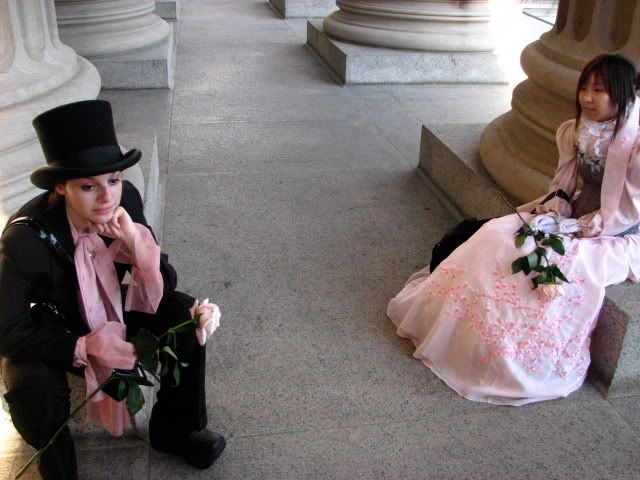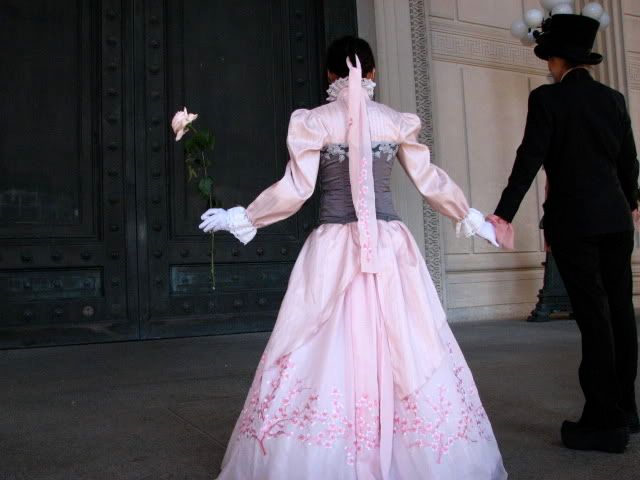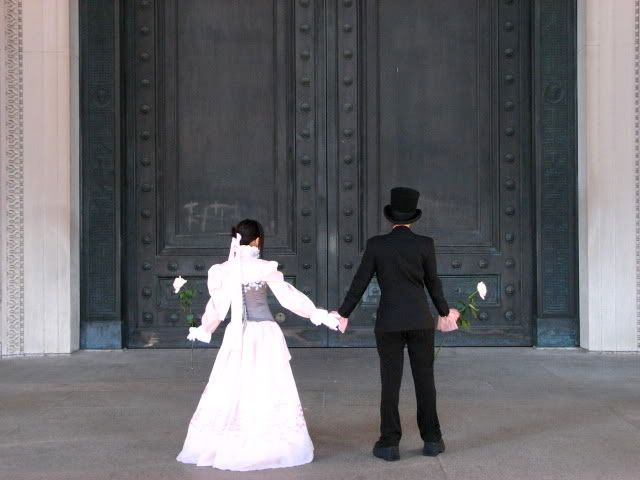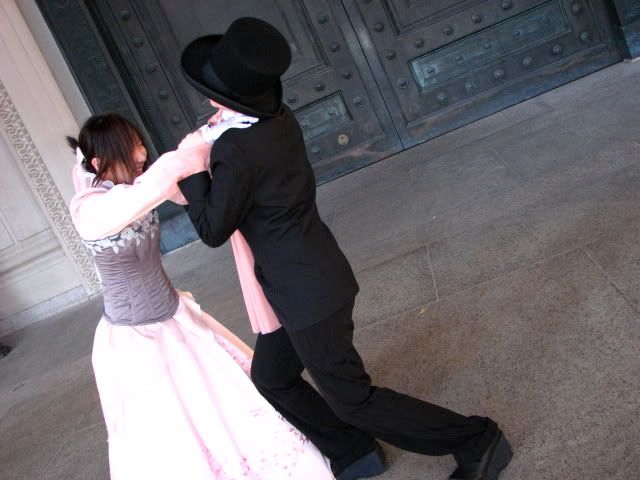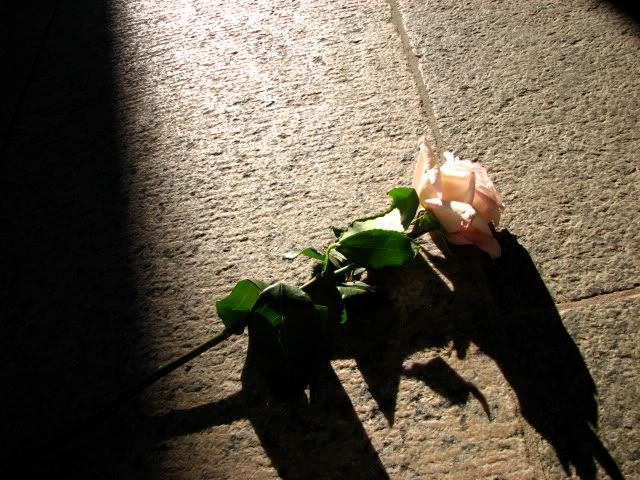 -fin.-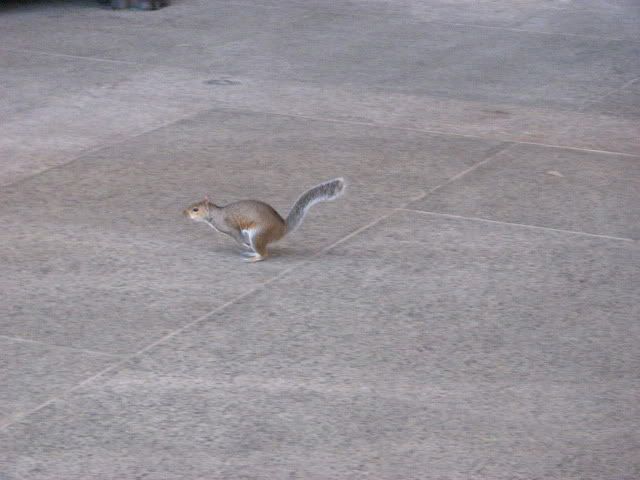 We had an additional visitor, but he wasn't interested in staying and chatting.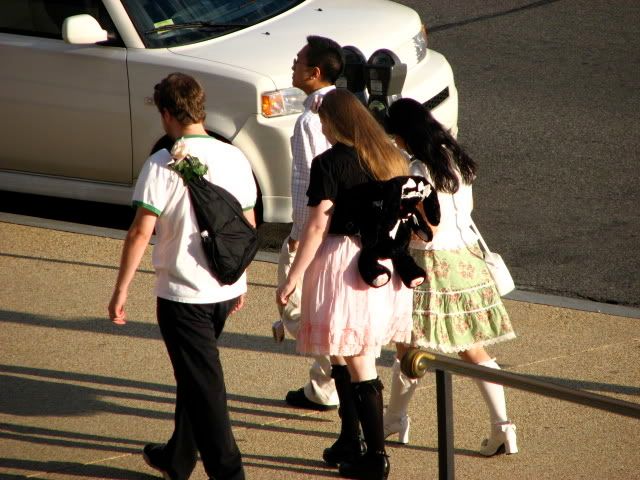 Apparently everything in DC closes early, so we said goodbye to the MD crew.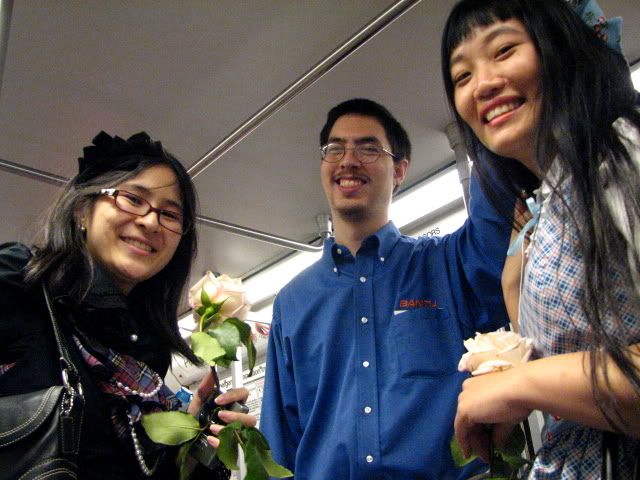 And the VA ppl.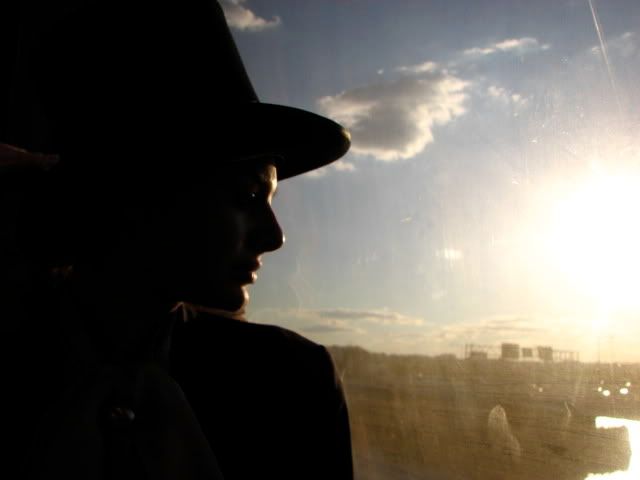 But on our way back walking through the Crystal City station, we found a mural. It became storybook tiem.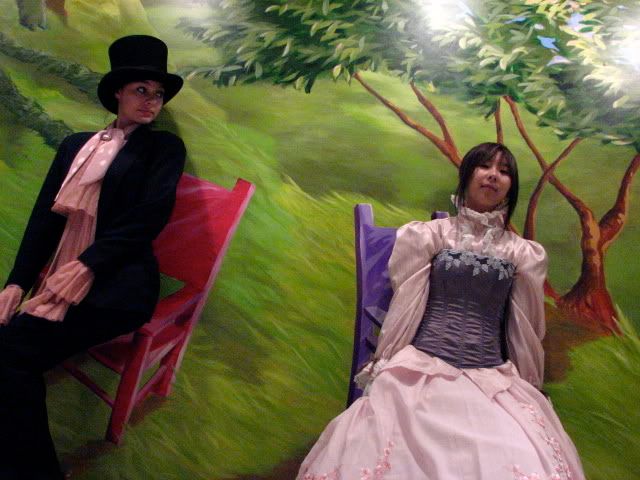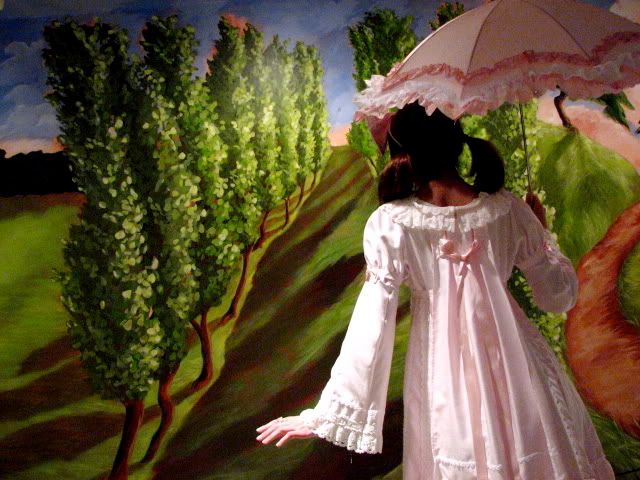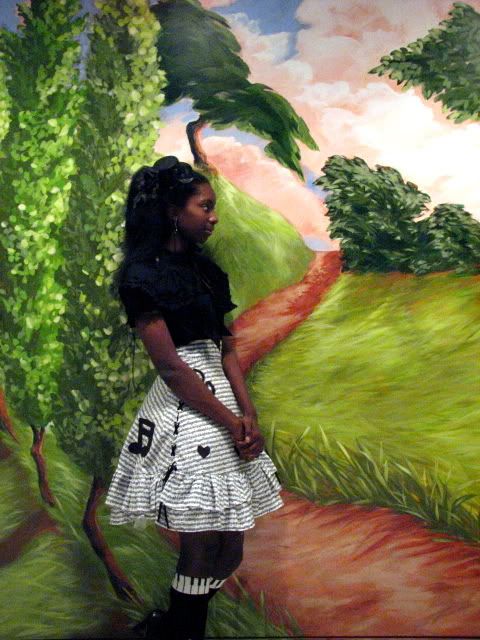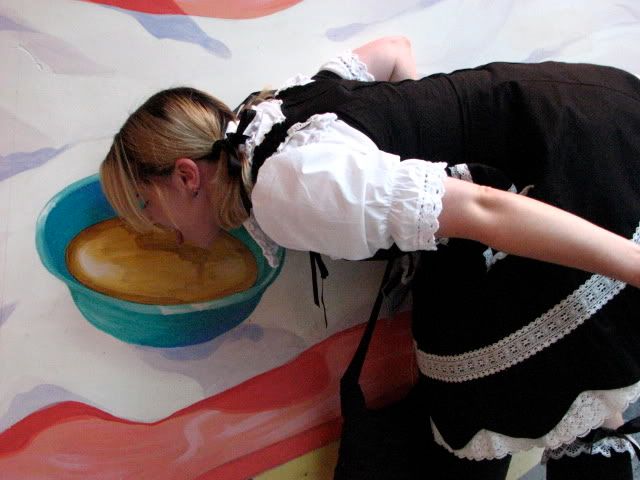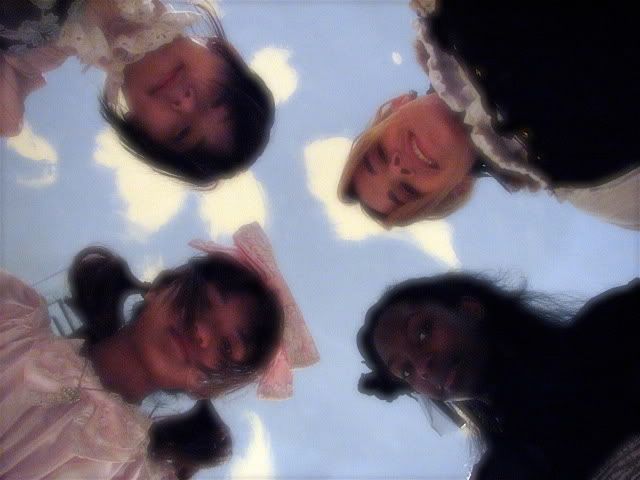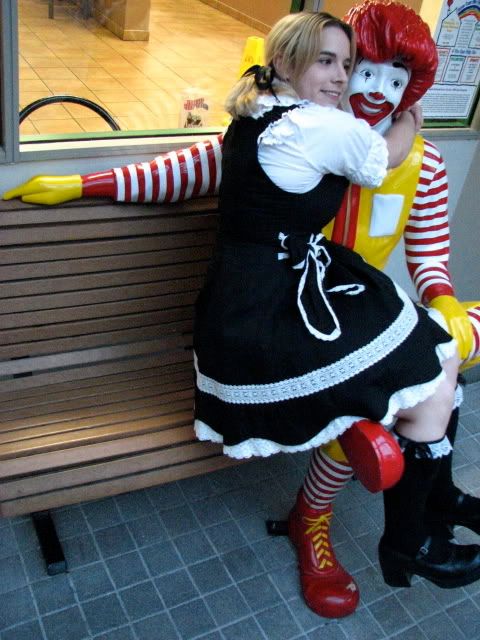 Lisa found one of her old friends.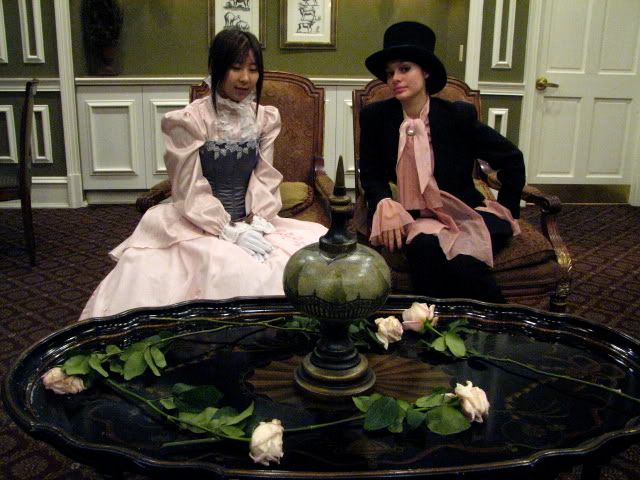 Sitting in the "Victorian Room" at
thislonlyflower's apartment.

And then my batteries died for good.

Outfit rundowns: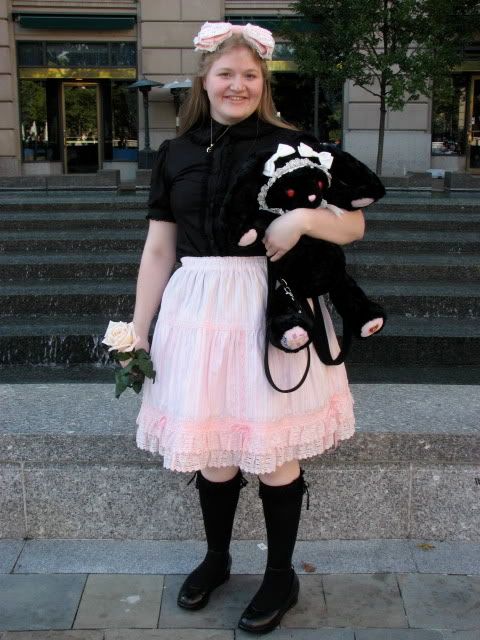 puregirlblue
Headdress, skirt, & socks: BTSSB
Blouse: Metamorphose
Shoes: Hot Topic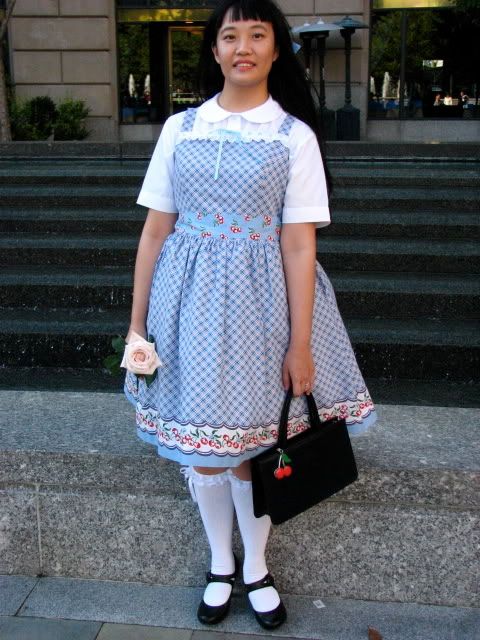 edgevictim
JSK & B
Bow: Homemade
Blouse: French Toast
Socks: egl Valentine's swap gift
Shoes: Metro 7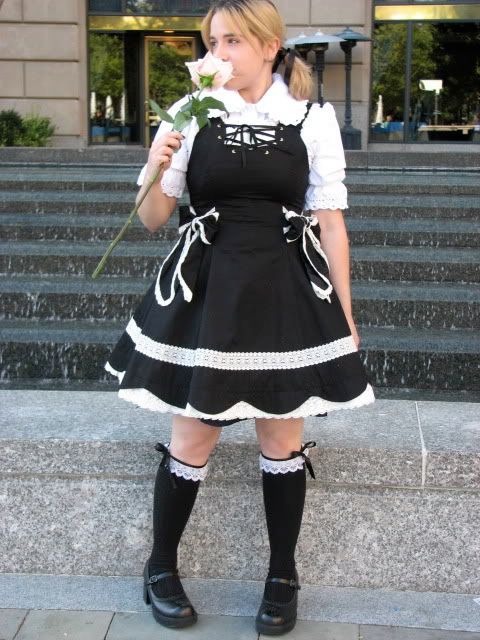 kiyomi23
Blouse: F&F
JSK: BTSSB
Socks: Off brand
Shoes: Thrift store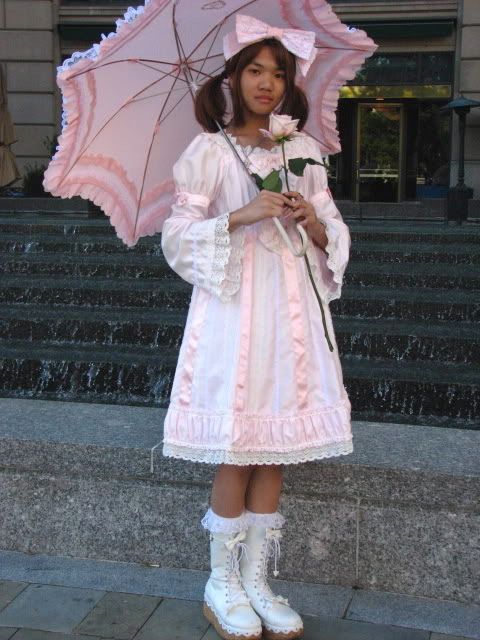 thislonlyflower
Head bow: Homemade
OP & parasol: BTSSB
Socks: ebay
Shoes: Montreal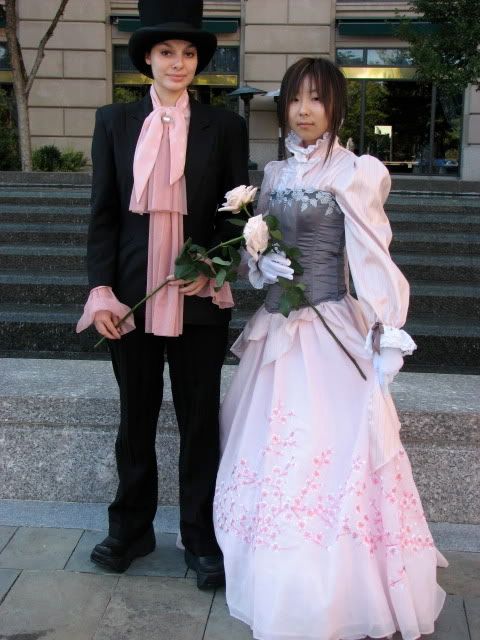 dear_mo
Blouse & Vest/Jacket: thrift store (trim added by her)
Pants: Ross
Hat: Trash & Vaudeville
Coffin purse: off brand
Shoes: ebay


envirion
Blouse: Handmade
Grey corset: thrift store
Skirt: Chima from a Korean Hanbok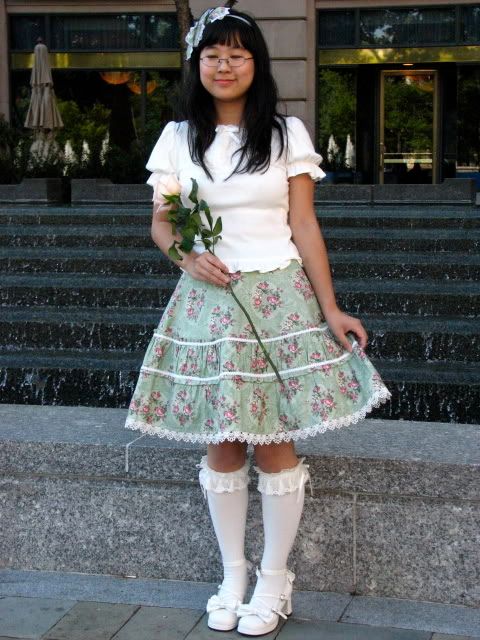 tian_shi
Skirt & Bow: Homemade
Cutsew & Socks: Innocent World
Shoes: Angelic Pretty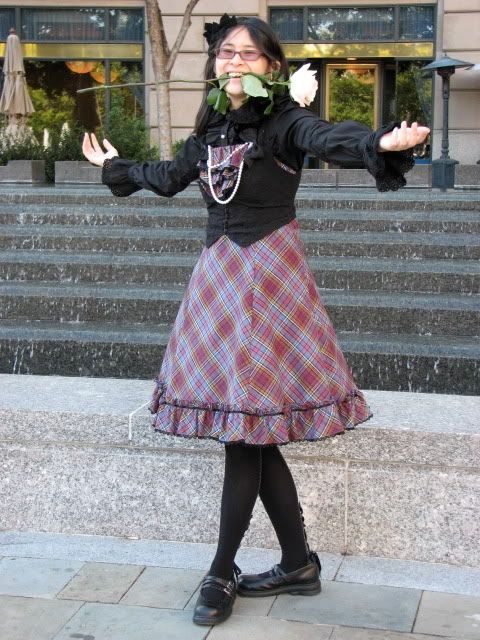 kalisafish
JSK: HeartE
Vest: H&M
Blouse & Bow: Victorian Maiden
Socks: Jane Marple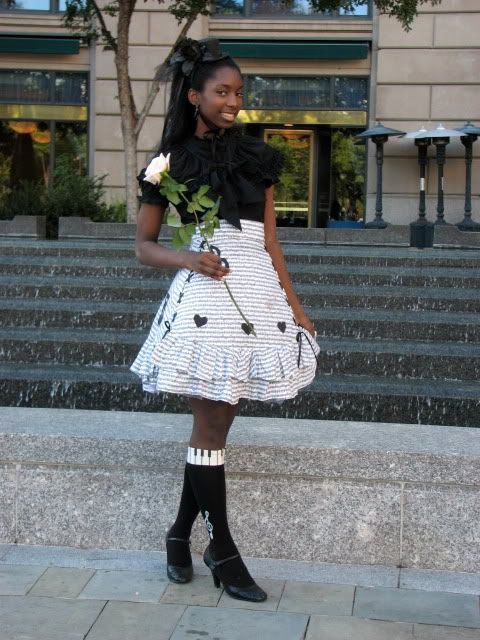 misadesu
Blouse: forever 21
Skirt: Homemade
Capelet: Metamorphose
Socks:
osakaneko_sales
Shoes: Macy*s
Hat: borrowed from
thislonlyflower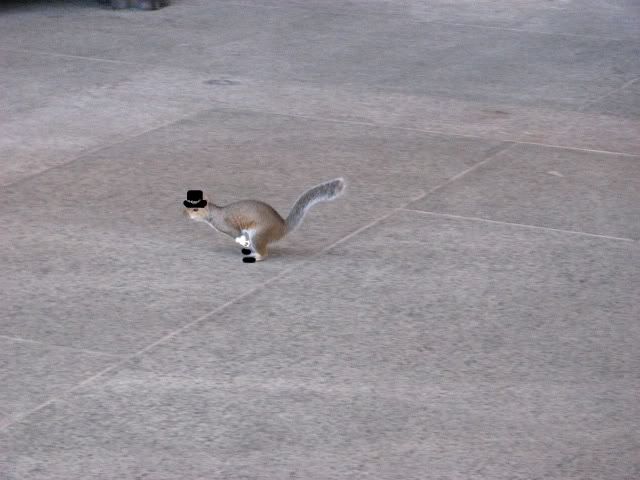 Mr. Chippy/[LJ unknown, post and lemme know if you have one dude]

Hat: AatP
Gloves: Handmade
Shoes: Men's Warehouse