Eight of us lolis from Edinburgh and the surrounding area met up for the day, and of course, we have photographic evidence of what happened...



Firstly, there is a lack of pictures of some of the attendees (especially
yuka02
, if anyone has more pics of her please post them!), as cameras were acting up and batteries were running down :C. But there's still plenty here.
The attendees of the meet were myself,
veilchenblau
,
a_solitary_soul
,
glass_bubblegum
,
squishy_plushie
,
skyblue_pink
,
yuka02
, and
malice_in_alice
. We started off by visiting the museum, which mostly amounted to laughing at the crazy expressions on the stuffed animals rather than any serious attempts at learning. Some pictures were also snapped: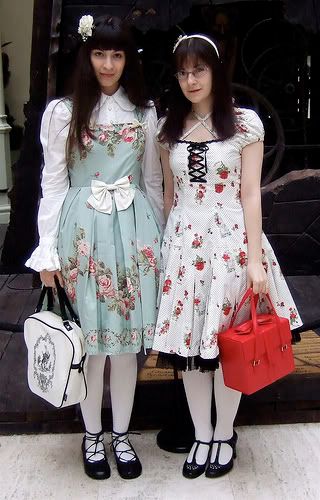 glass_bubblegum
and
a_solitary_soul
, both looking beautiful in classic lolita.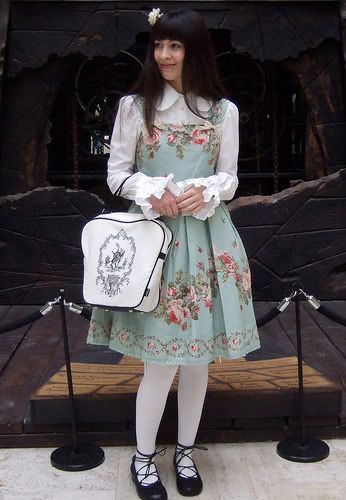 a_solitary_soul
on her own -
glass_bubblegum
is back behind the camera :P!
Meeeee. Also my shoes are red, not orange, despite how they appear in the photo D:.
squishy_plushie
's gothic lolita ensemble went really well with the creepy clock we were posing infront of!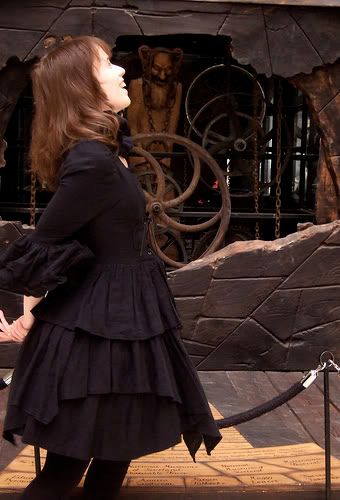 I can't remember what she was laughing at.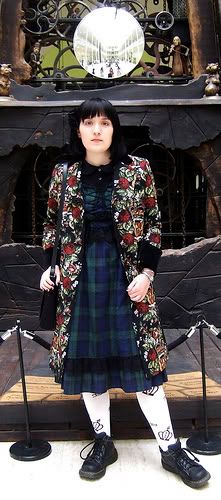 veilchenblau
and her fantastic Jane Marple coat...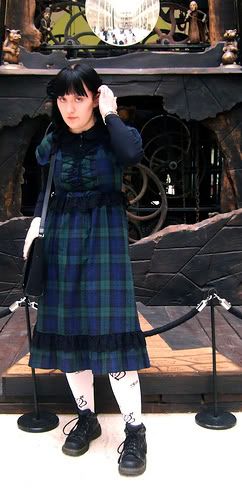 ...worn over a Miho Matsuda dress.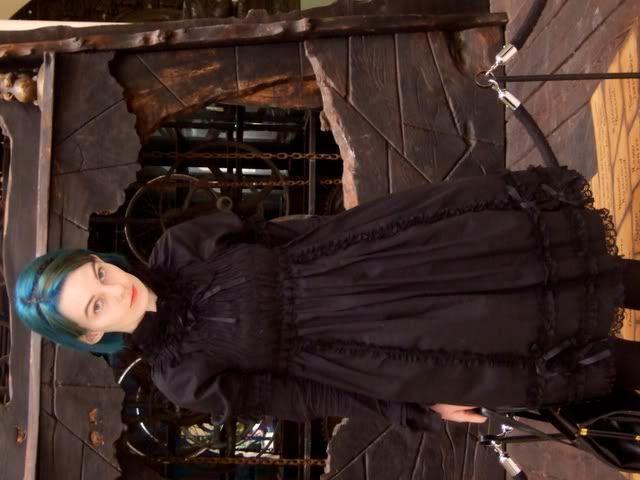 No idea why this pic is so big.
skyblue_pink
rocking the Meta luckypack dress.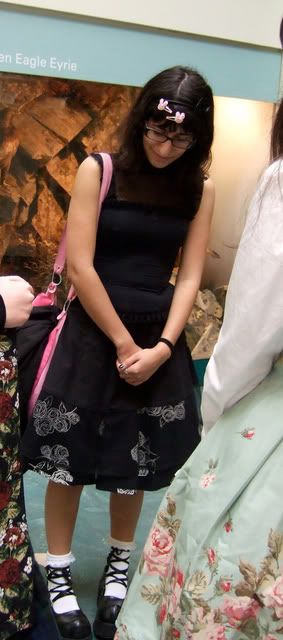 malice_in_alice
looking cute. I especially love her shoes.
The museum has fountains with really cool fish in them. No pics of the fish but you can see my reaction...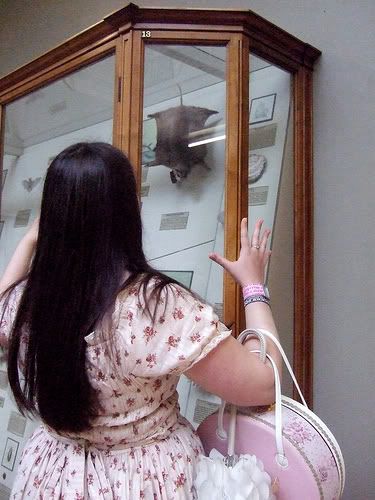 ...but it was nothing compared to my delight when I found a SQUIRREL :D! Not just any squirrel either, this bastard FLIES. Or would have if it wasn't dead.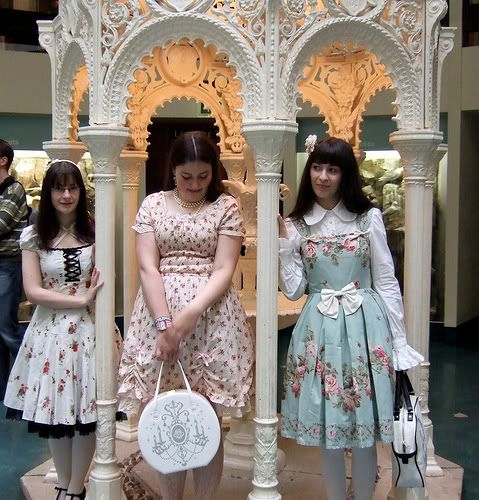 This awesome gazebo thing was in the stuffed animal section. Us floral print-wearing lolis went and hung out in it :P.
We then headed to Harvey Nicholes for lunch, and en route we stoppped off at Forbidden Planet, to say hi to
claralolichan
, who was unable to attend the meetup due to work:
She was still wearing loli tho, even there :).
Unfortunatly. the restaurant was utterly packed, and the rather rude staff told us it would be for quite some time. So we headed to the more downmarket but still tasty TGI Fridays.
veilchenblau
and
a_solitary_soul
each had one of these monster cocktails. They even had Oreo cookies in them :o!
Long cocktail is looooong.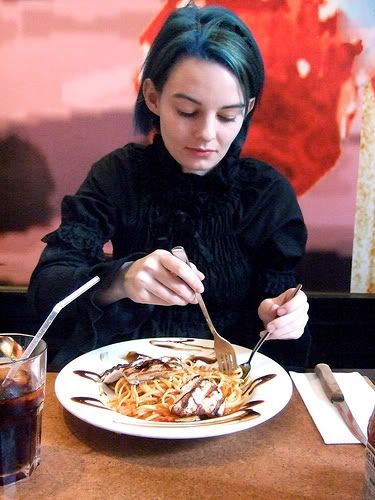 skyblue_pink
and her lovely blue hair, along with her dinner.
Later, she also had some soup.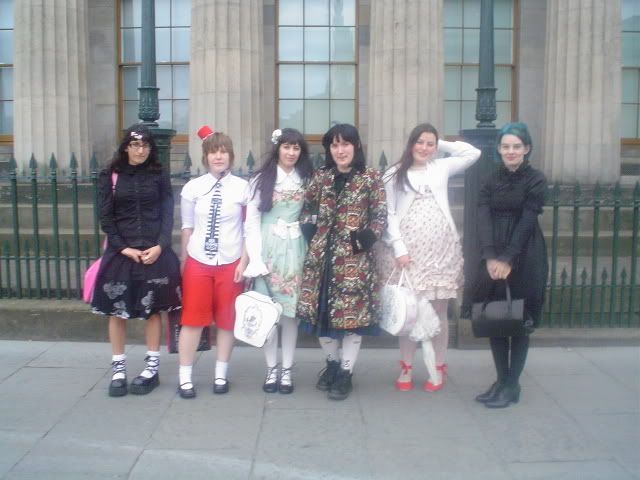 Finally, my camera's blurry attempt at a group shot, sadly not taken until after
squishy_plushie
had gone home. Outfit rundowns, from L-R:
Victoria (
malice_in_alice
):
Blouse - Off-brand
Corset: ?
Skirt: H&M
Bag: Hello Kitty
Shoes: Demonia
Erin (
yuka02
):
Tie: Sexpot Revenge
Blouse: Off-brand
Kodona shorts and mini top hat: homemade :D!
Katharine (
a_solitary_soul
)
Corsage: Victorian Maiden
Blouse: Mary Magdalene
JSK: Mary Magdalene
Bag: Emily Temple Cute
Shoes: Innocent World
Socks: Innocent World
Jacquelyn (
veilchenblau
):
Coat: Jane Marple
Dress: Miho Matsuda
Cutsew: Emily Temple Cute (?)
Socks and bag: Innocent World
Shoes: Doc Marten
Kirsten (
kvlt_kitty
):
Cardi: H&M
Dress: Innocent World
Bag and parasol: Baby, the Stars Shine Bright
Shoes: Gola
Jewelery: Claire's Accessories
Tina (
skyblue_pink
):
Dress: Meta
Blouse: ?
Shoes: H&M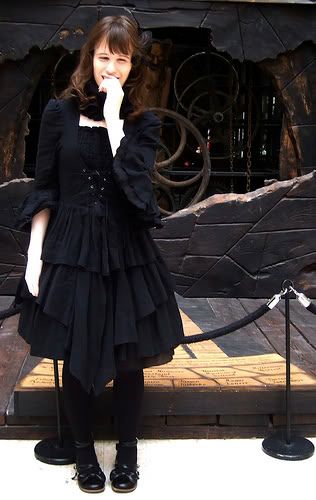 Vicky (
squishy_plushie
):
Hairclip: ?
Dress: Atelier Boz
Shoes: Angelic Pretty.
Ailsa (
glass_bubblegum

)

One-piece: Mary Magdalene

Bolero: Baby The Stars Shine Bright

Bag: Emily Temple Cute

Hairband: Innocent World

Socks: Alice and the Pirates

Shoes: Kurt Geiger


Crossposted to
uk_lolitas.