Hi everyone!

I needed a present for my friend who likes to wear punk lolita so I made her a punky bear bag!

First I want to say that this was obviously a very simple design and I wasn't going for super aweomse impress factor or anything. It was only a one night project. I think it took me about four hours total to figure out the design and pattern pieces and then the actual construction. So anyway please go easy on me!
The original inspiration was a simpler bunny bear lolita backpack/purse but after making it I didn't have time to make the bunny hood :( So sorry you'll just have to handle the bear aspect (which actually came out looking like a weasel for some reason . .)
Any suggestion on styling or detailing are very welcome but please be gentle with general CC!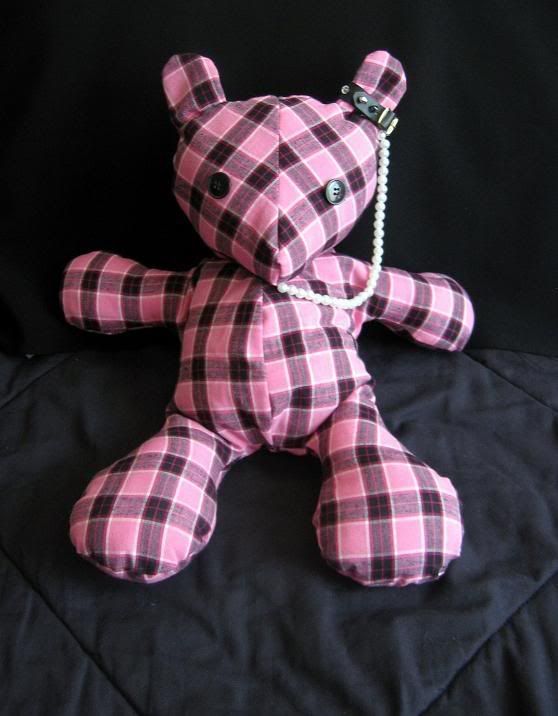 I was originally going to put a grommet through his ear like a piercing but the ears were too weak and they flopped when I tried it so I made that little collar and put gems on it instead. I also couldn't figure out a way to portray a lip piercing x.x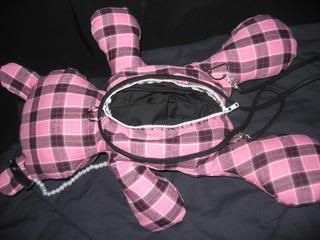 The intent was to put the zipper between the lining and the top of course but I didn't have enough time to figure that process out so that's why it's sewn in the way it is. If I ever make a tutorial for one of these, I would take the time to deduce the process. I also actually did machine stitch the zipper on but I put a hand decorative stitch over it to try and make it look more well . . decorative!
My thoughts for more decorations at this point are as follows
~ a punkly lolita collar to attach the pearls to instead of the mouth
~ a full blown punk lolita outfit
~ a cute little jsk
What are your thoughts?!
Thanks for taking the time to look at this!