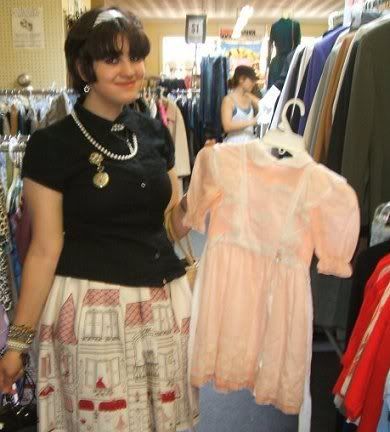 This past weekends a few of the philly lolitas decided to get together on Southstreet for a last minute meetup. After finding each other we decided to head over to The Pink Rose Bakery for food, because I told everyone that they had lunch type stuff there.

This was incorrect, as the lunch type food was scarce and pricey. So we just had some pasteries, becacuse everyone knows that is proper lolita food. XD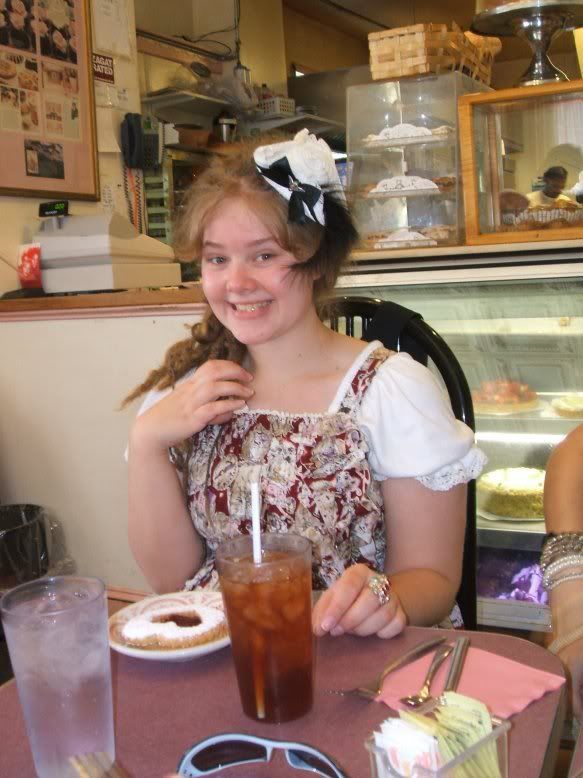 Gini
ginithekiller ordered this really cute heart cookie (that matches her dress XD)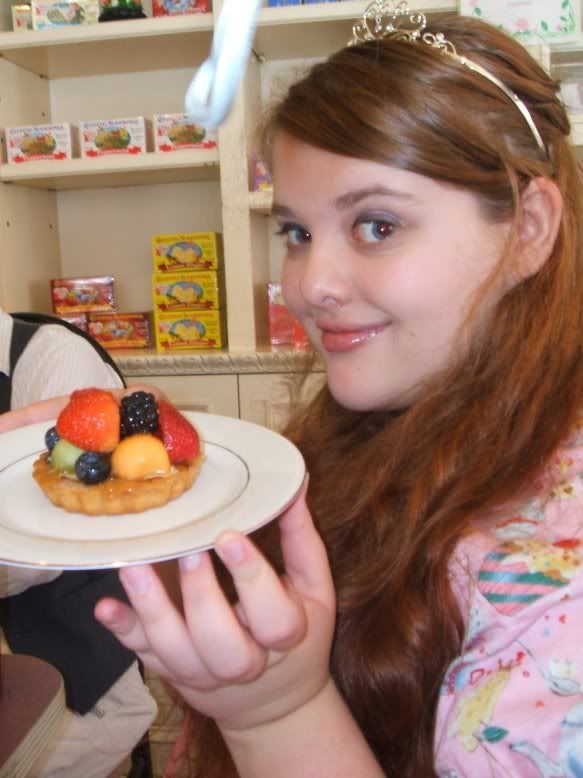 Mary
tropigalia with her tastey fruit tart.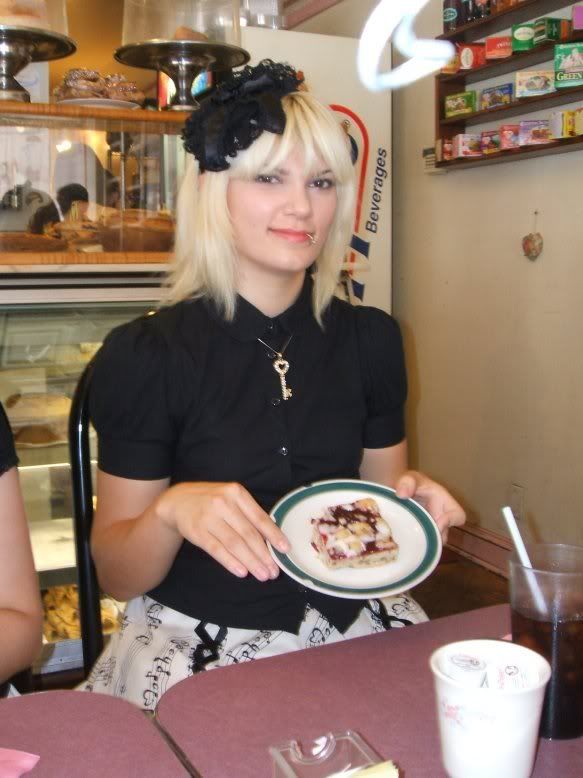 Millie
cupcakecadaver opted for some sort of fruit crumble, it was apparently very yummy.



Kara
yuki_dragon ordered a raspberry almond tart. Her new haircut looks so cute!! I swear everytime I see her lately she has a new haircut, and they are always adorable!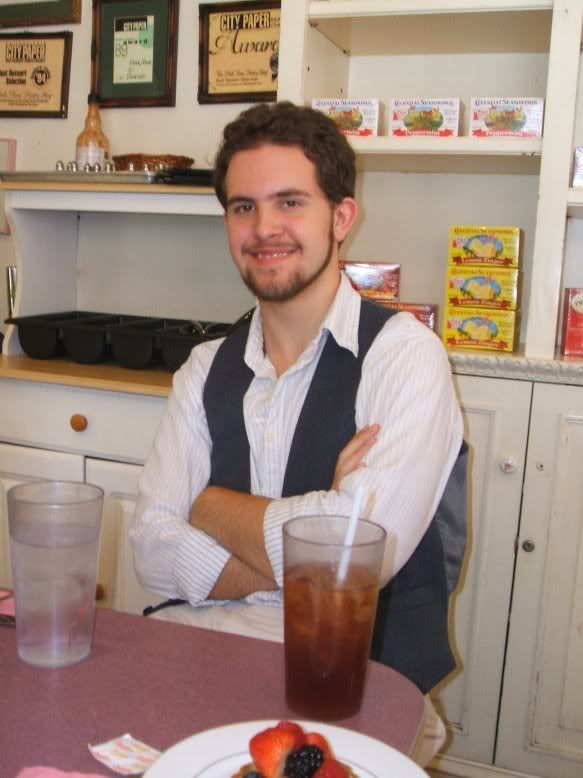 Nick
tharivol000 looking smug at his lack of pastery, he had ordered a grilled cheese.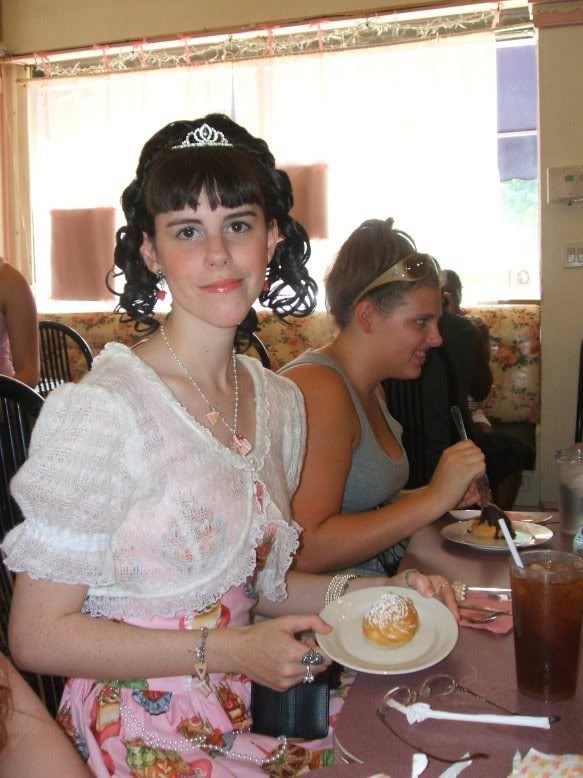 Me, with a cream puff... and a long neck, looking like some crazed goose XD

Pasteries consumed, we left the bakery to do some shopping, stopping first at a nice lace and fabric shop. Millie got some really awsome flur de lies fabric and matching trim (can't wait to see that jsk!). I considered buying some cute white fabric with blue bows printed on it (I passed, I think I'll have to go back and get it), and just bought some lace and buttons.

Then we went thrift store shopping. Kara found a dress we thought might be loliable (is that really a verb???)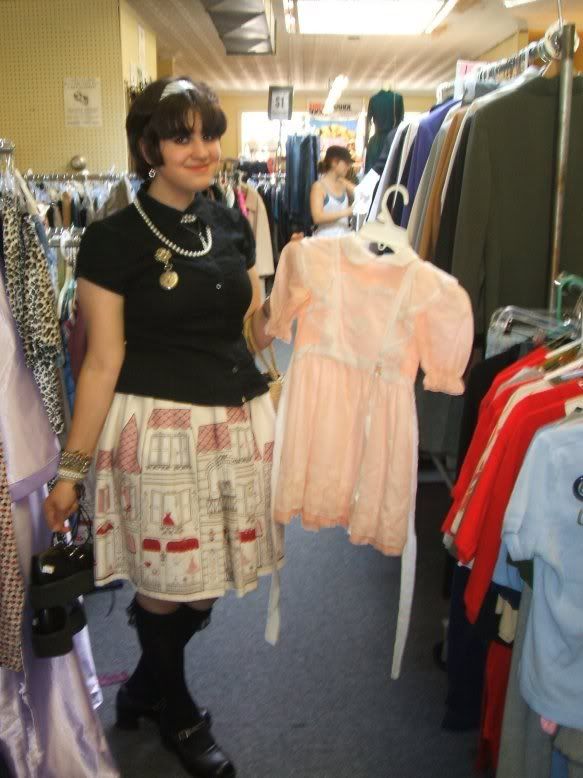 So what do you think EGL??? I mean sure it's a bit small... and short, but a few gussets, a nice ruffle on the bottom of the skirt...

We decided to leave the little girl's dress well alone, Kara picked up a nice pair of shoes, I found a cute blue cardigen with ugly but easily replacable buttons (it matched the vetoed ribbon fabric perfectly... oops >.<), and Millie found a smarmy looking Ken doll.

Johnny Rockets was next, for some burgers.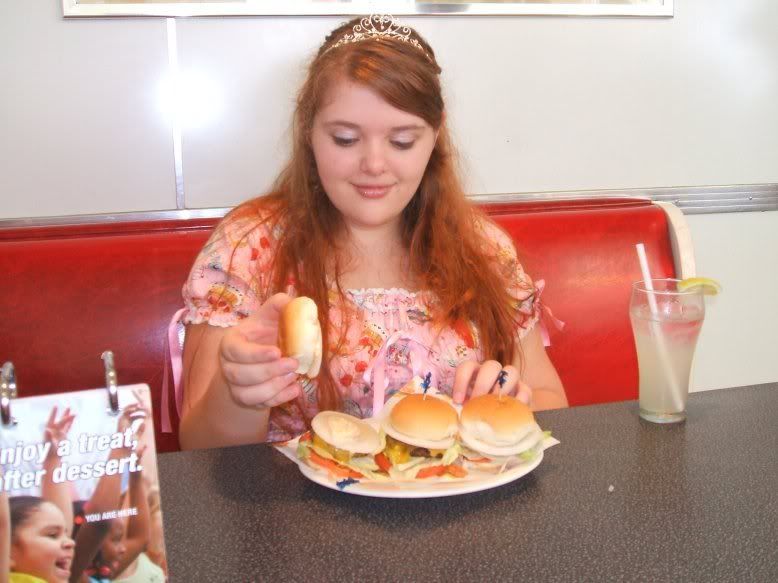 Mary ordered these really cute Mini burgers XD they were so cute and tiny!

Anyway, we did some more shopping, got asked a few times if we were a band, had the usual "oh Harajuku girls right?", and saw Flava Flav!!1

Okay not really Flava Flav, but it was a grizzled looking black man on a bike wearing a plastic viking helmet and a huge clock around his neck. We saw him several times XD

Soon it was picture time!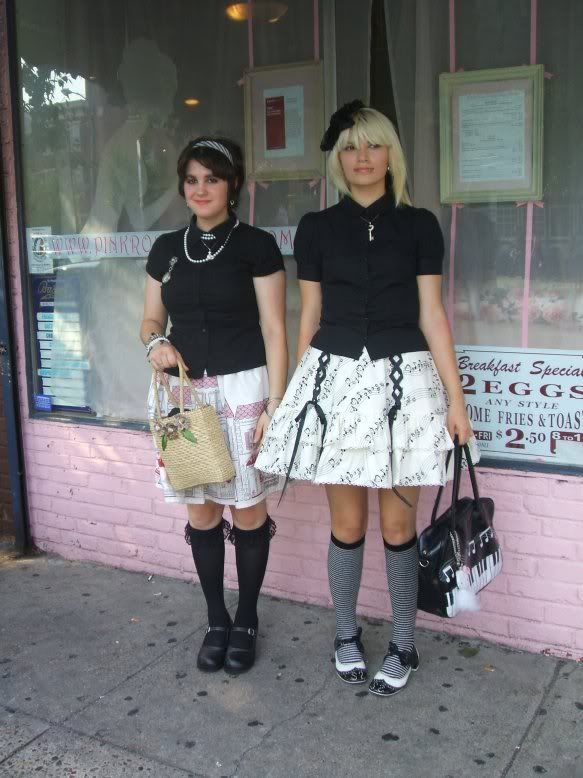 Kara and Millie. While Mary and I had decided to twin, these two did it with out any planning. Kara is wearing and Innocent World skirt, and Millie is wearing a Meta skirt.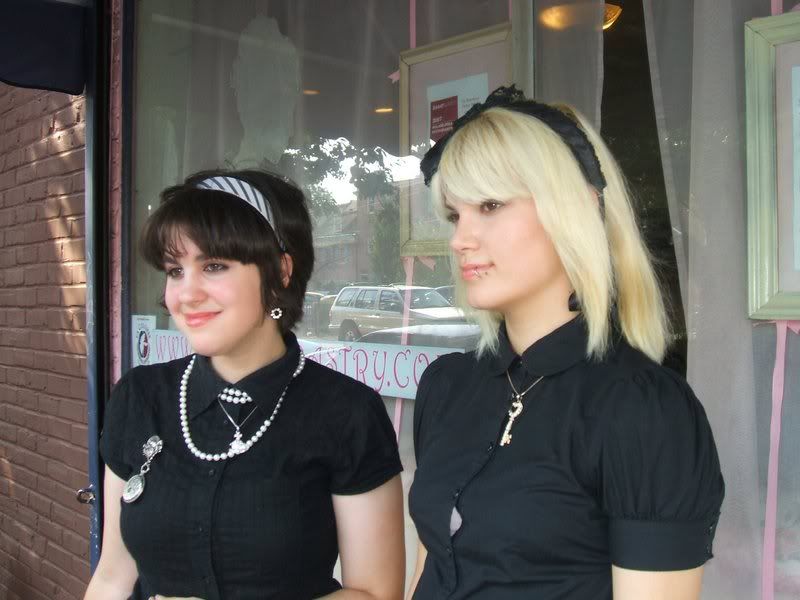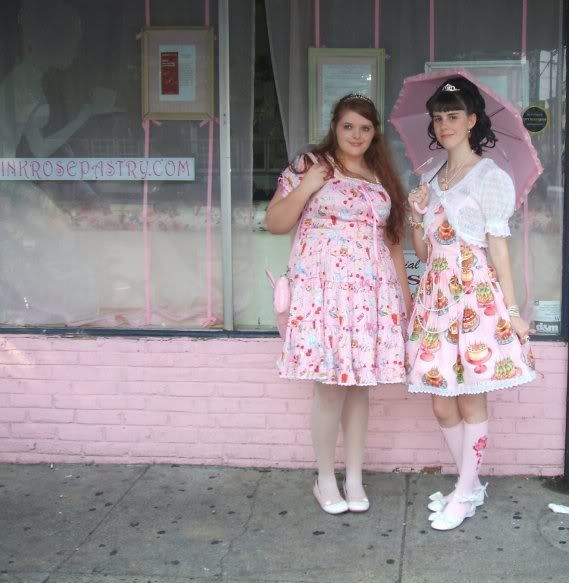 Mary and I, as sweets Hime twins. Mary in Meta, and I am wearing my own design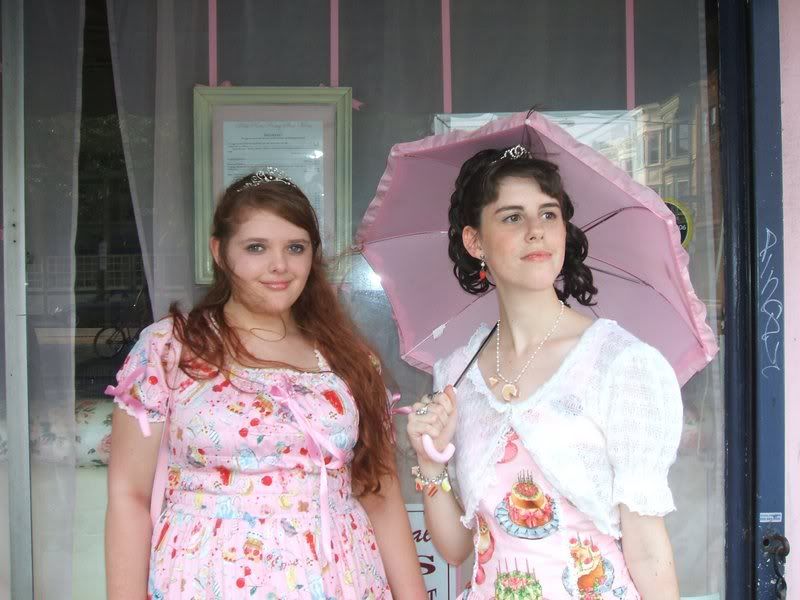 the wind was blowy.



Gini as one of the most adorable pirate lolitas around. I mean blonde dreadlocks ftw!! She is wearing Alice and the Pirates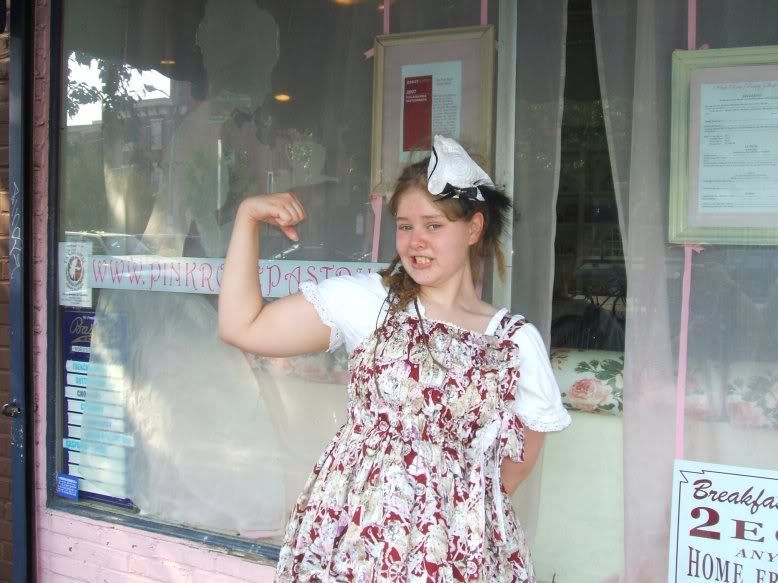 She is a ruthless and cruel pirate.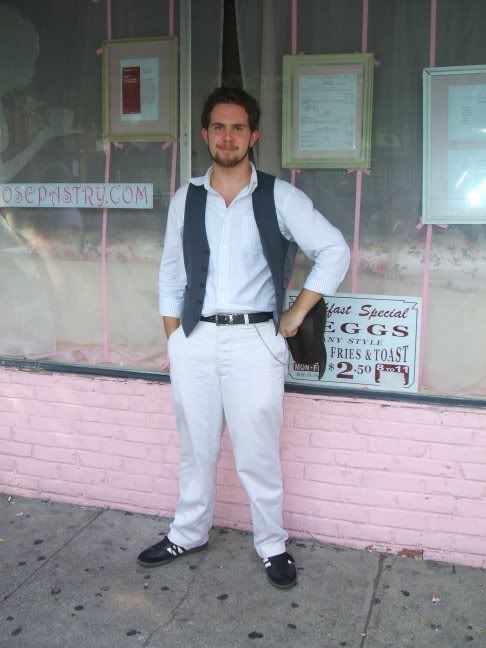 Nick in a sort of casual dandy outfit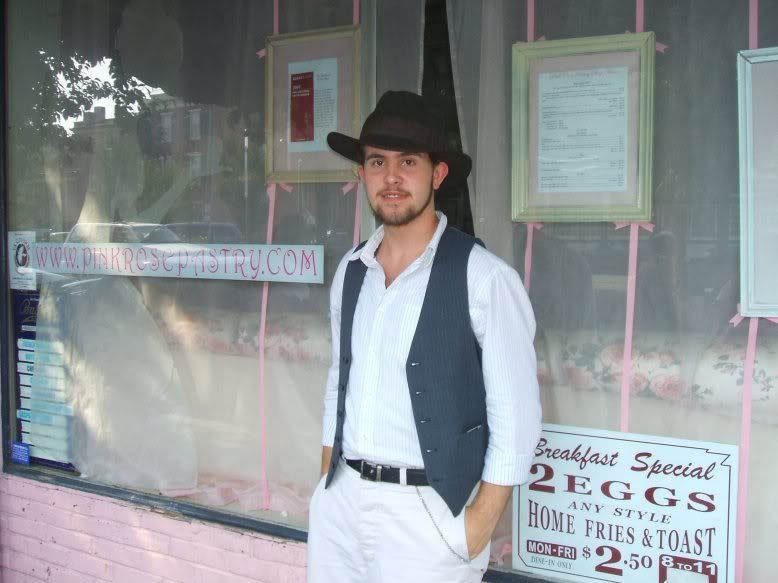 His new hat is not very dandy, but it is rather Indian Jones lol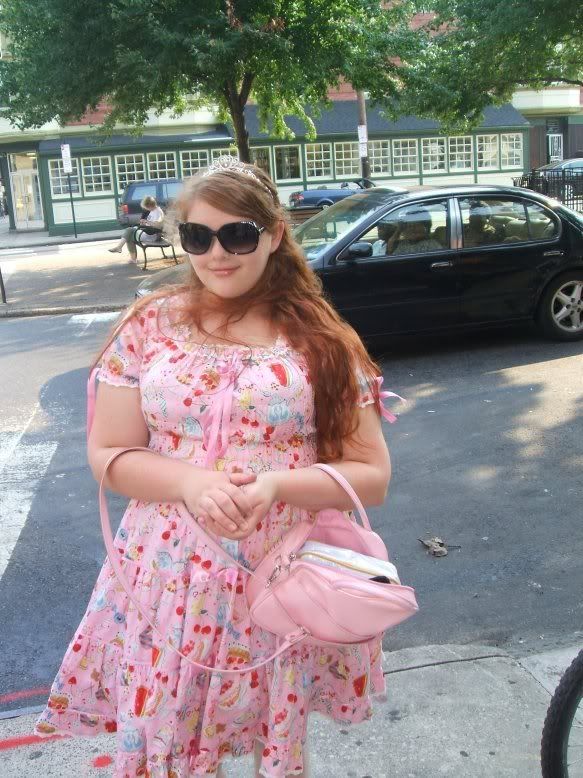 Mary showing us that she is a rockstar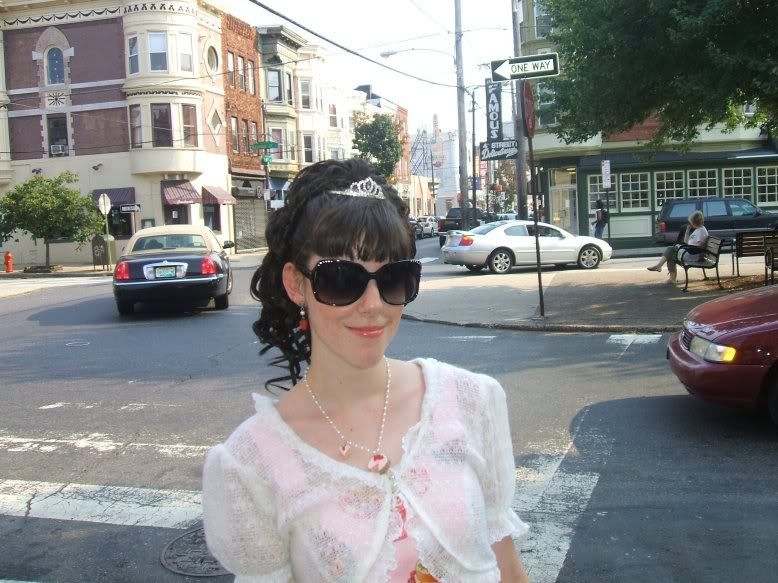 I put these sunglasses on earlyer to show how they would make me look like a bug, but Gini decided that they made me look like Audery Hepburn. XD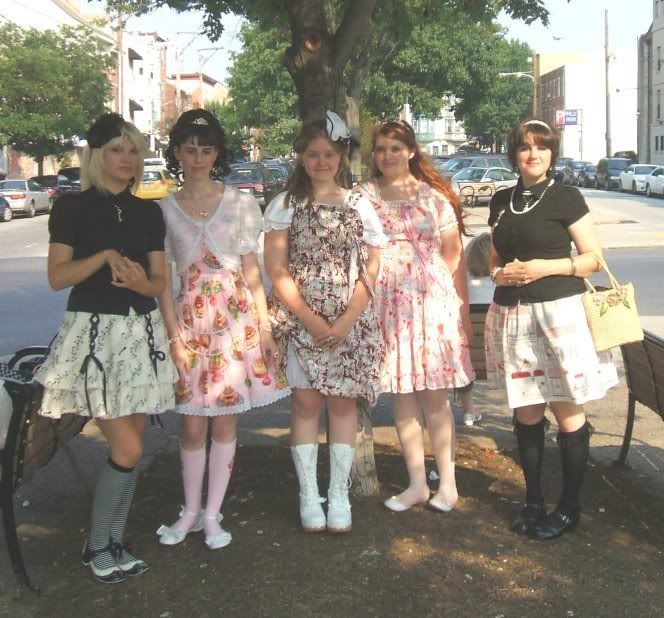 All of us, color coded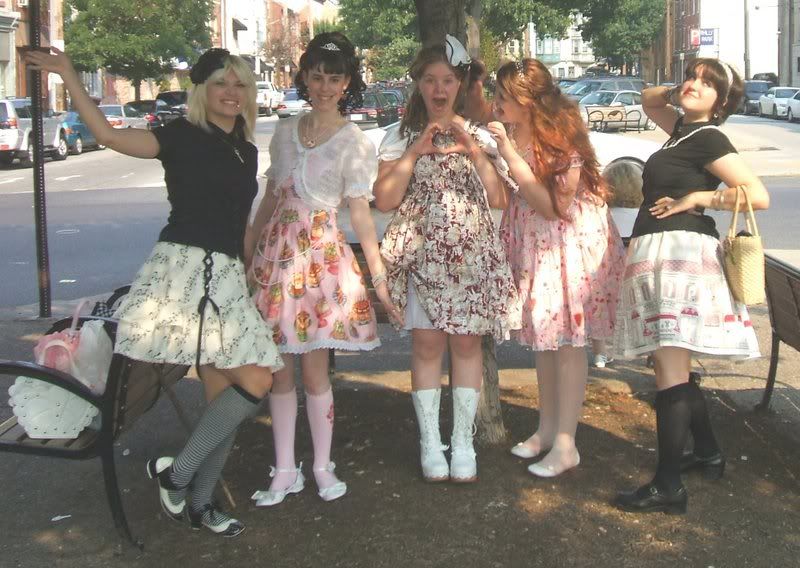 Wacky!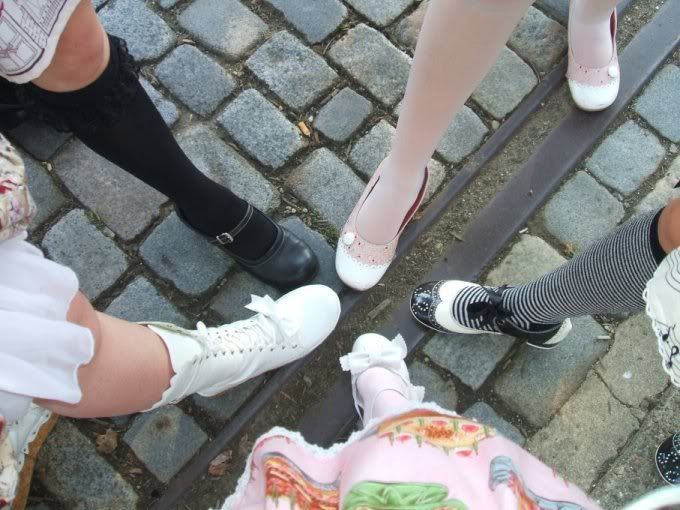 Shoes, from the bottom going counter clockwise. Me, Gini, Kara, Mary, and Millie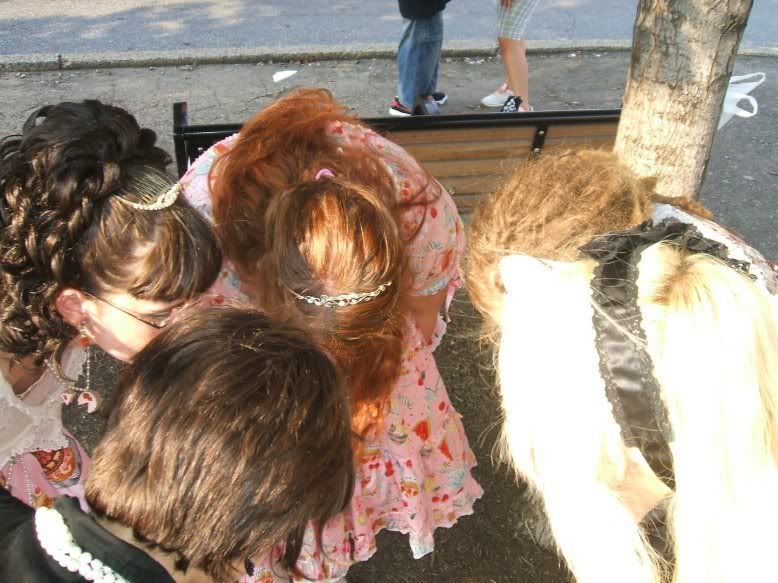 This was an attempt to do a shoe shot, but with our head items. It didn't really work XD