(hopefully) going to try digitally printing a hansel and gretel themed fabric to make into a dress. wanted to share some old idea sketches for it.
first idea sketch- came out a little too cutesy. two top images are unrelated to the house image. one on left was going to be the pebble trail hansel left, embellished with little rhinestones and silver embroidery thread.
witch's stove with bad perspective. final image would have been more detailed, old-fashioned etching style. misshapen lump at bottom right should've been witch's shoe.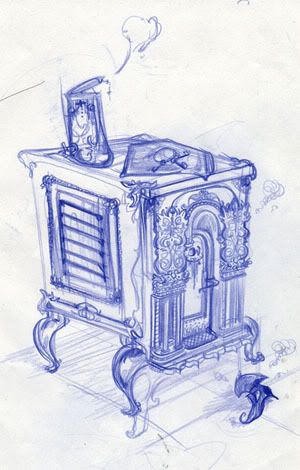 other fairytale/folktale outfits on want to do list: cinderella (gory eyes pecked version), the red shoes, tanabata (matching outfits for girl and boy, waloli), the nightingale, steadfast tin soldier, the snowmaiden, and the crying bell (hanloli opportunity?)
++
so. . .what fairytales would you like to see as outfit/print themes? or, what fairytales which have already been done, would you love to see explored again?