Wanna see lolitas in wandering in Paris on a summer day ?
Under the cut, you'll find loads of photos taken on August 4th for my unbirthday party
Because of the un-birthday joke, we decided to stick to an "Alice's adventures in Wonderland"/"Alice through the mirror" theme.
Click at your own risk... This post is definitely NOT dial-up friendly!
Here are the protagonists of our little story...
There are 2 Alice(s) one blue, one pink, the queen of hearts and 2 white rabbits !
Wanna play hide-and-seek with us in Wonderland ?
-He's MINE !
-NO MINE !
-GIVE IT TO ME !
-NOOOO !
The two Alice(s) started a fight, because each of them wanted to have the big white rabbit for herself...
Then... while the 2 Alice(s) were not looking...
The wicked queen of Hearts wanted to steal the white rabbit ! (a.k.a. Meringue)
Look ! She's sneaking away with the rabbit !!!
But she was finally found-out by the owner of the white rabbit, the pink Alice...
But the queen of Hearts was so angry that she wanted to kill the white rabbit with her parasol !
(photos taken in the "Jardin du Palais Royal")
+゚☆゚+。★。+゚☆゚+。★。+゚☆゚+。★。+゚☆゚+
Then, they decided to take individual pictures !
Here is
lilikadesbois
, the very cute blue Alice with Usachan
addictive_sugar
, our lovely queen of Hearts in her Marie-Antoinette JSK and her Baby parasol
heiwa_chan
, the pink Alice with Meringue
(photos taken in the "Jardin du Palais Royal" on (in)famous the "Colonnes de Buren")
+゚☆゚+。★。+゚☆゚+。★。+゚☆゚+。★。+゚☆゚+
After that, they decided to move on and decided to attend the Mad tea-party
They had to cross a river under the burning sun...
But fortnuately, the queen of Hearts had a parasol
The 2 Alice(s) were afraid to get lost, so they held each other's hand...
(photos taken on the "Pont des Arts")
+゚☆゚+。★。+゚☆゚+。★。+゚☆゚+。★。+゚☆゚+
They finnaly reached the place where the Mad tea-party was held...
The blue Alice picked a "religieuse à la violette"
The queen of Hearts picked a "divin"
The pink Alice picked a "Saint-Honoré rose-framboise"
(de-li-ci-ous)
The queen of Hearts and the pink Alice wanted to try feeding each-other...
(photos taken in Ladurée tea-room, rue Bonaparte 75006 Paris)
+゚☆゚+。★。+゚☆゚+。★。+゚☆゚+。★。+゚☆゚+
After they had eaten pastries and drunk their tea...
They left the Mad tea-party...
And then... that's another story !
Bye Bye !
+゚☆゚+。★。+゚☆゚+。★。+゚☆゚+。★。+゚☆゚+
Many thanks to
poupeedesoie
who took ALL these photos and was kind enough to upload them on photobucket!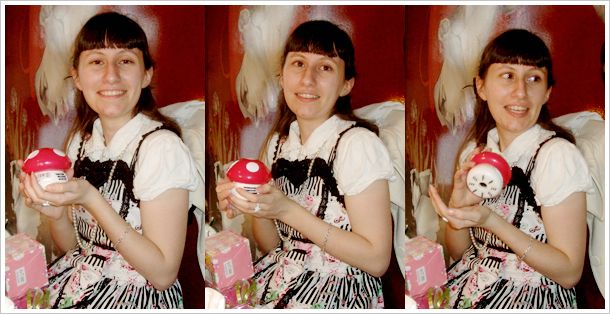 Yeah... I was the one who was taking the photo...
Of course, this is blury... SORRY!