I got my package from Anna House today :D Even though they've been reviewed before, I did get a couple different items... plus it's always good to see if the quality changes right? Anyway, I hope you don't mind.


I didn't iron anything before taking photos, so sorry if it's a little wrinkly. Also I took these pics in my bathroom because it's night here and that was the best lighting, but the bathroom has a yellow light so some of the colors might seem weird.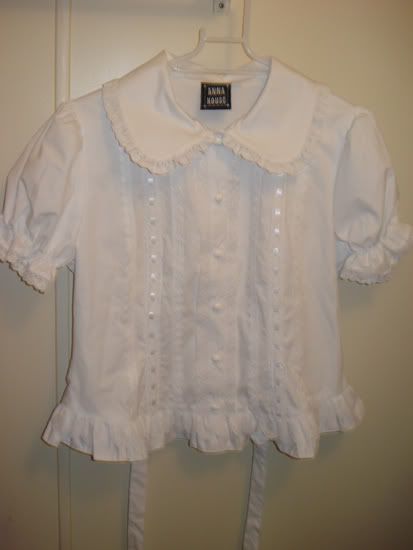 front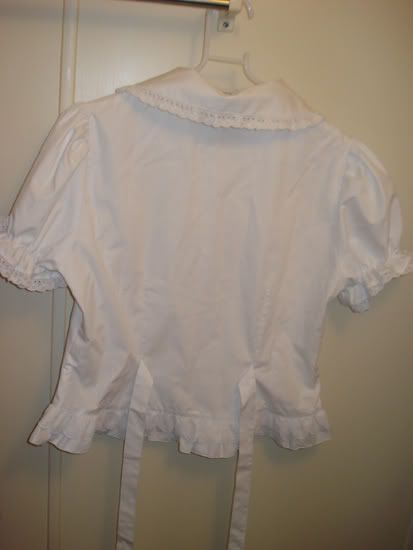 back
product no. : 016-1082
price : $250 (~3652yen)
The lace on this is totally adorable! Really nice and soft too. I fall right between two sizes on the AH site, so I erred on the side of caution and ordered up. The blouse is a little roomy, but not too much so, and there's no gapping. The material isn't especially see through, so it's of good weight. When I tried it on I was wearing a black bra and it was barely visible. The white isn't a bleach white, but a more typical light off-white.



front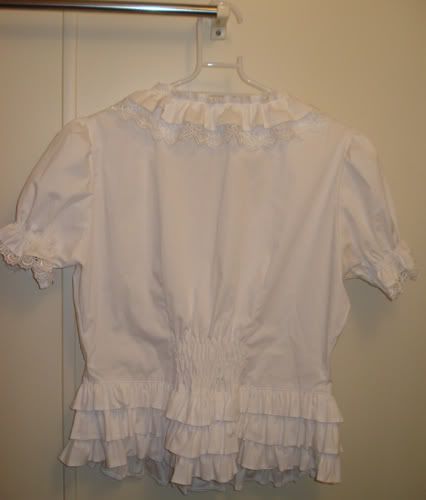 back-- no tie, but some shirring


detail of the bottom ruffles ♥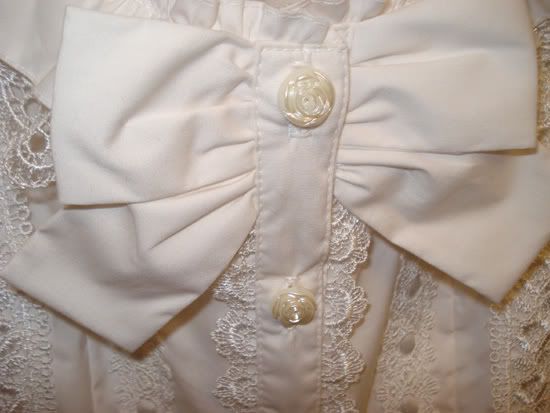 front bow and the super adorable buttons!
product no. : 016-1069
price : $280 (~4093yen)
This shirt is the reason I finally decided to order from AH, because it's SO cute. And it's really just as cute and detailed in person as on the site. I have just one issue though; the color is quite a bit darker than I was expecting, as it is listed as white and appears in photographs to be the same shade as the other whites on the site. It's got a more aged look to it though, making it more classing than sweet, which really disappoints me, and as of now I have nothing to go with it as my wardrobe currently features only white and light off-white lace :\ Anyway though, the construction is fabulous and the shirring panel in the back gives the shirt a perfect shape for going over skirts.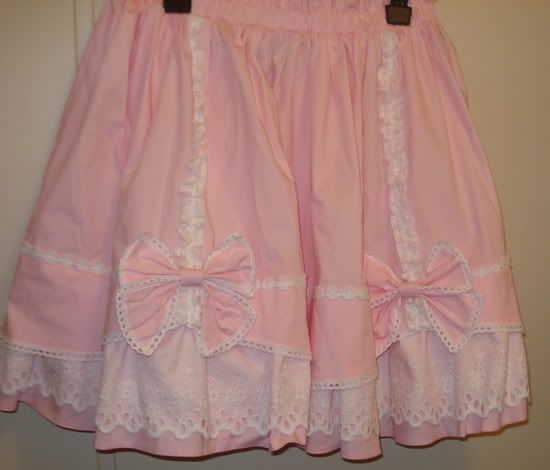 front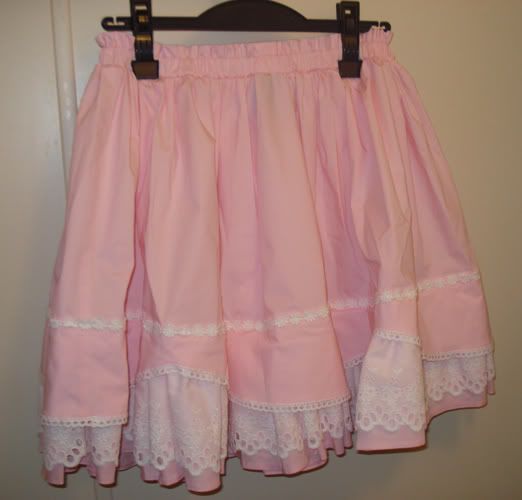 back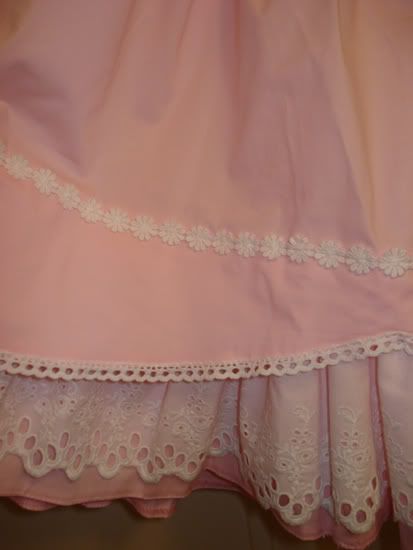 detail of lace on back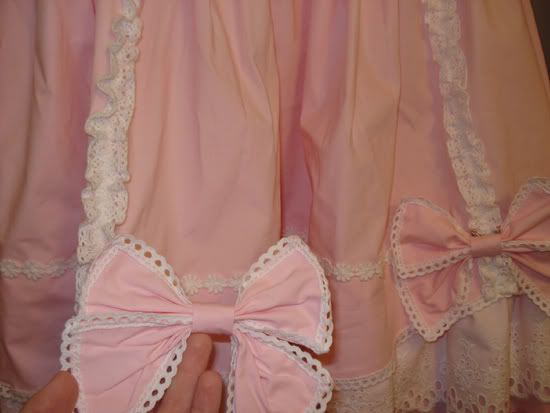 the bows are detachable! so cute!
product no. : 013-1071
price : $280 (~4093yen)
the lace is soft and so is the fabric. It's also nice and heavy, not see-through like I feared. It is unlined, however. I'll be wearing a pannier under it anyway, but my polkadot undies didn't show through when I tried it on, so even without it its ok :D The pink is brighter than I was expecting though.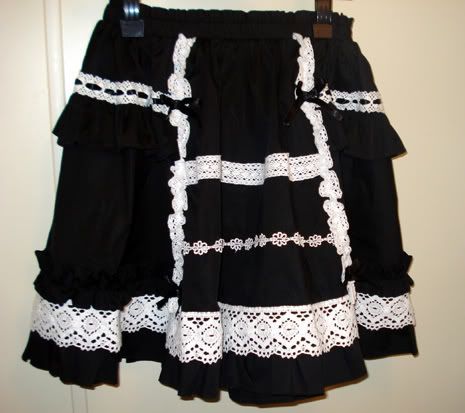 front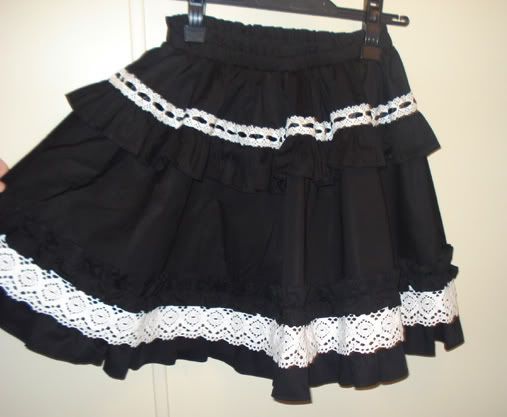 back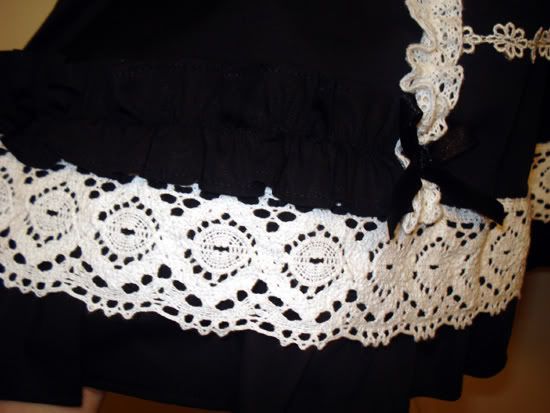 lace on the bottom of the skirt
product no. : 013-1070
price : $280 (~4093yen)
like the other skirt, the construction is beautiful and the material is thick and good quality. Unlined.

Shipping: $350 (~5119yen)
Because of problems with my post office, it took right at a week for me to get my things; however, according to the tracking site, they were first (attempted to be) delivered on Friday, so more like 4 days. All the items I chose were in stock at the time I ordered them. They marked it ask a gift even though I didn't think to ask them to, also.

Communication: I mailed them a question before ordering about a skirt that was unavailable, and they never replied. After I placed my order, however, the communication was great and when I emailed them asking what I should to when I noticed my tracking number was showing that the item had been unsuccessfully delivered several times, they replied back within a couple of hours saying they double checked to make sure they sent it to the right address and suggested what I should say when I called the post office to inquire about it.

Overall: I definitely recommend ordering from them! Especially if you put in a big enough order to balance out the overly pricey shipping. The quality is really impressive and the prices are stellar. As long as you aren't expecting everything to look identical to what you see on the site, you won't be disappointed ^^v