I just returned home from the Epic NYC Meetup, and gosh, my feet are like, dead. They have made imprints into each other because of my gorgeous but eventually painful BtSSB boots, but it was sure as hell worth it. A LOT of Lolitas and boystyle/dandies attended this meetup, and I mean it was probably 20-30 people there, the biggest I've ever seen since I started coming on
egl. I met so many people, and everyone looked wonderful. <3 I'm really glad I came. It was nice meeting all of you. ♥

Kudos to Carla (
ugly_kitties) for being such a good pimp friend and letting me borrow the accessories that made my outfit look delicious ♥ (lolol ice cream jsk, dur), and to my sister Cedelia for doing my hair and making it look nice. ♥

Anyways.. onto the pictures. Sorry they're blurry as hell.



BTW, forgive me if I didn't mark down your name/username, because at this point I only remember a few that I already were familiar with. (short-term memory is a bitch) When you see yourself up here, please tell me your real name/username so I can post it up. ^^


Here are the pictures of me when I first left my house. My older sister Cedelia took the pictures. (My hair was up in a ponytail, btw.)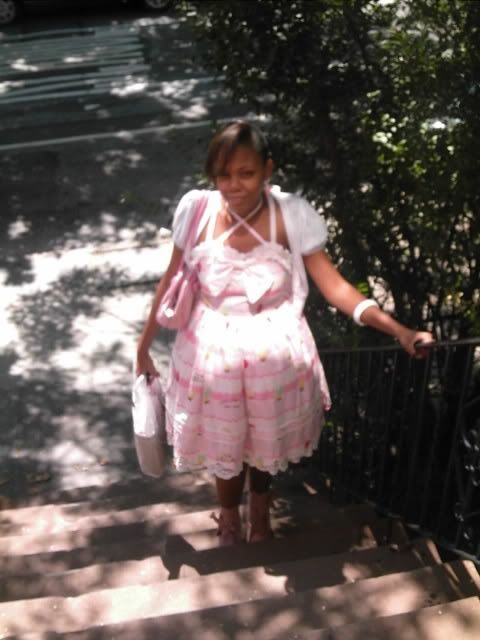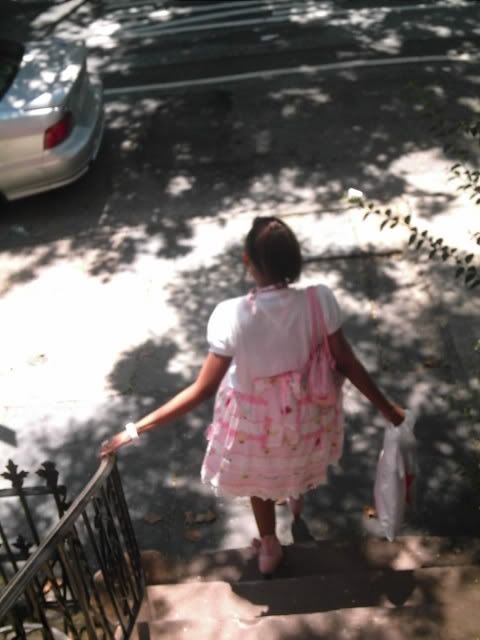 She wanted to take a picture of the back.



BLARGH THE FUZZINESS. I really need to learn how to use the focus on my camera.





Afterwards, I continued to go on my merry way, first meeting up with
harumoni in one of the subway stations. (I STILL REMEMBER YOU COMING A WHOLE HOUR LATER CHICK, BUT THAT'S OKAY)

Once we met up, we were on our way to Chelsea Market. One man stopped us, and took a picture of the both of us (you'll see later in the pics that she was dressing up boystyle). I have no clue if he was shitting me or not, but he told us we was from Vibe magazine (a hip-hop/urban mag, if you didn't know) and had to take pictures of unique outfits and whatnot, and that if his supervisor or whoever O-K's the picture, we will be in a Vibe mag. (I hope a big pic, because you know. I'd be the best up in that magazine. >>;) I got his number, so in two days or so I'm supposed to call him and ask him if it was accepted. He was pretty cute, too. >> Good thing I got his number...

SO. We made it to Chelsea Market, where the first thing I basically said was "WHAT'S UP MY FRILLY BITCHES!" I met Mary/
tropigalia for the first time, who btw was gorgeous in her AaTP outfit, and also Rei/
nerorizim, Yanise/
bakaneko47, Morgan, and of course, Carla (her first words to me being "Hay skank").

After we ate and played and whatnot, we felt for Union Square.

First we waited for everyone to get into the Subway,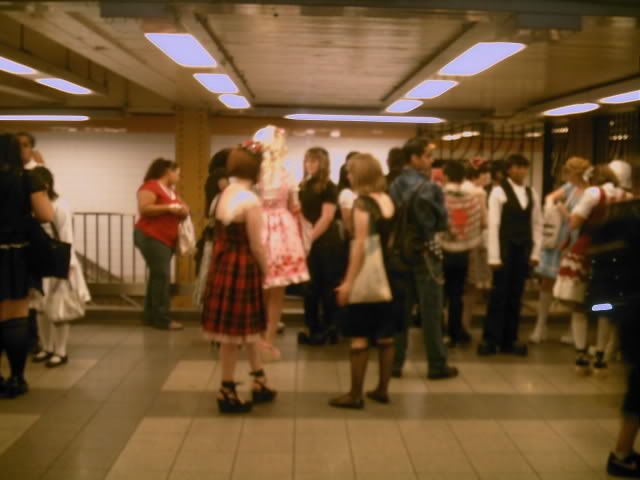 and afterwards we took the L. We owned that car. 8) The basic list of most of the people (prz tell me your name/username and which pic you're in. O: Don't take my bad memory as an offence. ;3;)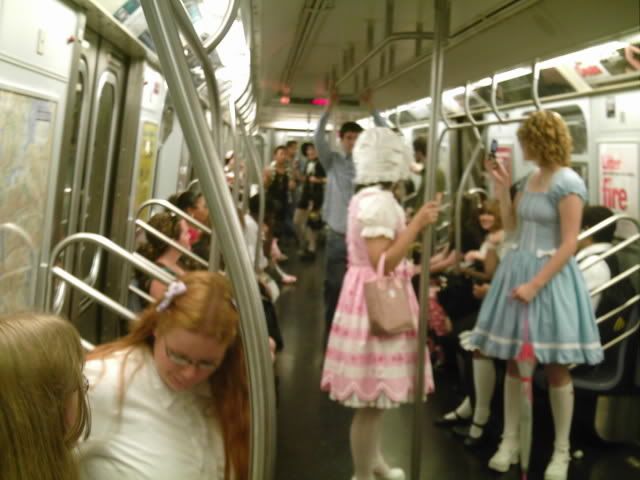 Martha/
hayzenthlay2582, cecily_not_me(?), Rei/
nerorizim, Regina/
tokyosheart, Ericka/
t3h_janitor_jim, Brian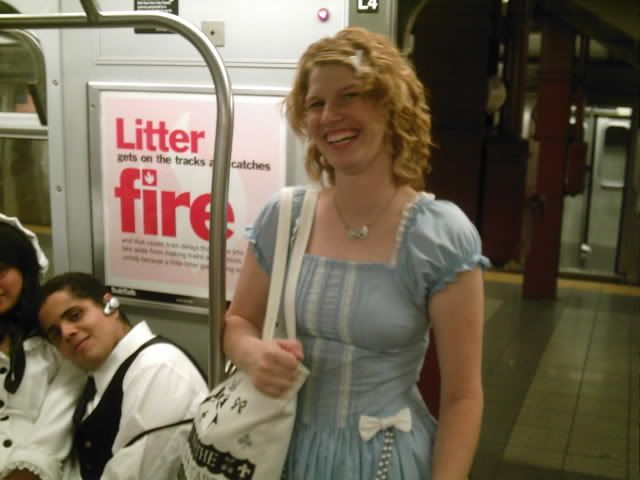 Kelsey/
legsdiamond

?, ?, Morgan/
darcia26, Angela/
archfaith, Mary
tropigalia, Kara/(username?)



Millie/
cupcakecadaver, Aisha/
misadesu, ?



Ai/
ailolita, Nikki/(s/n?), ?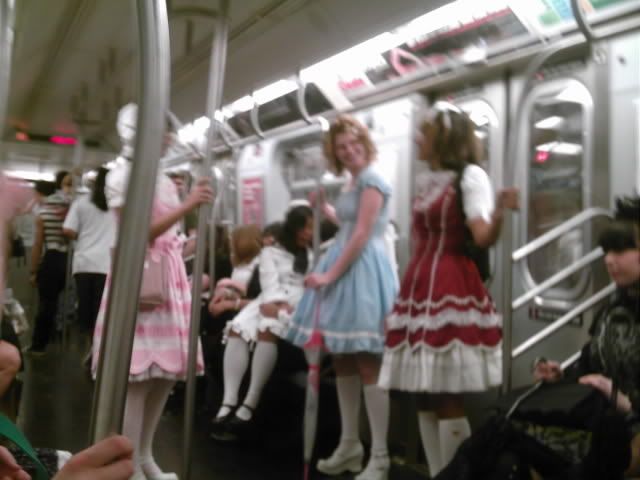 Aya/
burrikoxp, Kelsey, Yanise/
bakaneko47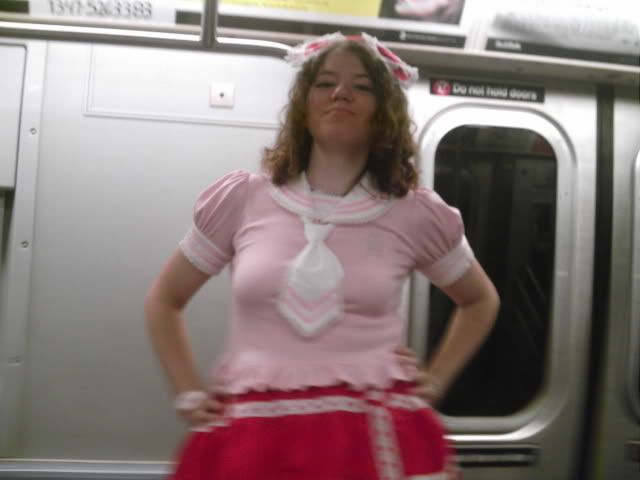 And of course, the host, Carla/
ugly_kitties.




How many lolita-frills can YOU see?

Random pictures in Union Square: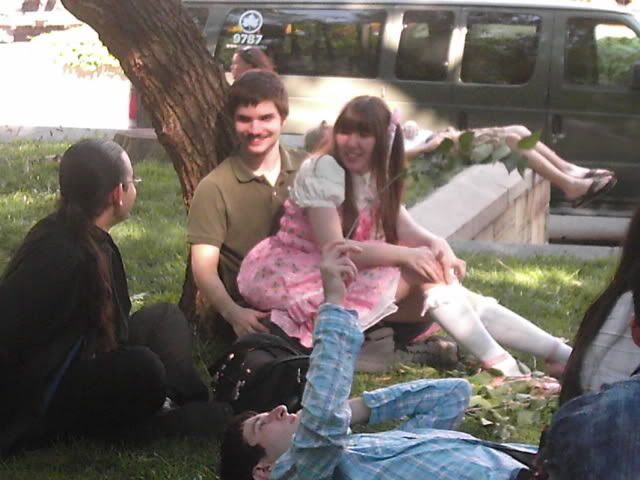 Pfft. Loserrr. VUH-LEE-SA/
harumoni

(Caroline?) and
21stcherryboy

ONE NICE PICTURE FOR ONCE.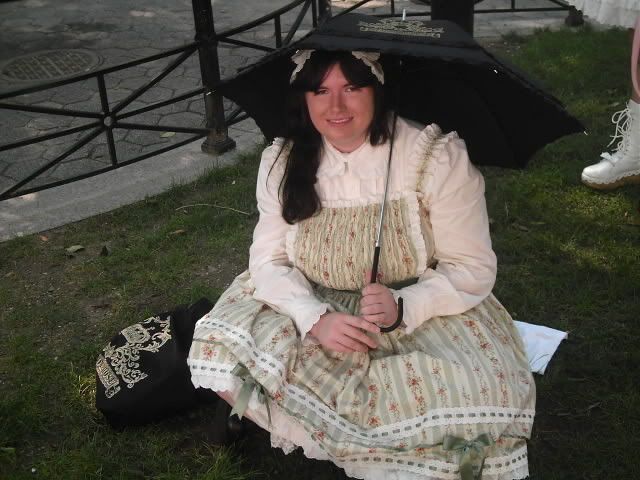 silver_youko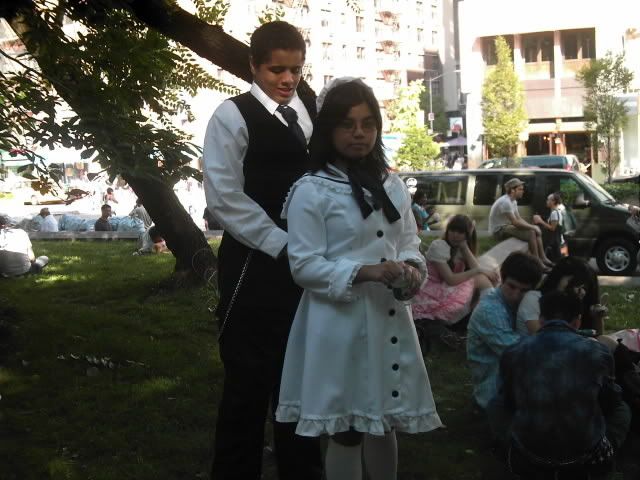 Tying the bow...



..Which of course, me having a dirty mind, looked too wrong.

That's all the pictures I have. xD




And also,

1- Lots and lots of compliments (I think I'm a little conceited now. xD)
2- regular stares, regular "what are you all doing?" questions
3- regular and rather rude photo-taking (w/o asking btw)
4- There was this mother who came up to us with her two girls, and asked us about Loli fashion (she said lolly fashion and it made me lol inside. D:) the two girls were very cute, one of them looking 9 and the other like, 14 or so. Basically they asked me where I got the dress and how they could get it.
5-Me and
tropigalia had a bit of a time talking to this nice old woman who was sitting on a bench with us at Union Square; and then after she left a French woman came and asked us about the fashion and everything before we left the park. She was also very nice.
6- Sometime after 5:30 or so, we went to Toy Japan to look around. The place was small, but it was cute with all the little action figures and whatnot. When the last of us left the store, we had to climb down this small set of stairs. For one reason or another, the last two-three stairs were made out of completely different materials than the regular stairs, and me (who was holding onto BOTH the rail and the wall on the other side), slipped, tripped over my feet, and bust. my. ass. I wish I had a video to show, because that shit was hilarious.
7- Hitting VUH-LEE-SA on the head with the parasol/umbrella. (I SWEAR THOSE 247+ TIMES WERE ACCIDENTS)
8- CAEKTOWN IN CHELSEA MARKET. NOM NOM NOM

MY outfit rundown:
-Jsk: BtSSB
-Random nude panty hose
-Shoes: BtSSB
-Cardigan: borrowed from Carla
-Bag: Same
-Parasol: Same
-Earrings: Same. xD