69th dept rocking horse shoes awesome bada** review for the ages and forever plus infinity +300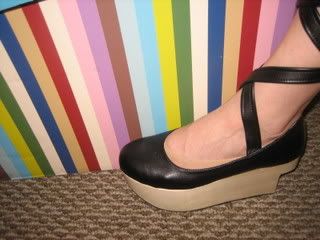 solid wood
synthetic material (expands slightly with wear)
hard foam tread
sole: approx 3 1/2 inches
website:
http://xx69thxx.exblog.jp/
I wanted to post about the 69th dept (aka lolita lola burandu) because I hadn't seen any thorough reviews~
Here are lots of pictures. My foot is ever so slightly over 25cm , so I went with a size 40. The seller was very right about them being "true" sizes. They are almost too snug for my feet, only allowing limited movement to my toes, which is not good for walking, since your feet tend to swell slightly and expand. But they fit well anyways, and with more wear I believe they will fit wonderfully. I wore them to work for 2 1/2 hours before switching to flats (I had a welcoming party for them XD). They are light and easy to walk in. I maybe flipped my ankle once or twice because I tend to make right angles whislt I walk because i'm a spazoid.
I absolutley love them and even now as I am typing this I do not want to take them off XD. They could be maybe...half a centimeter bigger--honestly, just a smidge bigger to allow my toes some expansion though. I would say that is my only negative. Also, the synthetic material makes it easy to wrap and stay around my legs (sticks to skin) although I can't imagine doing this with stockings as there isn't much friction. Perhaps double-sided tape will do the trick. I have fairly skinny legs, and they stay up fine. The toe is roundly pointy, meaning, well, a perfect blend of point meets round. Not too round like the real ones, but not too round like baby-doll shoes.
The wood is light brown, almost a creamy white wooden color, which is a nice contrast to the black fabric; I thought the heels would be darker.
But on my right shoe, there are little inconspicous craters in the wood, like tiny ball was scooped out right at the end of the heel...of course I get a defective wooden heel....grrr....
the seller was fantastic with my questions and very timely, although my tracking number never worked. I got them in exactly 30~ or one month. I paid altogether 83 USD: *60 shoes+5 using paypal+ shipping 23 USD (* i honestly can't recall exact amounts lol), but everything added to 83 USD.
althogether, I would say these 'lolita lola' brand is a triumphant knock-off of the vivienne westwood RHS. I still squeal knowing that I FINALLY have something tangible to link myself with Nana (Lmao!)
I LOVE THESE SHOES <3 and here are many pictures. Hopefully, this was educational as well as informational and awsometional....yessss....I just can't help doing the pigeon toe...and I can't wait to wear them to school >}
Overall, I'd give a Grade A. I really love them and 69th is a very good seller, as well as reliable. oh! here are the pictures....I really hope this helps future buyers~