Sooooo yeah. Remember that trend, the wardrobe post shit? Remember that? I bet you do. Ohhh, I bet you're groaning now.

But I put off mine for ages because I was always having better, new stuff coming, always always always, and now it's all here and I'm all settled and yeah.

STOP GROANING, I CAN HEAR IT, AIN'T NOBODY MADE YOU CLICK THE CUT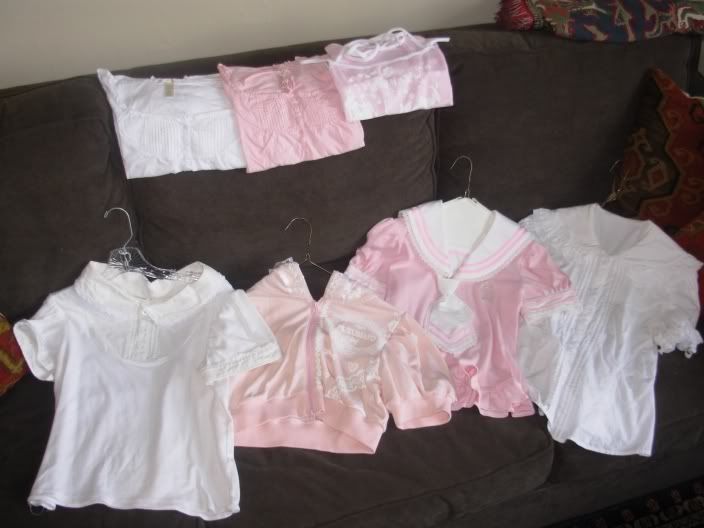 Tops!
Folded tops are two identical (cheap) Forever 21 tops and a Putumayo cutsew with an Alice Hookah print.
Laid-out, L-R: Cutsew made for me by
nerorizim ages ago, Putumayo parka, AP Angelic School cutsew, Meta winter '06/'07 LP blouse. Currently on loan is a Forever 21 cropped cardigan.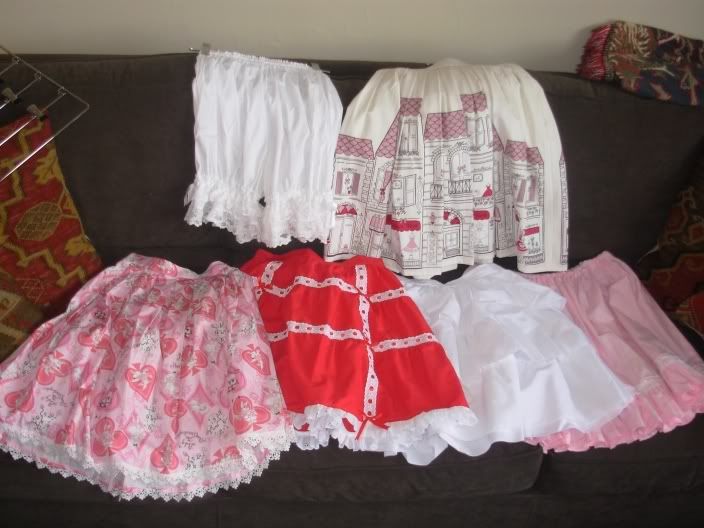 Bottoms!
Top, L-R: Meta bloomers, IW Dollhouse short skirt (which I will soon be looking to trade for)
Bottom, L-R: Baby Alice Cookie skirt, ITS eyelet skirt in 100% cotton, ITS custom skirt in poplin, simple skirt made by me



Jumperskirts!
L-R: Empire-waisted jsk by me, first jsk I ever made, halter jsk made by me, ITS Angelic School replica, MAM jsk



Onepieces!
L-R: Forever 21, ITS Mode Girl replica,
sakurafairy cake dress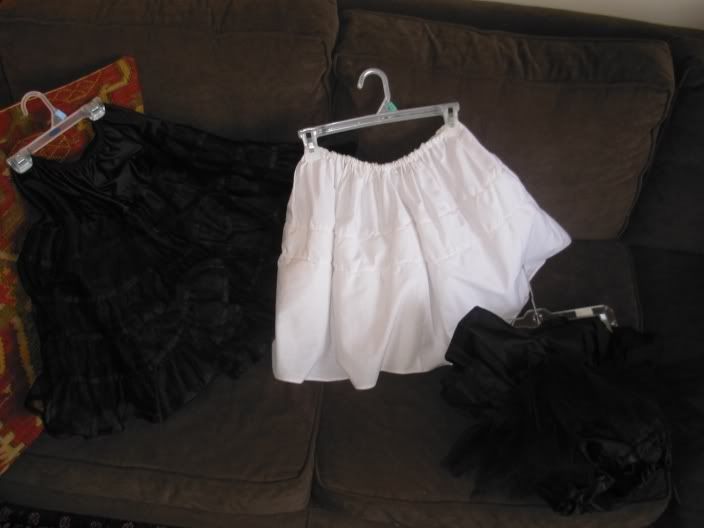 Petticoats! The rightmost one is inside-out and upside down, which is how you should try to store problematic petticoats, ladies. I was just too lazy to undo it for this photo, it's a bitch to get it all in place.
L-R: Leg Avenue, ITS poof petticoat, random eBay'd thing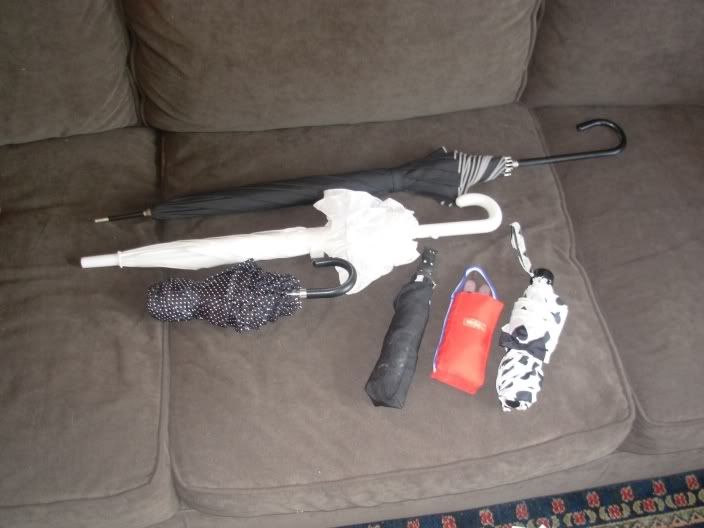 ...Umbrellasols? I have a pink one of the black skinny umbrella, but it's on loan right now, so the white borrowed parasol will substitute!
Top to bottom: Uniqlo, Disneyland, H&M. The three little ones off to the side are just little cute umbrellas I thought you guys might like to see. The rightmost one is H&M and the other two are Kiddyland.



Jewelry! I keep all my accessories in boxes, so I try to get cute boxes. This Godiva box works just right for my jewelry needs.


Highlights of my jewelry collection, including somehow a Swimmer watch.



I keep my miscellaneous accessories in a... popcorn tin. Yes. There's too much to name, but included here are Candy Violet hairbows and Meta LP hairties. Socktoppers made by me :D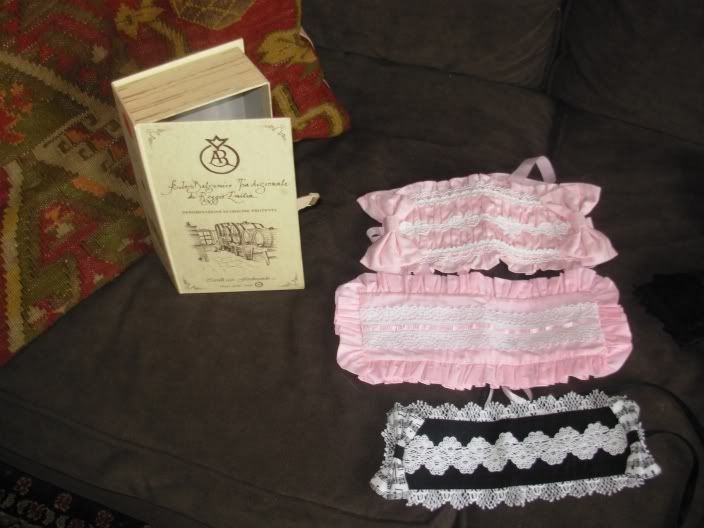 Headdresseeeees. The top one is Baby and the other two are made by me. The bxw was my first accessory ever :< The box is supposed to look like a book, and originally housed some fine Italian vinegar or something. (No vinegar smell here)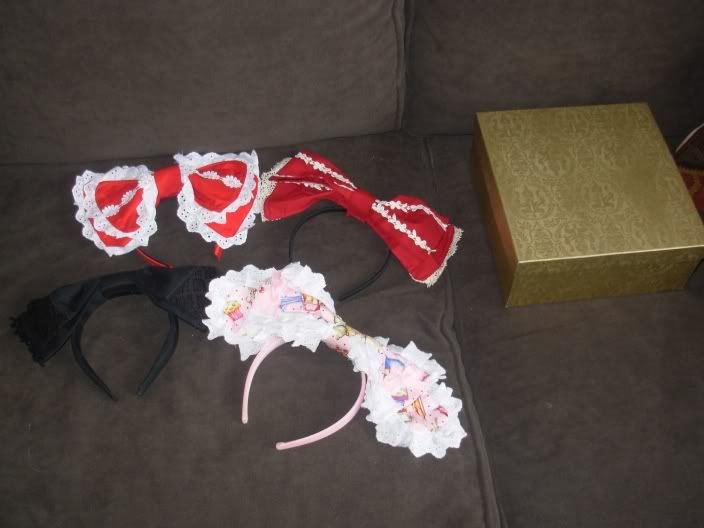 Alice bows! Top two were made by
kisei_prophet, black one by
pierrotseven, and pink one by
sakurafairy to match the OP. The box is just some random foily-looking thing.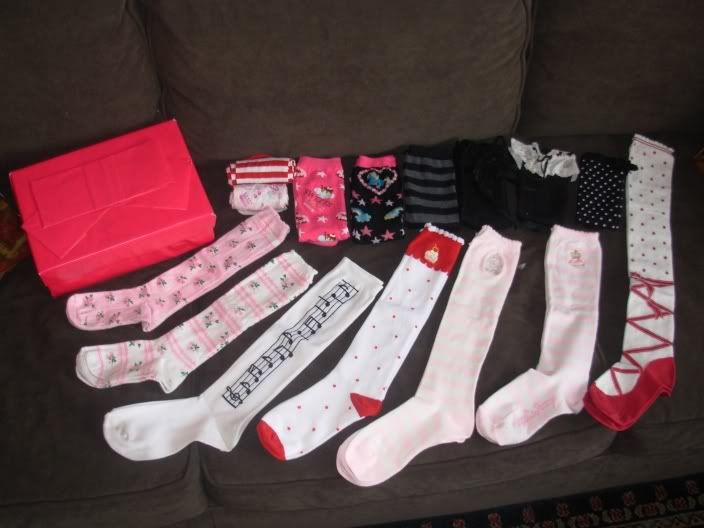 SOCKS I LOVE THEM
Folded/rolled row, L-R: Leg Avenue, H&M (converted to socks by
dykestar; next two bought from
theosakakoneko; striped otks from some random sock shop on Takeshita Doori; next two by Baby; H&M
Laid-out row, L-R: Baby, Baby, Temps (bought from
theosakakoneko, Swimmer, Angelic Pretty, Angelic Pretty, Angelic Pretty.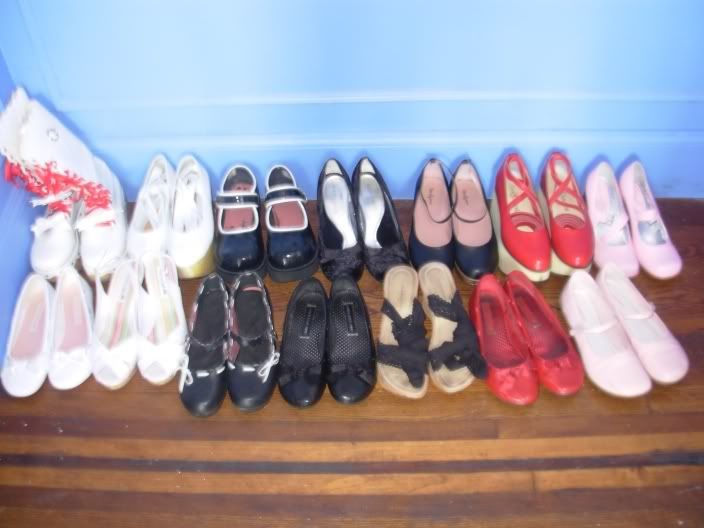 Shoes I also like them
Top, L-R: Montreal, Lolita Lola, Demonia, Rampage, Forever 21, Rose Chocolat, Bamboo
Bottom, L-R: Payless, Payless, TUK, Payless, Classified, Payless, Classified



Instead of my handbag collection, which is somewhat dull, let's take a look at my total insanity instead.
I love shopping bags. Have a brand shopping bag you don't see here? I want it. I'm serious. Can't you tell? D:
Total count:
3 Baby
1 Bodyline
1 Out of the World (excellent generic shoe shop on Takeshita Doori)
5 Putumayo
2 Swimmer
1 Sanrio store
1 Innocent World
4 Angelic Pretty
1 OIONE
1 Hellcatpunks
1 Metamorphose
1 Maxicimam
1 h.Naoto
1 Sexy Dynamite
1 Laforet
2. Ozzwhatever, I have never heard of this brand
and I lost my Vivre bag but I know I have it.

I HOPE THAT WAS NOT TOO UNBEARABLE

(Also, OT but I fully recommend this band I am listening to, especially if you are sick of prettyboy j-rock.)