Since my laptop screen is currently broken, and the replacement monitor is below par, I didn't do anything to these photos other then resize them.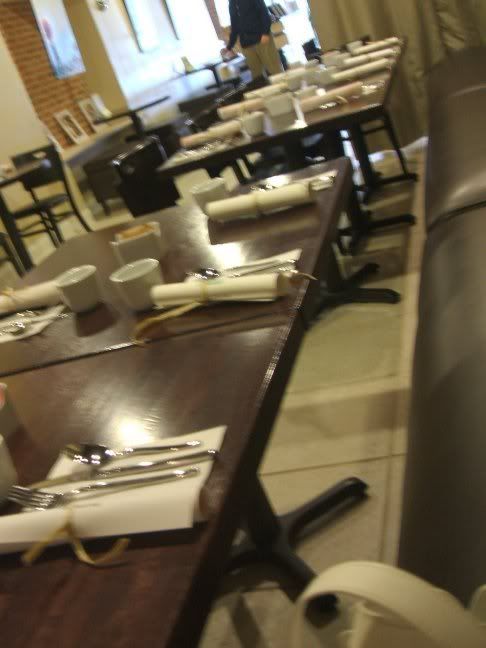 I actually arrived quite early, and so I took a picture of the pretty tables before any of the other lolitas arrived. Too bad it's so blurry. Shortly after taking this the teahouse started fulling up with fellow lolitas.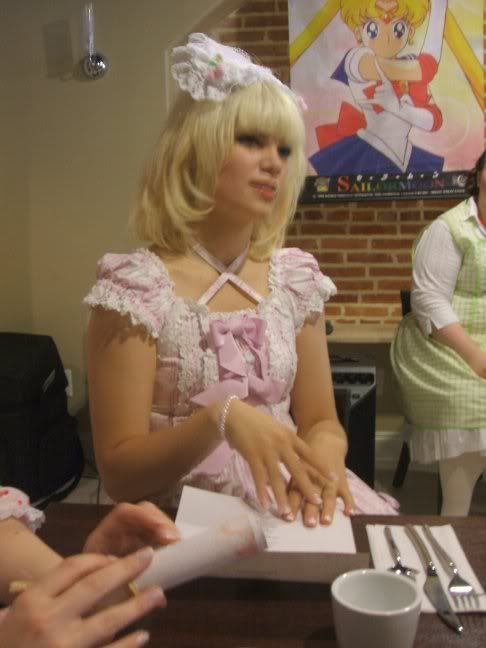 The wonderful Mille (
cupcakecadaver</lj>), who I met earyler at the longwood meetup, she's so sweet. I hope to see her at more Philly meetups.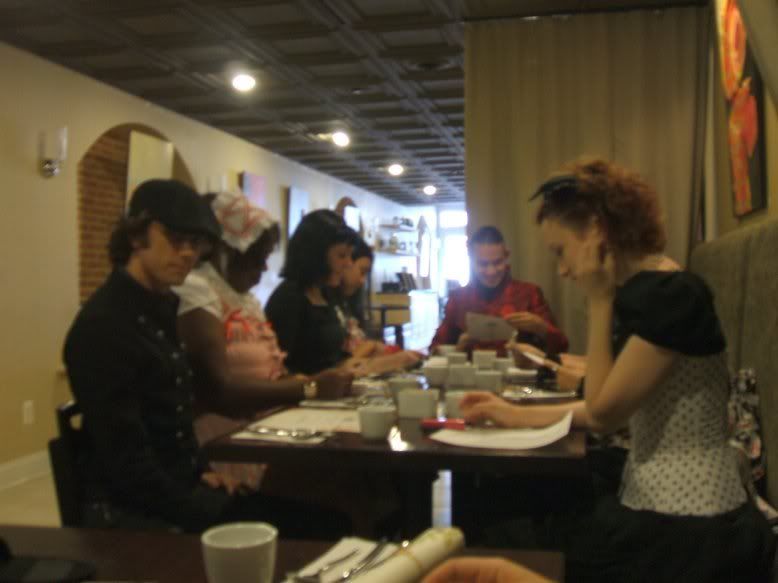 The other large table. I was kinda stuck behind the table, so I didn't get many pictures.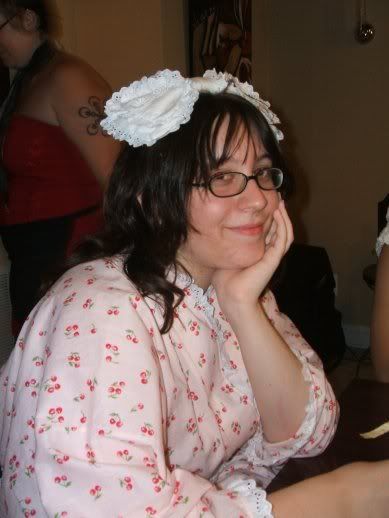 Laura (
kisei_prophet</lj>) in a darling handmade strawberry print walolita outfit.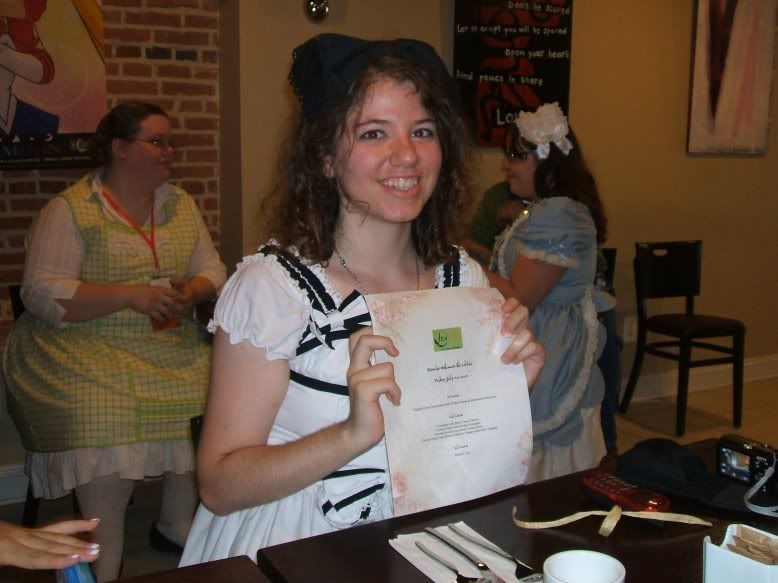 Carla (
ugly_kitties</lj>) wearing a wonderful In the Starlight replica of an AP dress showing us the pretty menu.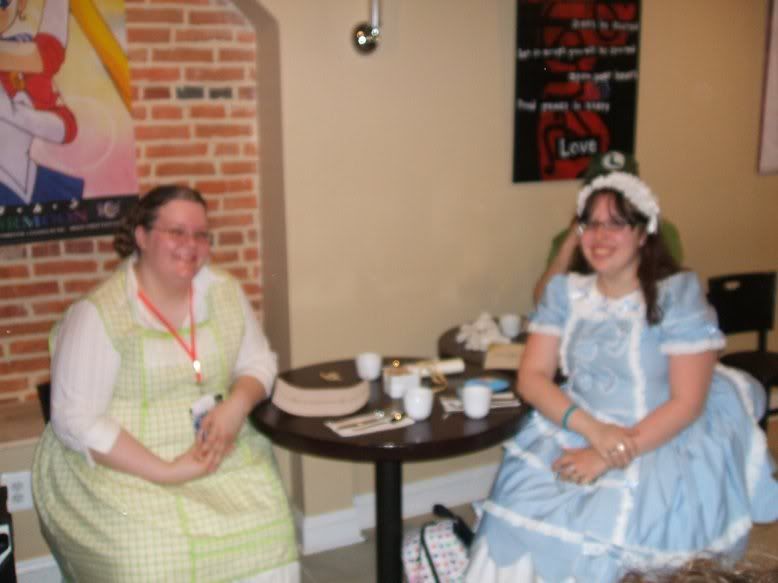 Our wonderful coordinator Elizabeth (
toujourspret</lj>) and Amanda (I don't' know her LJ user name help?!)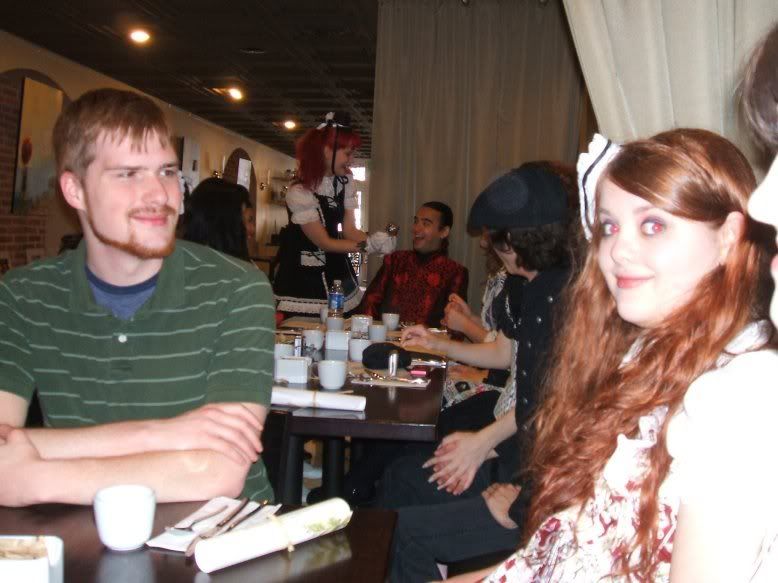 Mary (
tropigalia</lj>) is charging up her lasers to punish me for making her edit all the makeup tutorial photos, Michael seems somewhat nonchalant about this..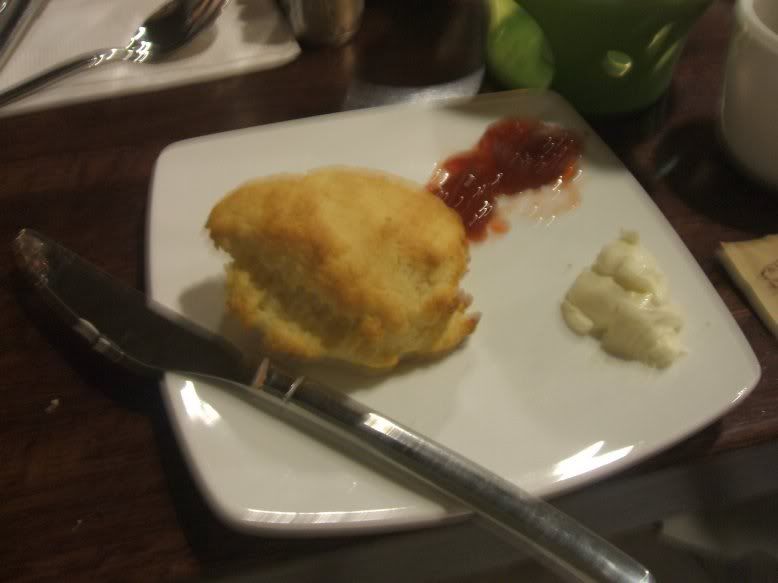 I always forget to take pictures of the food, so here is our first course, the only course I took a picture of lol. They were kinda skimpy with the clotted cream and jam, so I had to restrain myself from my usual practice of covering each little piece of the scone with gobs of jam and cream... so it was probably a good thing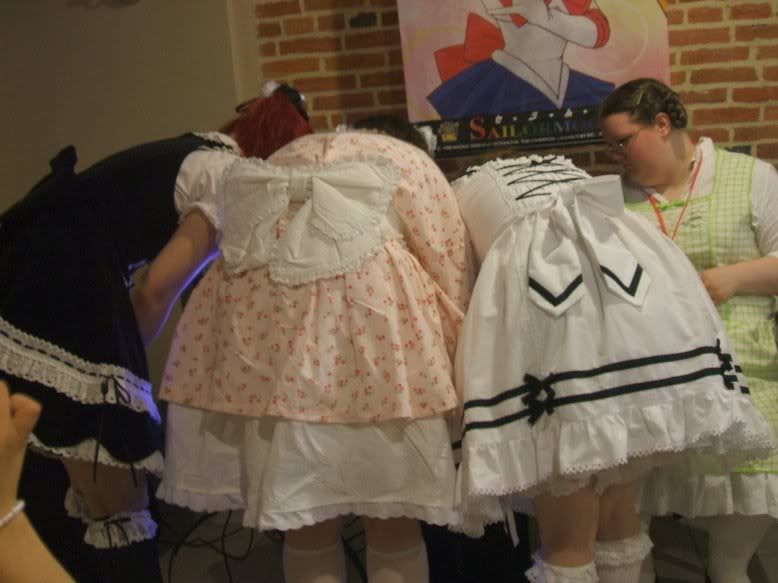 It was quickly noticed that the teahouse also had a Karaoke machine, so a few of the lolitas crowded around it to see how it worked.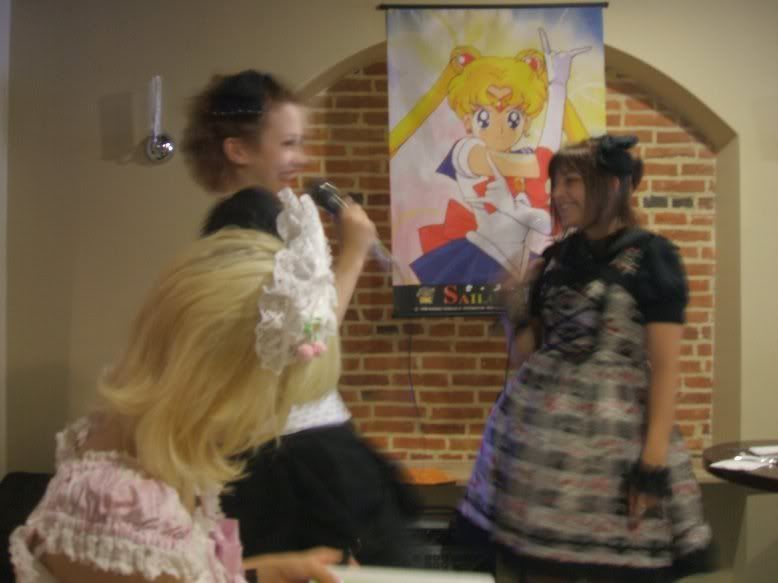 After a bit of fiddling it was made to work, that is if by working you mean flashing song lyrics and showing random pixilated photographs. This is apparently the nature of the karaoke beast.

Quickly I realized that I liked Karaoke and sang loads of Beatles songs. I hear there a videos, have they been lost? I can only hope.

This is why there are no more photos in the teahouse. lol

Karaoke sang, and tea delicacies gobbled up we poured out into the street, and proceeded to take photos XD This was hampered by the arrival of taxis, which stole various lolitas until there were none left. I'm sure that I missed taking pictures of several people =(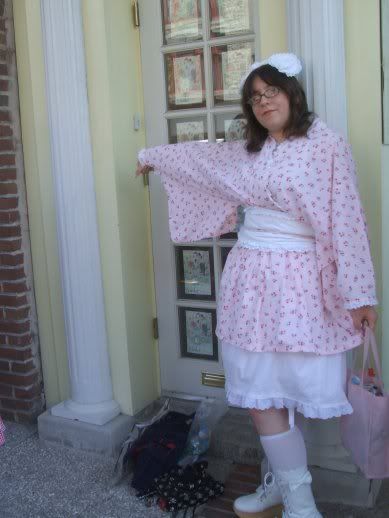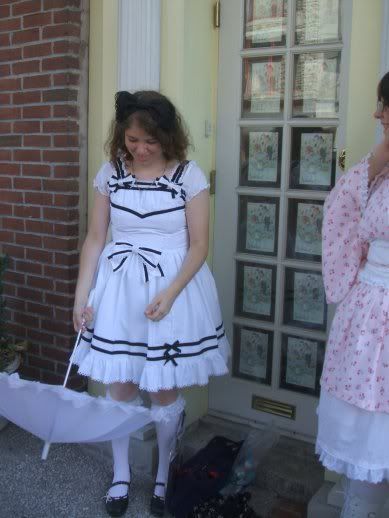 Carla considering the parasol she borrowed from me (I think I was either a bit too late or too early for this photo)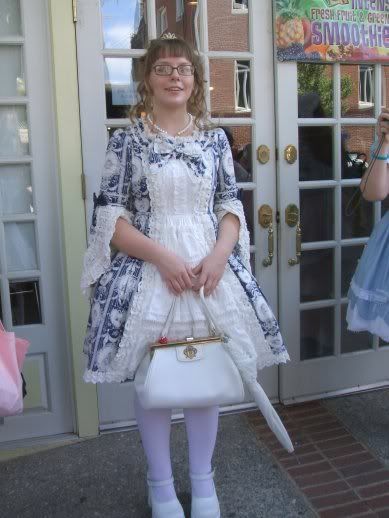 Martha (
hyzenthlay2587</lj>) in a lovely Marie Antoinette dress. The wind was wrecking havoc with all the photo ops.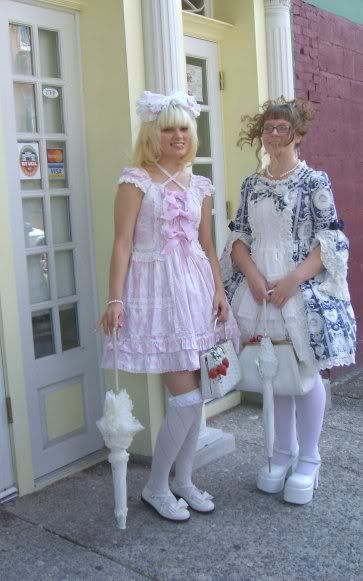 We made Mille and Martha stand next to each other since their dress's pattern matched. XD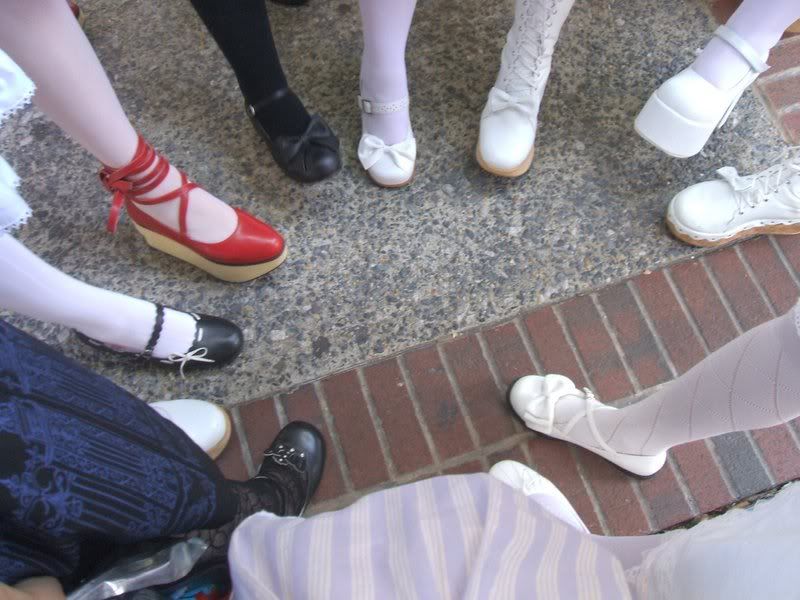 Shoe shot. My shoes are covered up by my skirt, which isn't too much of a loss since they are kinda boring.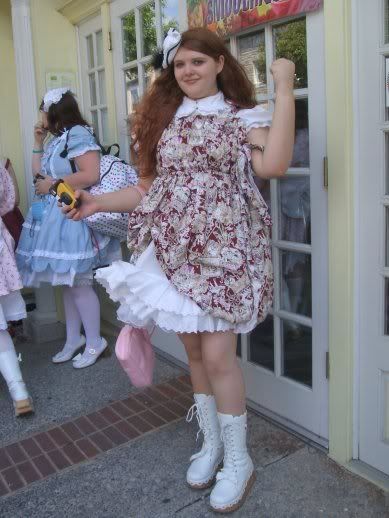 Mary showing us how tough a pirate she is.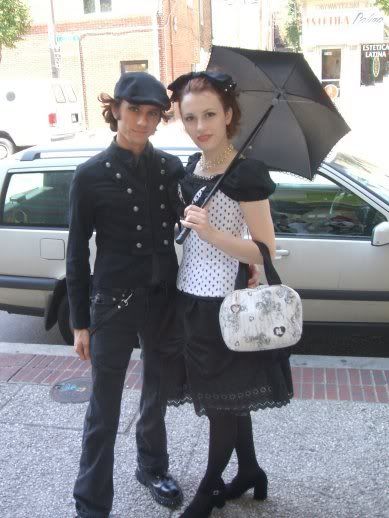 Erin (
arktoi</lj>) and Joe (
sadistic_apollo</lj>) posing together elegantly.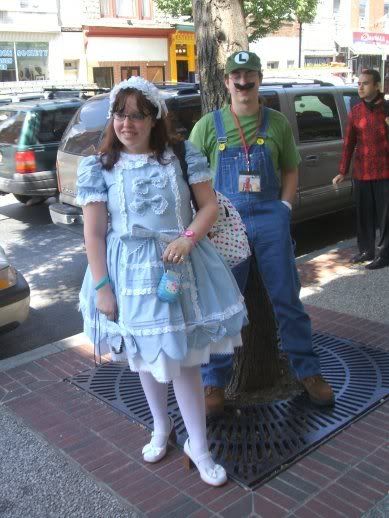 Amanda (
tiny_ichigo</lj>) in a very nice blue dress.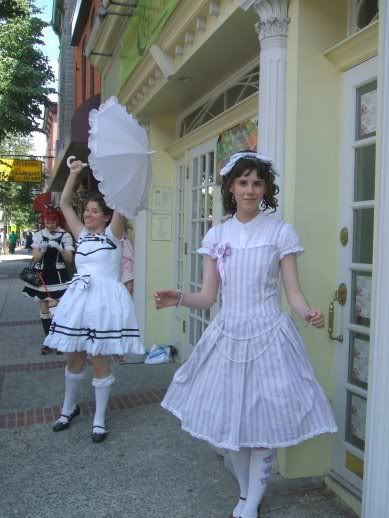 I made Mary take pictures of me with my camera, but because of the wind and my goofy poses/faces I decided I didn't like them. This picture gets posted because Carla is doing something silly in the background with my parasol.



Kara (
yuki_dragon</lj>) in an amazing handmade jsk she put together. I love the red and off white together.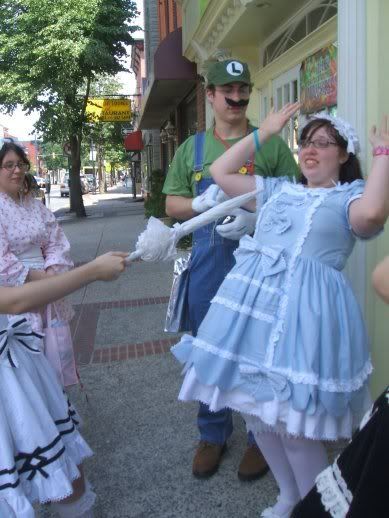 Whenever I let Carla borrow a parasol I always end up taking pictures like this. Nick, Amanda.. who will you claim next in your bloody parasol ways Carla???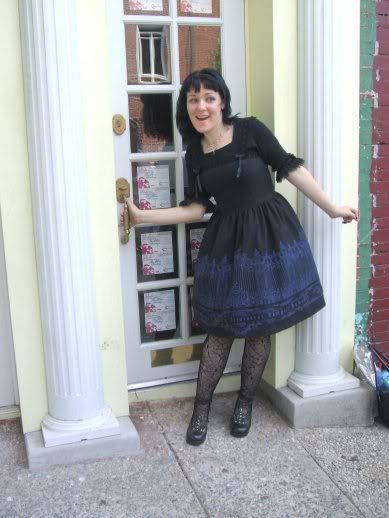 Karaya (
novalis_b</lj>) posing adorably in a wonderful MMM dress.

I grabbed a taxi with Mary and Michael back to Otakon and joined up with my entourage (by this I mean my non-lolita friends). We all trooped over to the terrace to take some pictures of our various garb.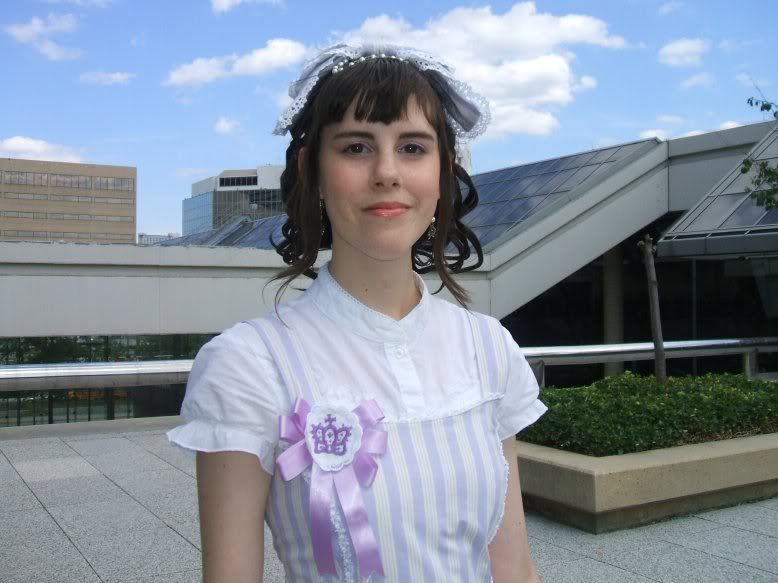 Of course pictures must be taken of my outfit XD I like how this one shows off the embroidery of my pin (one of the few pictures that does)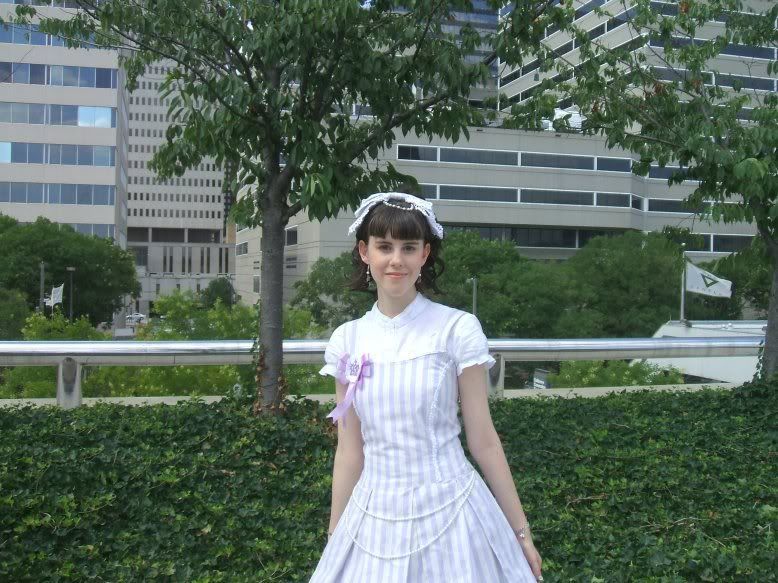 The pearl "belt" I'm wearing is actually the same necklace I wore at the Delaware anime picnic. Versatility FTW!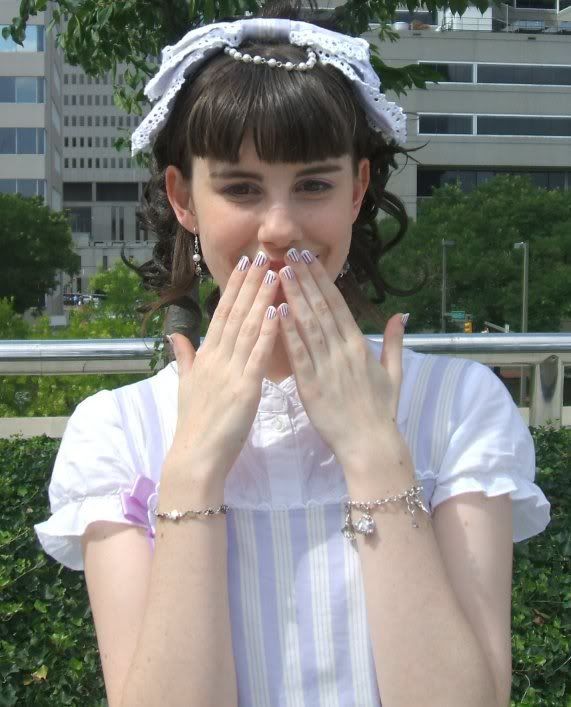 Showing off my matching purple stripped nails, I grew them out specifically to do this XD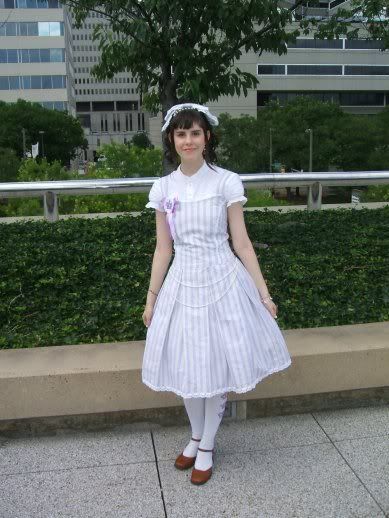 Full outfit, I'm going to shorten that skirt by an inch or two when I get the chance. This is what I get for making a jsk and not trying it on at all in the process (too rushed for time) XD I have NO KNEES!!!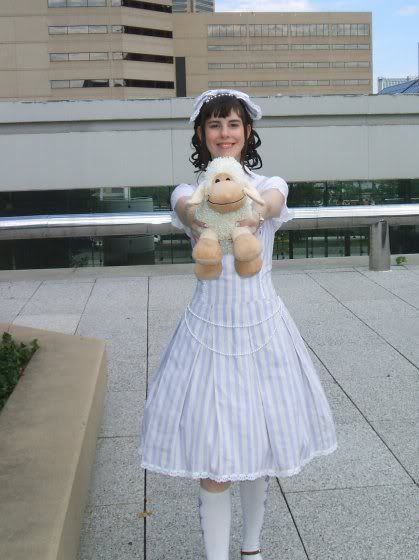 I found my Sheep!!! (for all those people who have ever been asked "so...Little Bo Peep?") The sheep was actually borrowed from my friends Autumn and John, who dressed up as Harvest Moon characters: http://img.photobucket.com/albums/v638/SakuraFairy/otakon2007/otakon200726.jpg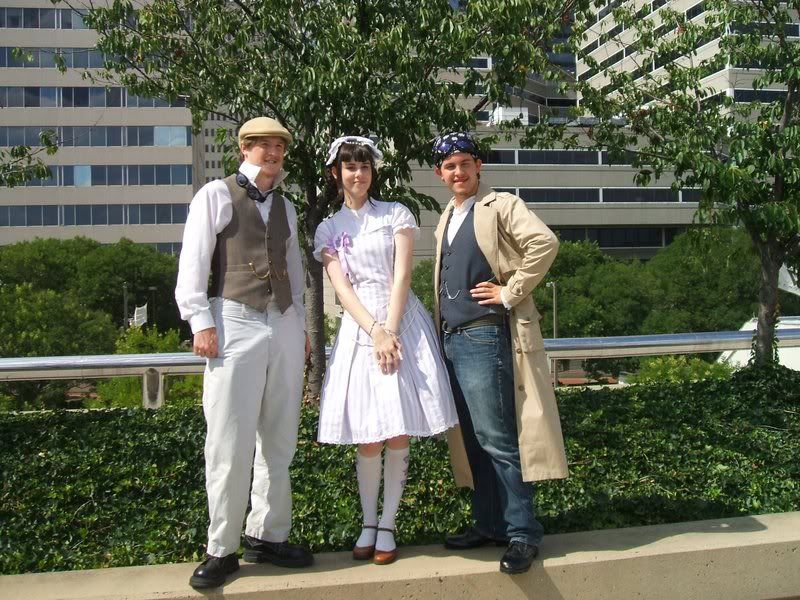 Seeing as we were both dressed up in variations of Victorian garb, it was decided I should pose with Nick and Ryland who dressed steampunk.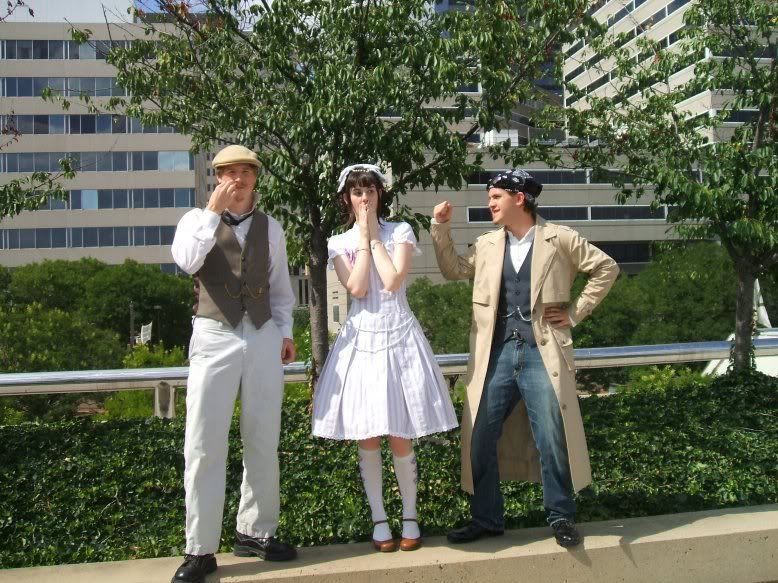 This was a poor plan as these are not Gentlemen, but Rapscallions!!!! Oh MY!

This ends the pictures on Friday, here are the ones from Saturday. I didn't take a whole lot, because I was busy. lol We started by getting lunch, durring which I spilled a bit of bright red strawberry water ice on my dress....fail... XD I got most of it out though. After dragging my friends back through the dealers room, I again found the pretty parasol I coveted on Friday. Yay!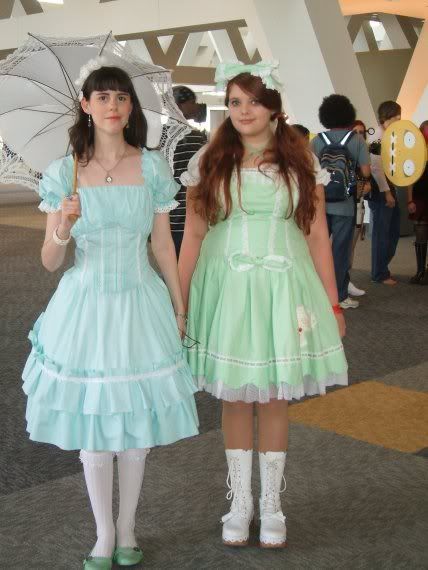 After leaving the dealers room I ran into Mary, yay! In this photo her dress matches my shoes better then mine do lol. In reality my dress is more green XD.

We then went and watched one or two strange anime's, and then went to meet up with several lolitas in the Artist's Alley. (we were looking for Queen of Dorks, who eluded us)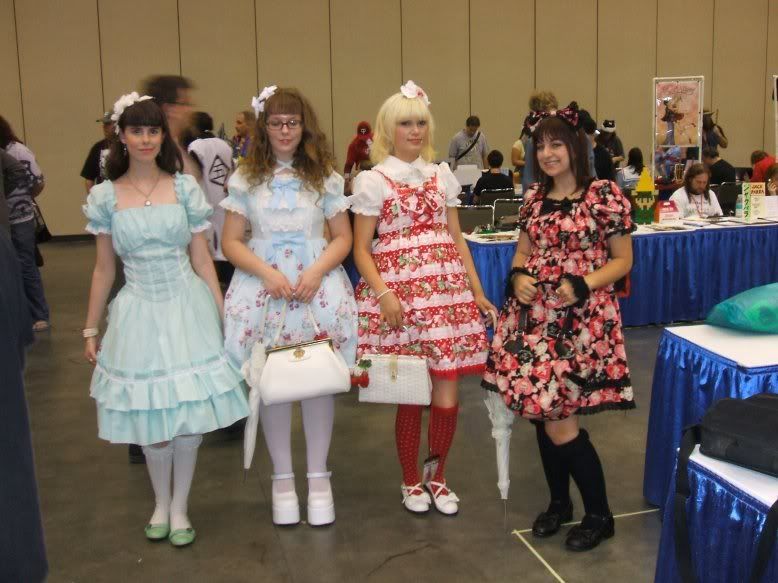 The wonderful group of lolitas we met at the dealers room. From left to right, Myself, Martha (who very graciously let us use her computer cable thingy we needed),Mille , and Valerie (
valkyrie_chan</lj>). Mary for some reason was hiding *waggles finger*

After ambling around the Alley for a while, we realized that if we wanted to get to the panel on time we better scoot! After a bit of drama having to do with a plug not being the correct sex, we arrived at panel room 1 with minutes to spare XD I want to thank everyone who came to the panel, you guys are great. I was fantastic to have such support from this community for our first panel. I was so excited/nervous about the panel that I forgot to give the camara to one of my friends, so I got no pictures =( I hope someone did.

After the panel I tried to say hello (and then goodbye) to all the lolitas I recognized from the community. I really wanted to hang out with you guys more, but I had to rush off to a Gala in Philly. I also wished I had throught to get your guys pictures =(

One of the gimmicks I came up with for the panel was to give out little samples of poor quality lace; which I assert was not... not to get rid of bad lace I bought early on in my lolita career... not at all.

Anyway, no one seemed to want them, so I just ended up throwing it away. We figured that we had enough time for one more photo op.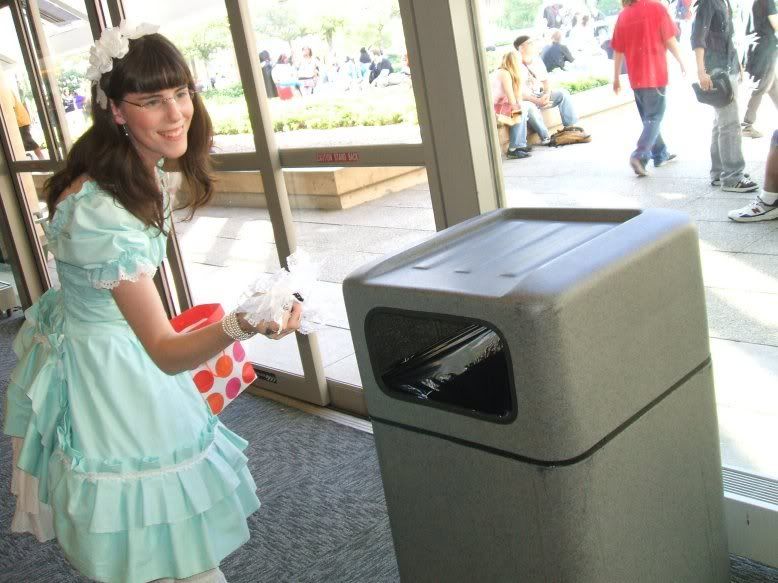 I wonder what the trashpeople thought at this can being full of little scraps of poly lace... crazy cosplayers....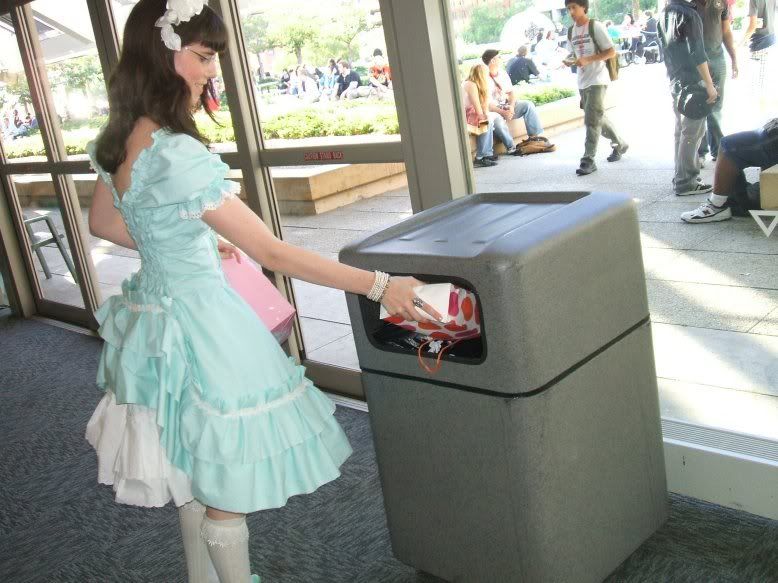 silly as this photo is, It's the only one that really shows my bustle.

I think that this was my favorite Otakon yet, I loved seeing so many people from the community, I wish I could have gotten more time with you guys. Eventually I'm going to get around to adding all of you to my friends list.

PS: hopefully in the next few weeks I'll edit and post the Longwood meetup pictures.... I'm so late with these...

PPS: I told some of you I'd sneak this into some post... I got into the finals of the Simplicity coat contest!! XD