ONWARD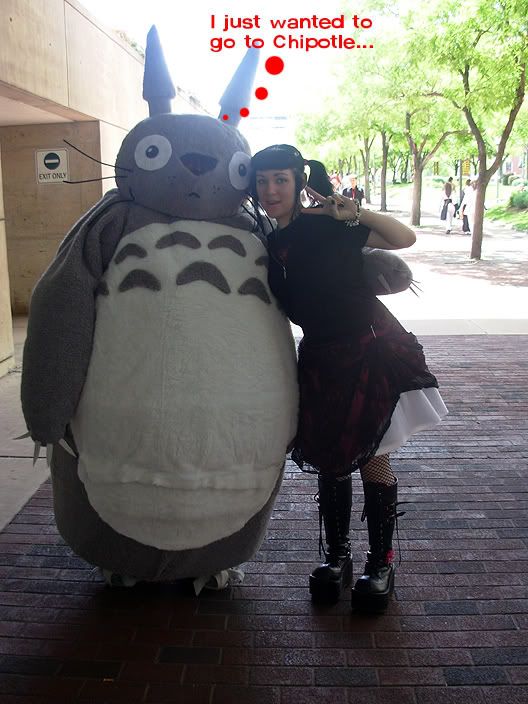 This poor guy was just trying to leave the BCC in peace, and everybody and their mother (Karaya included) wanted his photo. Hahahaha NO LUNCH FOR YOU TOTORO



This guy wanted a photo with Karaya. 8D Hohoho.



We met this lolita named Katrina on our way to the dealer's room



Morgan, looking cute and summery in Parfait



This girl was so flustered and cute. xD I was upset that she said she'd thought about modeling for the jfash panel this year and decided not to!



A pair of lolitas who were standing nearby (one of which is apparently a friend of Angela's)



FOLLOW THE BUTTERFLIES, FOLLOW THE--



A very cute lolita whose blouse I recognized as the Dolly Blouse from ITS. I'm a big fan of Leah's, so of course I had to stop her!



Mary and Tyler at their Lolita 202 panel, which was a smash hit and very informative. They put everything I said in my own panel to shame.



I had so wanted to chase this girl down earlier, I love Alice Cookie print everything, especially in white. When she sat right down behind me at the panel I was pretty happy!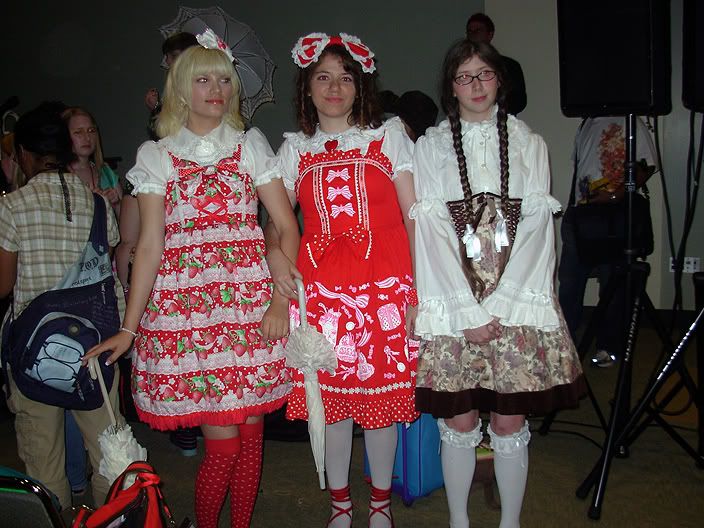 Getting in Millie's personal space is fun! Also being pretty is
umiyuko in a lovely brown coordinate.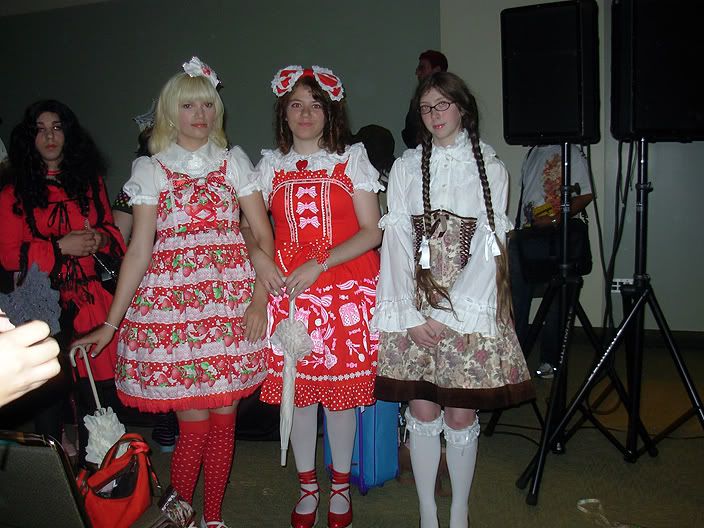 She's accepted it, now...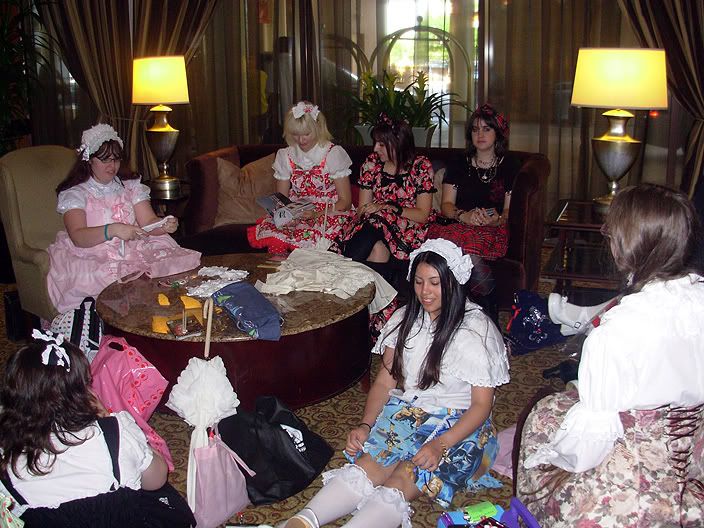 The swap meet Elizabeth and I put together, which was, in contrast to AX's this year, a seller's market, but then Lisa pulled out like ten items and people got spendy. There was also a 40+ crossdresser in "lolita" who was making me and a few other girls very uncomfortable, but Mary Jiminy Cricket'd me (as she is wont to do) and I let him be.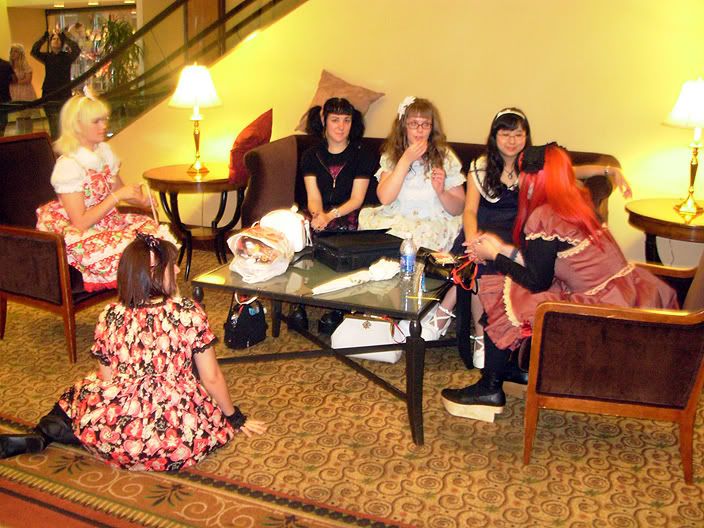 I can't remember what they were talking about, but it was something strange, to my memory.

As many individuals as I could get before everybody scattered!


yuki_dragon/Kara in MA and a skirt and bow I made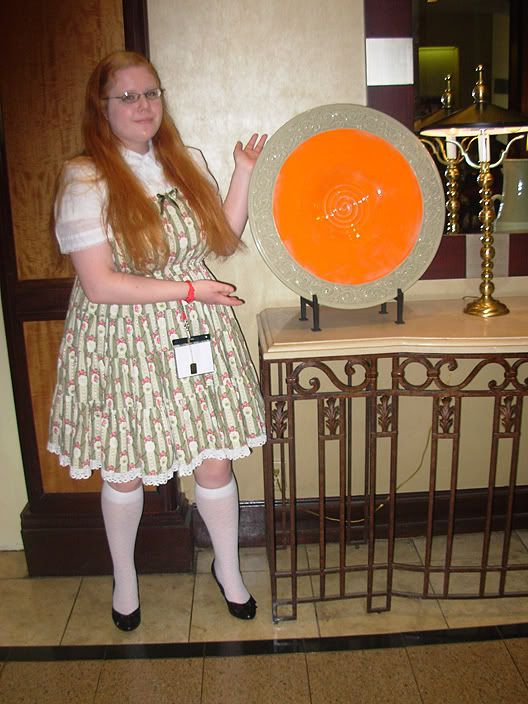 21stcherryboy/Xanet in Innocent World, who I cannot believe complains about that lovely hair


tiny_ichigo/Amanda in In the Starlight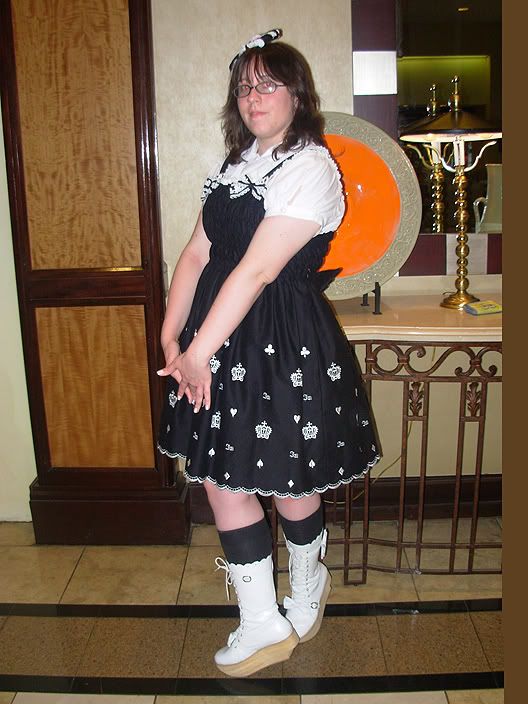 kisei_prophet/Laura in Innocent World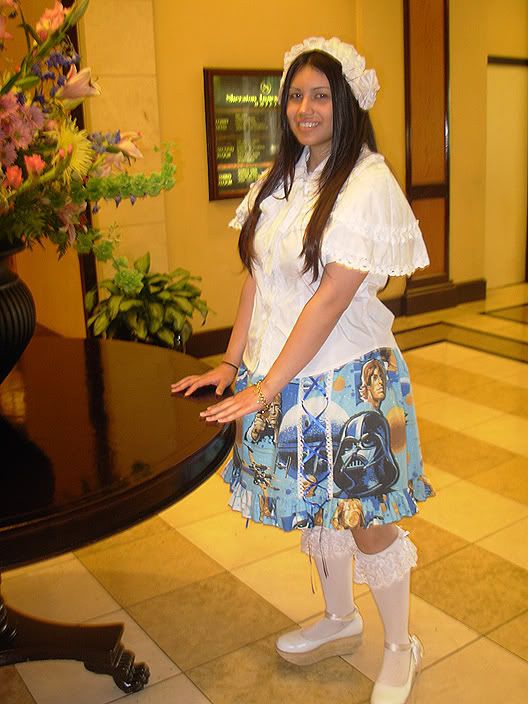 archfaith/Angela in her famous ITS Star Wars skirt


tropigalia/Mary in a Tyler-made set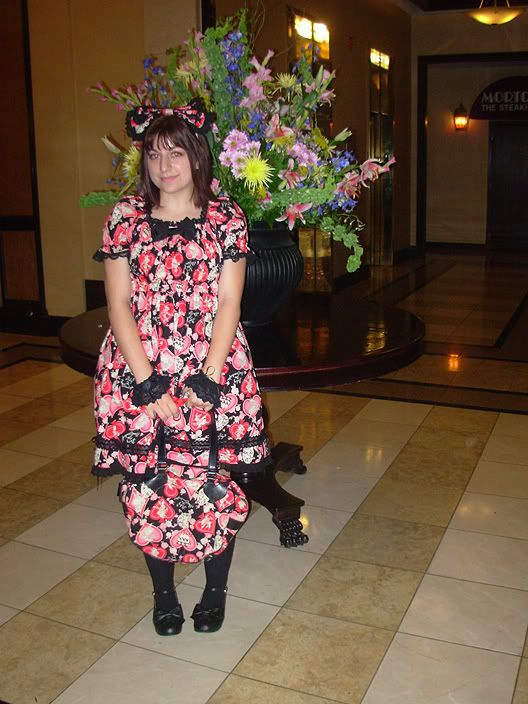 valkyrie_chan/Valerie in BtSSB, and I'm sorry your photo isn't centered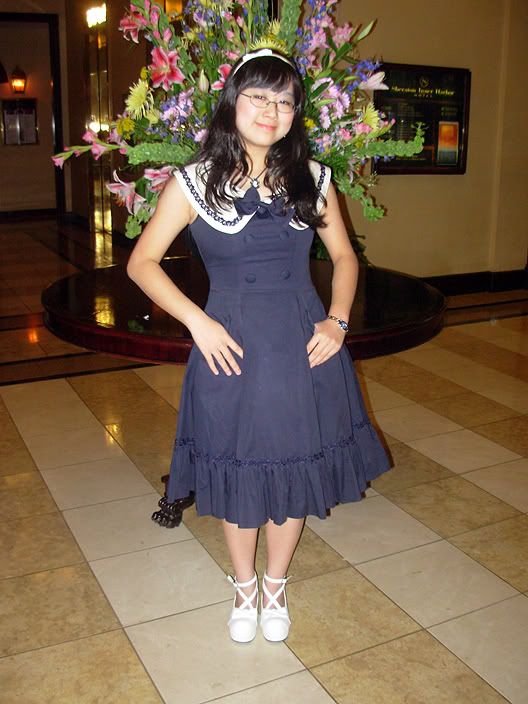 tian_shi/Angel in Mary Magdalene. She is the giggliest, cutest girl, she let me pose her like that and laughed the whole way through. ♥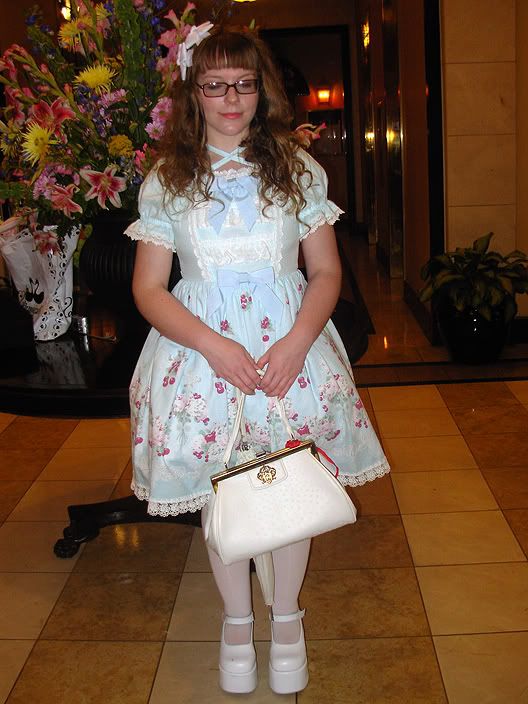 marthaness/Martha in BtSSB, sorry I caught you with your eyes closed! D: I didn't realize until later


oshidori/Real-Name-is-a-Secret in her own creation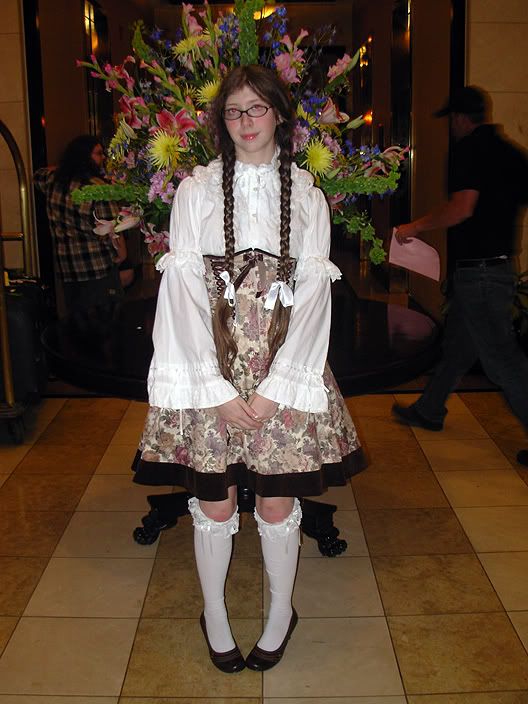 umiyuko/Lilly in Bodyline; doesn't she remind you of IW's models?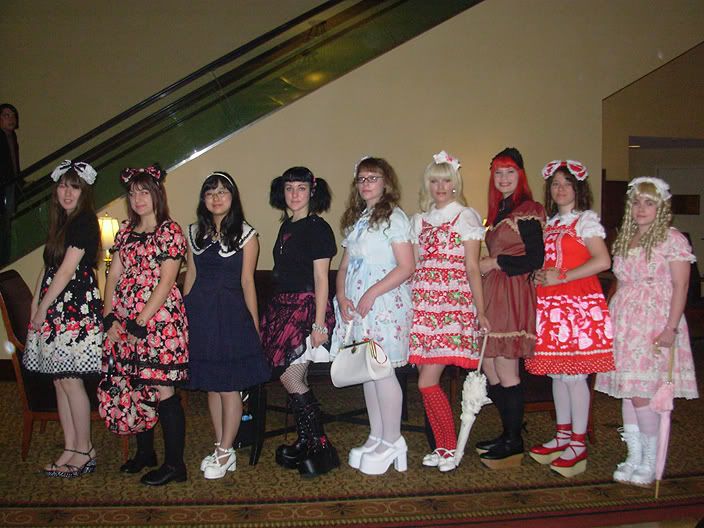 Group shot, and it wasn't even all of us in the shot. WE ARE MANY, WE ARE THE HIVE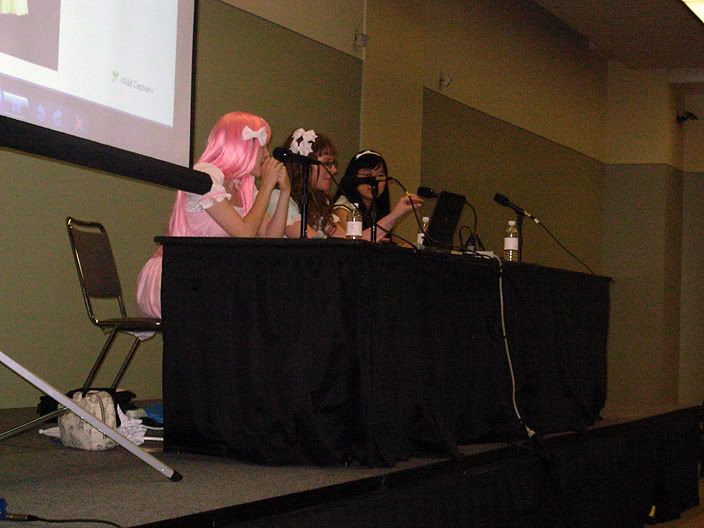 At Martha's DIY panel, co-paneled by Erin and Angel, and with a slideshow including work by
totodedum and
swdpunk. People were FLOORED by the reconstructions and handmade pieces.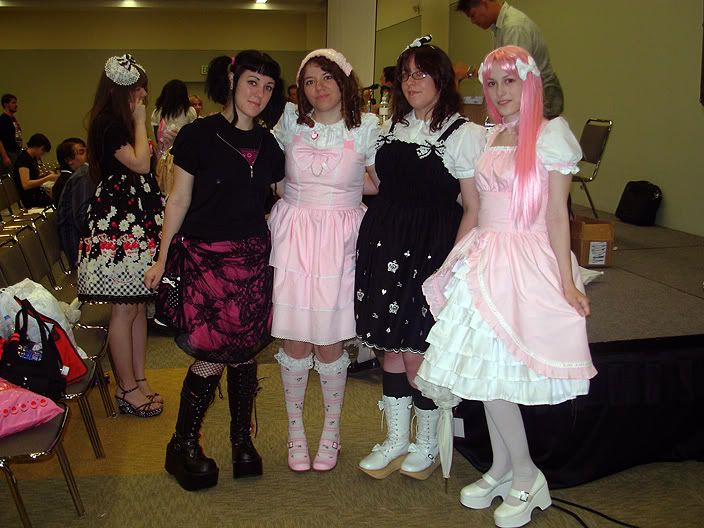 I changed into this for the panel, and took Kara onstage with me since I'd made 50% of her outfit, too. Then Erin ran away with my white socks! You can have them, they were only $4 at Trash lol.



CROMARTIE HIGH IS GOOD (wow, I wish you could see how huge my skirt is right there, it is impressive)


Sunday was short but also stressful.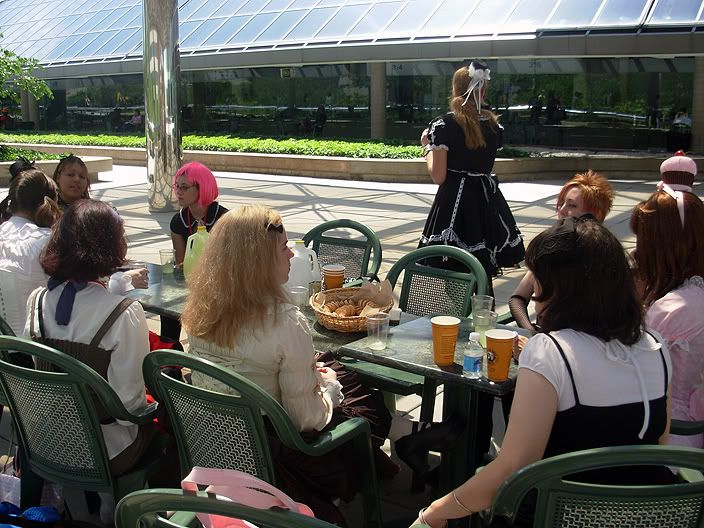 As an appetizer, I chose to check out the faux terrace party going on that morning.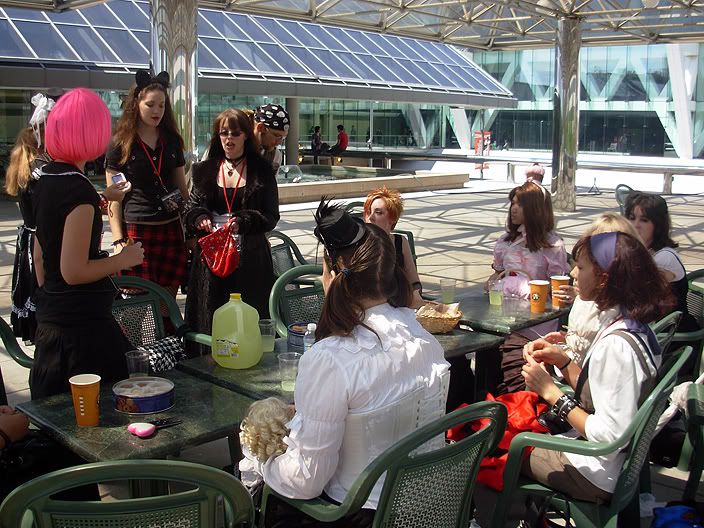 I didn't hear about them being shut down for having cookies served out in the open, so I guess it turned out okay. Those cookies were my lunch, lol.

Then it was time for the JFash panel!
katabulous got stage fright and I had to speak first. I'd never spoken to such a large group of people before D: half the time I wasn't conscious of what I was saying, and my well-constructed speech plans fell to pieces. Everybody told me I did great, but I still have a nagging feeling that I came off as a bit of an asshole to the non-lolitas in the audience. I also swore, twice, and Oshi hushed me. Whoops lol.



Angela and
electrichobo/Brittany, my sweet and punk models



The decora models, one of which is showing how it can be froofy like lolita but in a different way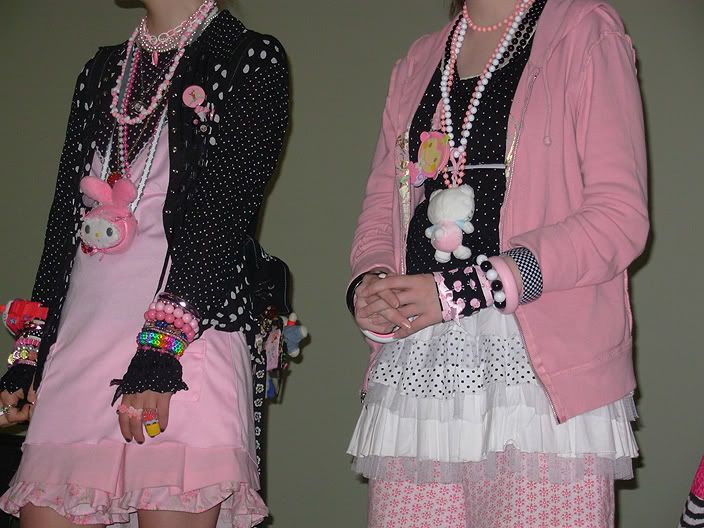 The other two's very cute accessories!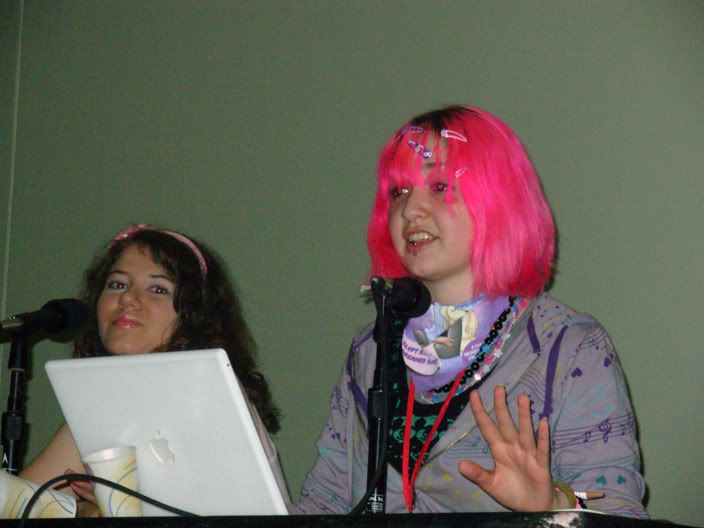 Kat outshining me



Our one cyber model; I don't know who accepted her, because we didn't have a cyber panelist, and we were also trying to focus on specifically Japanese-grown fashions. Cyber is hardly that.


Aaaand that's that! I hope everybody had as much fun as or more fun than I did! 8D