Otakon posts have been far and few in between, for some reason! Let us fix that. This year's Otakon, while incredibly stressful for me (my back is still feeling it), was also full of win and lolitas. We made little lolita caravans to go everywhere and held hands, it was cute.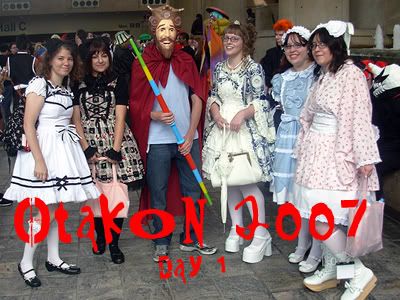 I also took videos! This is how you start the morning off right:

We watched Borat Wednesday night, and it led to Borat quotes allllll weekend.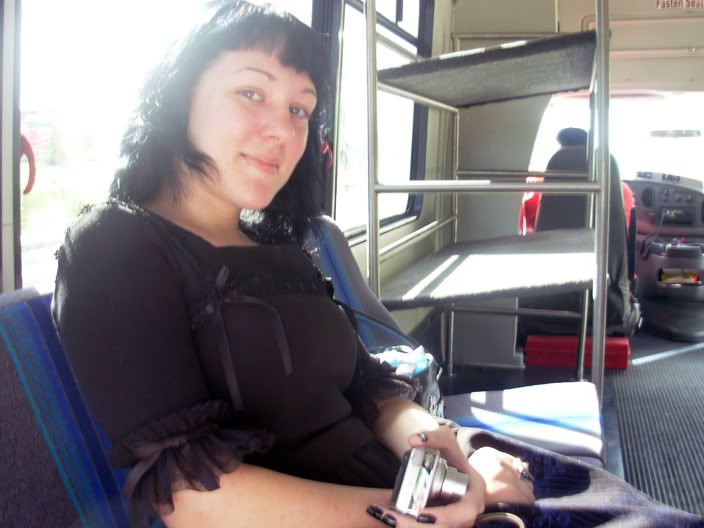 novalis_b/Karaya, on the shuttle thingy the hotel provided to take us to and from the lightrail station (we were 7 miles away from the con)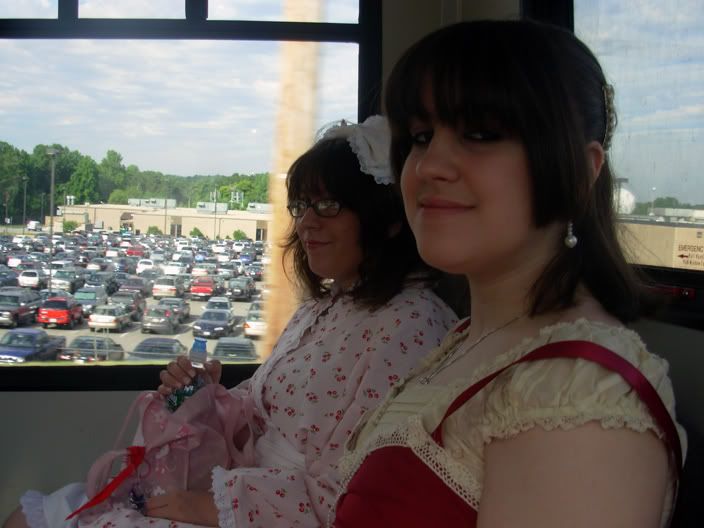 kisei_prophet/Laura and
yuki_dragon/Kara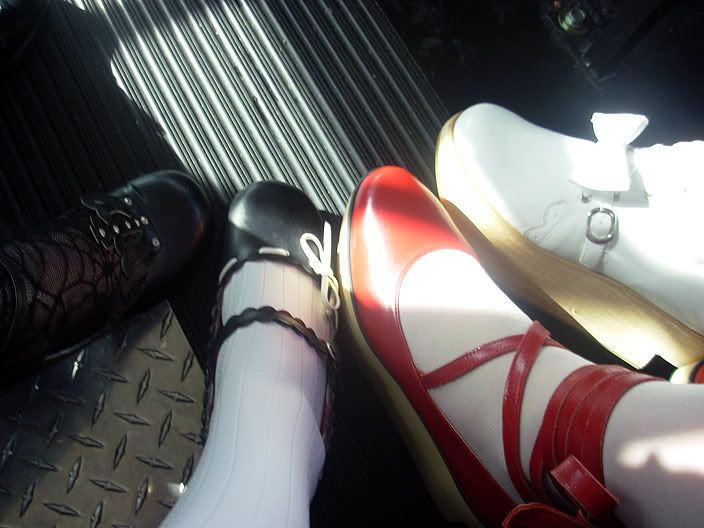 Early morning shoe shot!



Offtopic, but OH MY GOD. ♥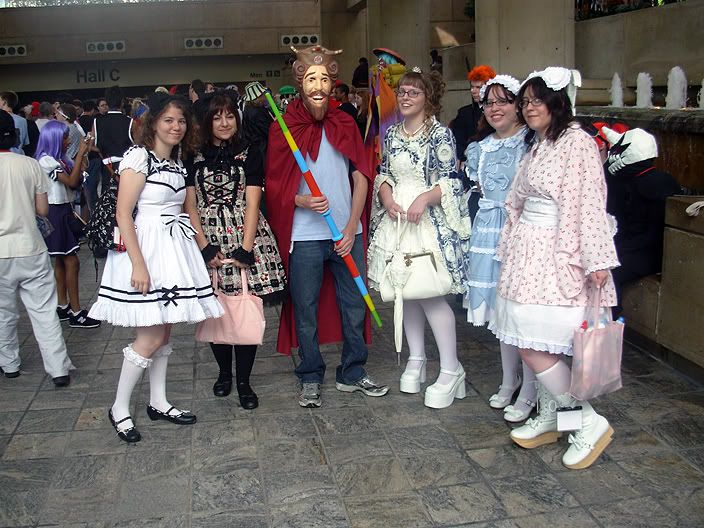 SHIT YES



Relevant for unstated reasons


darcia26/Morgan


bakaxtenshi/John

We waited in the Charles St lobby for us all to get together so we could cab it to Teavolve, and while we waited, something epic happened.

MADNESS?


Then it was time for weird cabshots!


HELLO LADEEZ



YEW LUK SERPRIZED 2 SEE ME



Making sure the kids are okay in the backseat. Laura sometimes throws shit at her sisters.



HMM

When we got to Teavolve, they had custom menus printed at the top with "Teavolve welcomes the Lolitas!" and rolled up individually at each place setting. The scones, sandwiches and dessert were delish and very cutely served, and the tea I chose was SO flavorful and good (Blue Eyes). :D The service was also great, I highly recommend this place.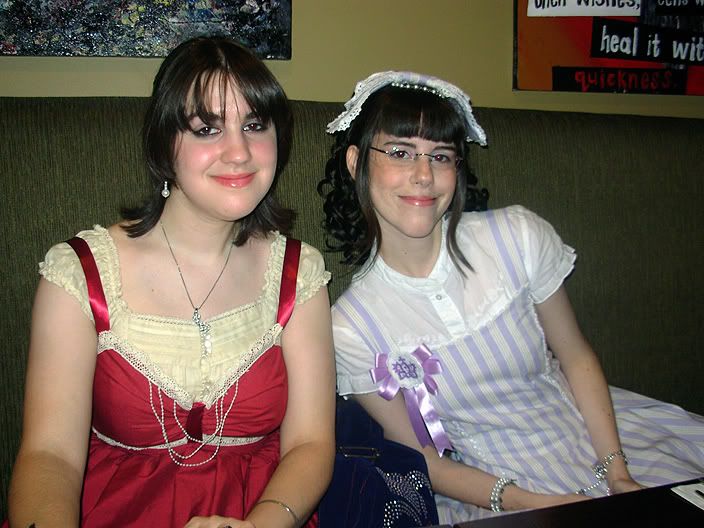 Kara and
sakurafairy/Tyler



That other table, who are these people lolFrom left to right:
sadistic_apollo/Joe,
aachannoichi/Adrienne, Karaya,
jeremiahmagic/Jeremiah,
marthaness/Martha,
valkyrie_chan/Valerie,
arktoi/Erin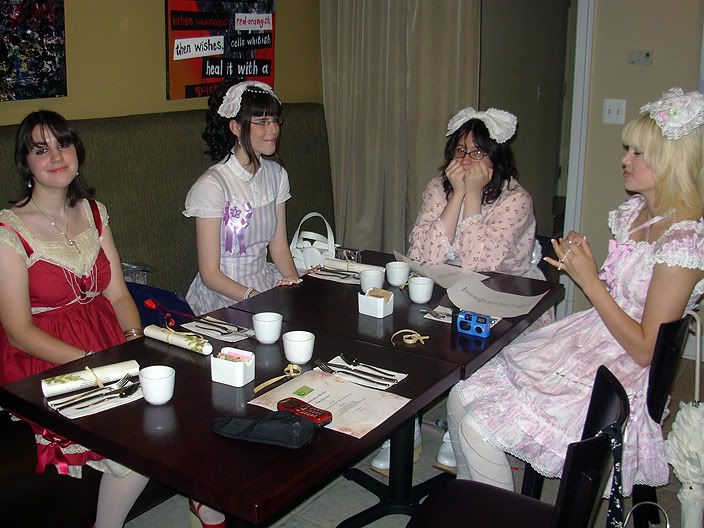 MY table! Kara, Tyler, Laura,
cupcakecadaver/Millie


toujourspret/Elizabeth the lovely organizer,
tiny_ichigo/Amanda and boyfriend Luigi, who later commented, "I didn't expect to get dinner AND a show."



Wait...



LAZERZ


tropigalia/Mary,
oshidori/only I know your real name hahaha, and
21stcherryboy/Xanet arrive slightly late!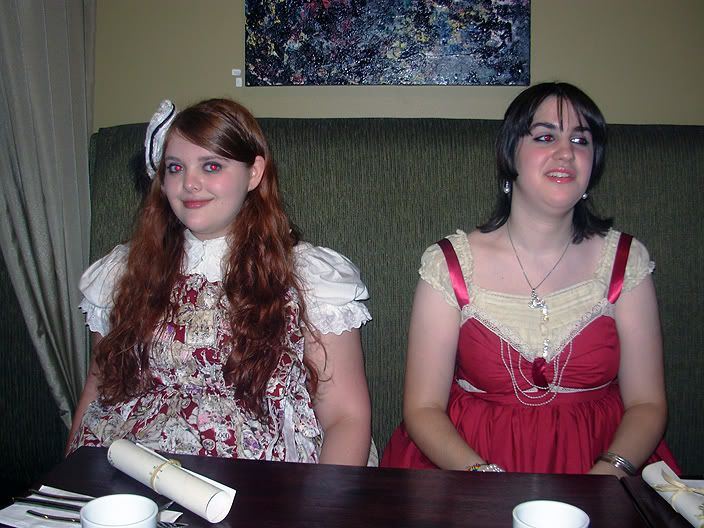 Mary and Kara



Oshi sort of settling in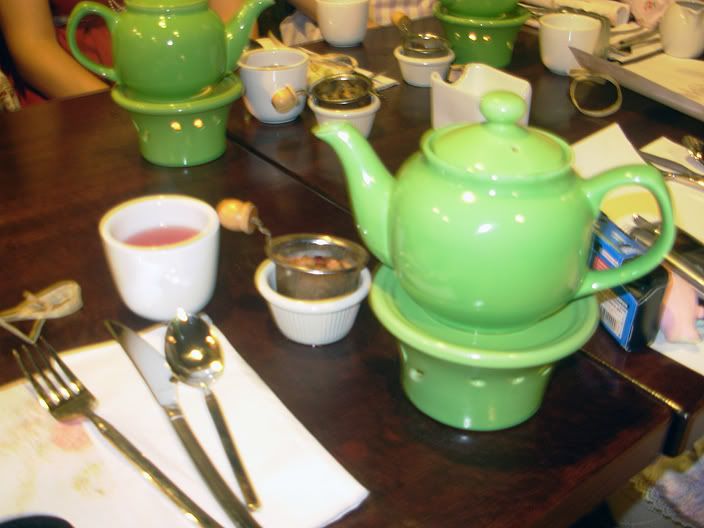 The tea stayed hot by means of sitting over a matching little candleholder, and they brought also a little cup to put the tea leaves/bits in once it was done brewing. :D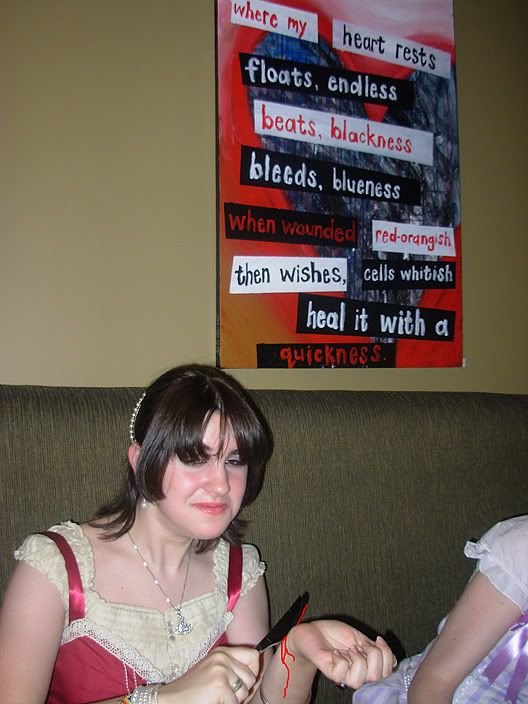 There was emo art everywhere. Kara demonstrates how this makes her feel.



Then the waitress pulled out a surprise karaoke machine! She started us off with These Boots Were Made For Walkin' and then left us to it.



I had to take this photo like five times because Karaya couldn't stay sat in her chair!

What follows are karaoke photos; I can't remember what everyone was singing, but I tried to keep the screen in the photo when possible so you could figure it out on your own.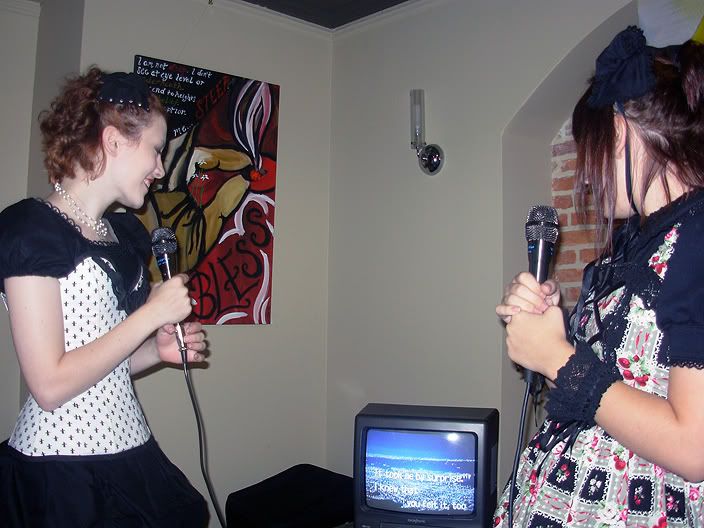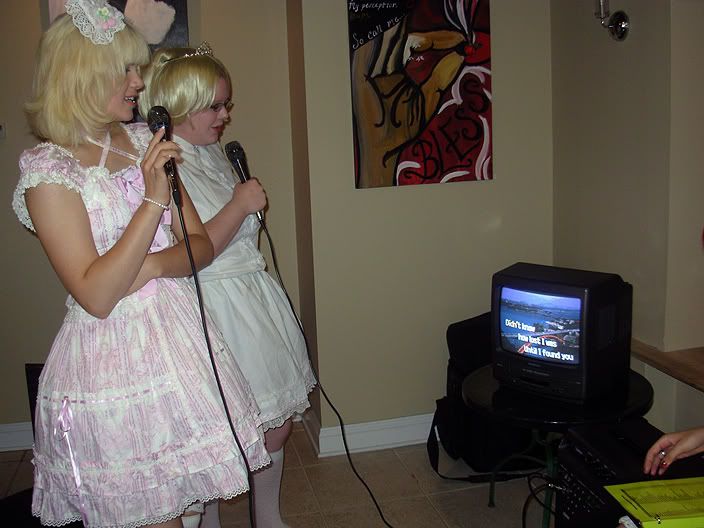 DJ Oshi!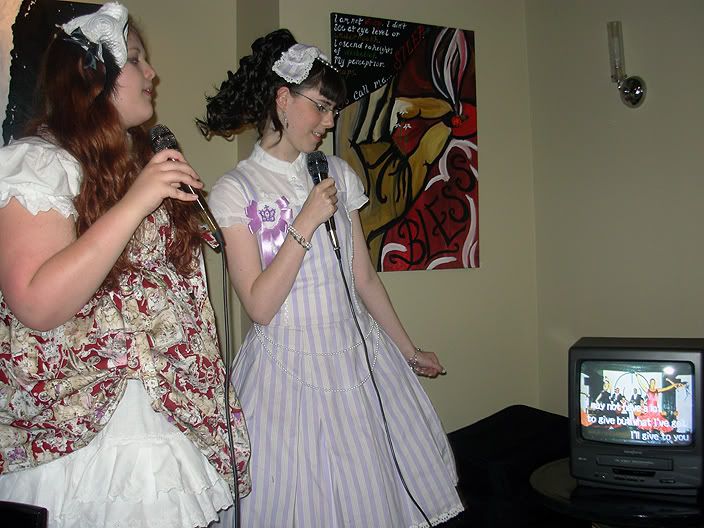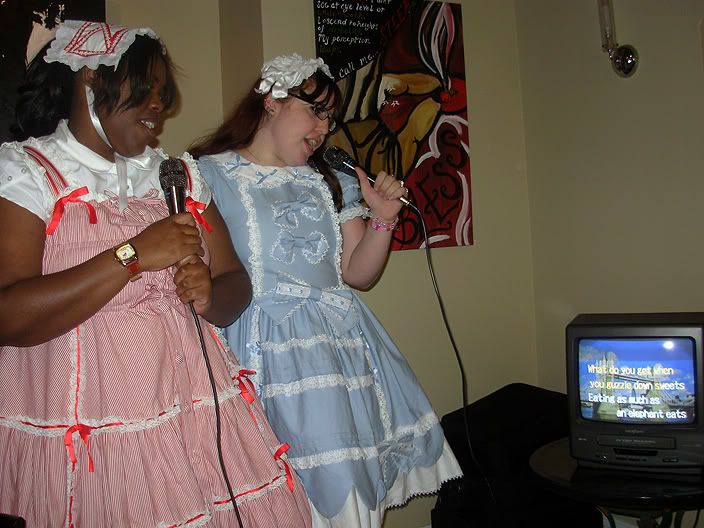 SWEET DREAMS ARE MADE OF THIS! I cut it off at 2:00 because I start chiming in like a dipshit.



Then we all sang...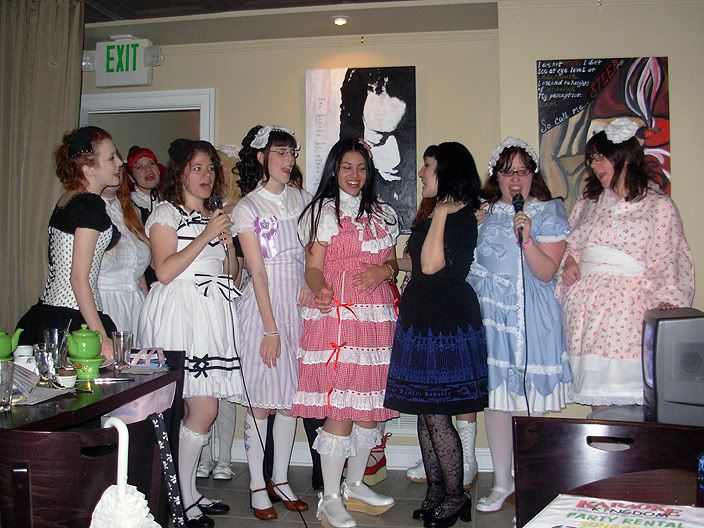 ...Girls Just Wanna Have Fun!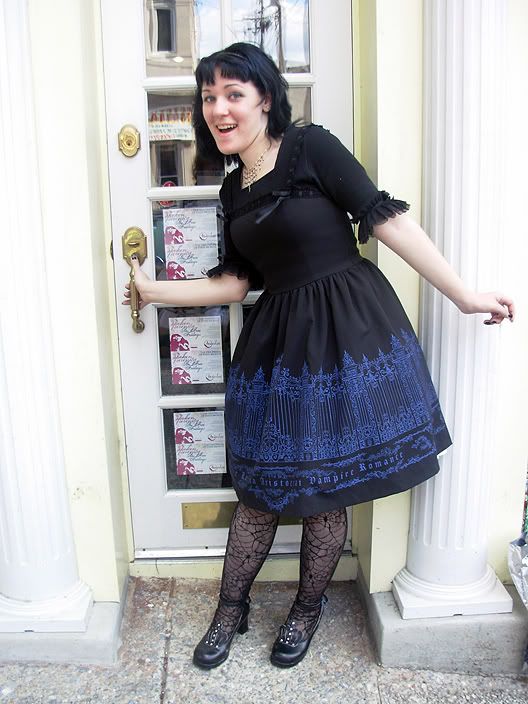 Karaya, who loves to try to open locked doors



Amanda, who loves to follow her example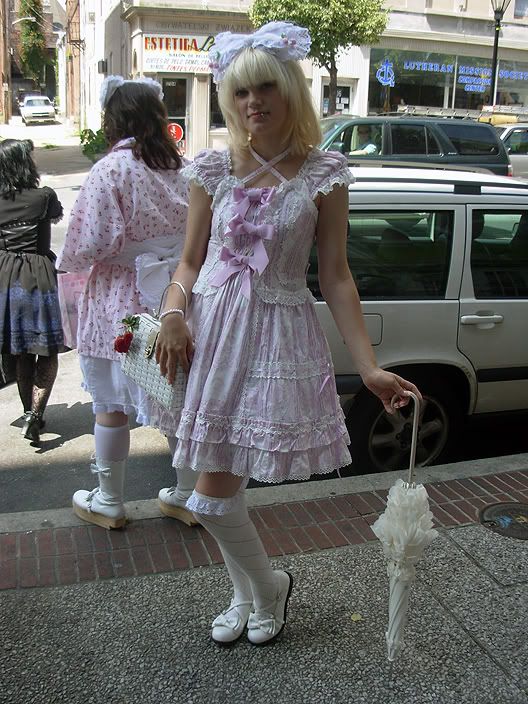 Millie, who wisely keeps away from doors and by the way is unbearably cute. I still can't believe she just "whipped up" that bow.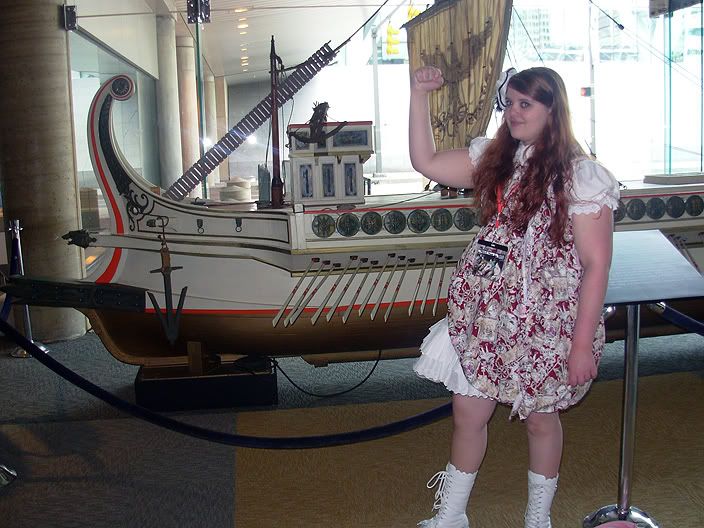 We arrived back at the con in style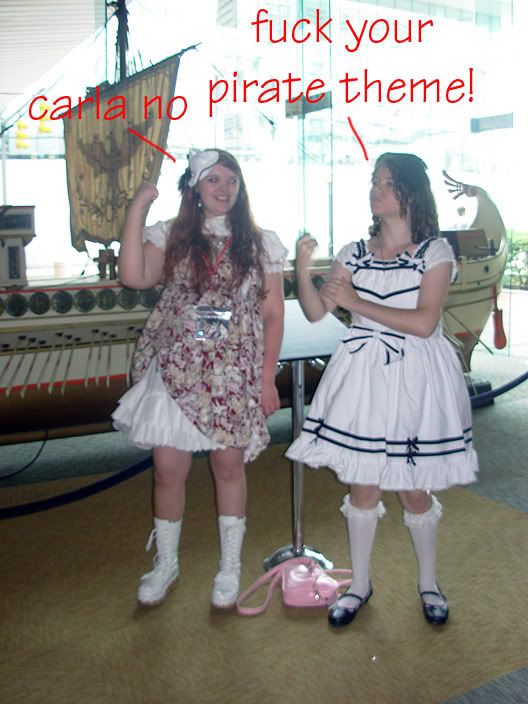 However I like to live up to my nickname of Ruiner of Shit in General



The very cute
driftingleaf/Lii-Lii, who modeled in the JFash panel sunday for us ♥



We hit up the dealer's room next, and there was this big Helsing prop set thingy with great lighting, so Karaya being our gothic lolita, I threw her in there and took some shots. Unfortunately, I forgot to turn off the flash for this one.



Then the lighting abruptly turned red and it kinda ruined things.



He ONLY wanted a photo with Laura. ONLY. You can sorta see how Laura feels about this.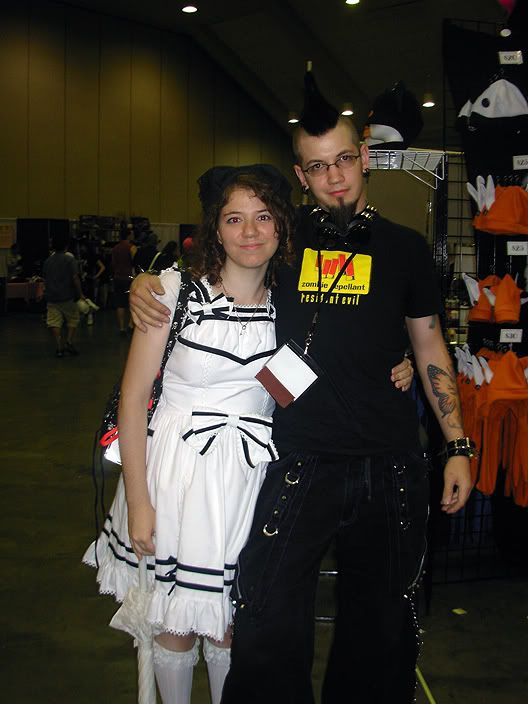 This guy had a great mohawk, and if you know me, you know how I feel about mohawks lol.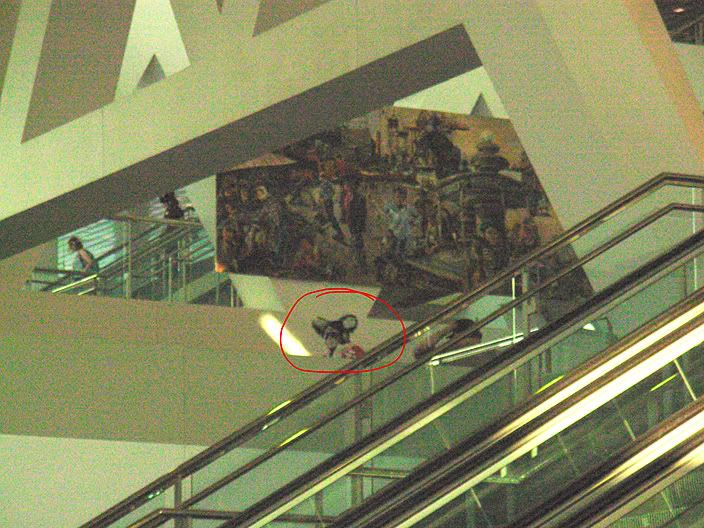 Offtopic, but... lol someone help me identify this... thing


AND THAT DOES IT FOR FRIDAY! SATURDAY/SUNDAY POST HOPEFULLY LATER TONIGHT, AND IF NOT THEN TOMORROW MORNING