I was window shopping today and came across this skirt (it was the local "skimpy" shop called supre) which I thought had some potential in being lolita...So I spent about half an hour in the shop looking for some skirts to put under this one so I could see if it would foof (they do no returns). The girls in the change rooms probably thought I was mad when I came out of the change room with this massive skirt (not massive to us) on with my frilly bodyline shirt on. And so the story ends with a happy one. I found a new skirt that has enough room to foof for cheap! I also puchased the red cardigan which I now makes three (a black and a white one) that I have!
Everything i am wearing in the picture was purchased locally (even the petti!!) except the shirt. The bag was a present from a friend, but I'd seen it before in a shop window!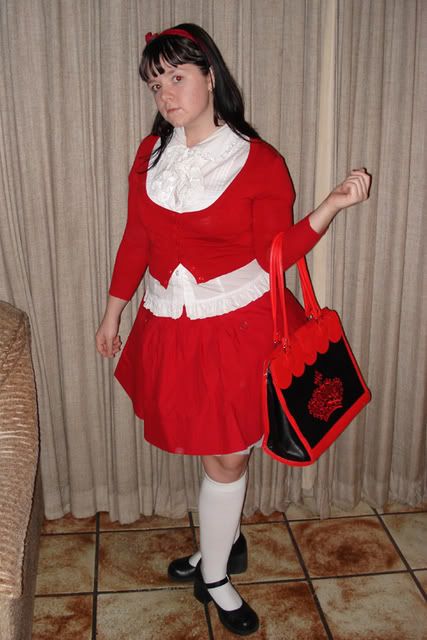 The Outfit run through:

Headband: Target $5
Cardigan: Supre $10 (I have three, black, white and red now)
Skirt: Supre $20 (pretty cool eh? heaps of foof room)
Socks: $4 target/kmart/sock stand
Handbag: Dangerfield/local asian gift store (it was a present but im guessing $40)
Shoes: Payless Shoes $30
Petticoat: $8 from the GOODWILL!