On July 6th, 7th and 8th was held Japan Expo, one of Europe's biggest cons near Paris, France. Around 83.000 people came.

Besides various cosplay events, there was a Laforêt Harajuku fashion show featuring Algonquins, Baby, the stars shine bright & Alice and the Pirates, A mon avis, Angelic Pretty, Atelier Pierrot, Black Peace Now, Casper John, Emily Temple cute, Putumayo, Sexy Dynamite London, Stigmata, and Super Lovers.
Nana Kitade also modelled during said show and then sang a couple of her most famous songs.
Other famous guests included Kana, Hakuei, Yoshiki, Visual Kei band Dio-Distraught Overlord, and Maki & Asuka [illustrator & designer for AP].

In other words, it was the perfect setting for a couple of meet-ups :]





Some of these look crappy because i had to resize them though. sorry :[

Friday




from left to right: Lea [
kanon_chan], Sarah [
moi_10_mois], Lucie [
lsirial], Gabrielle [
addictive_sugar; excuse my unlolitaness :x] and Julie [
dismal_carnival].




Sarah in Moitié and Lea in Baby.




there were some interesting creatures there. I'm not sure Julie feels like being friends with that lovely...thing behind her though.




OH NOEZ! Julie's bionic killer usagi [which name is indeed terribly frightening: it's called...Macaron o_o;] is trying to eat Lucie's brainz!!!1!!1

Sarah, Julie and I also got our picture taken by Mrs. Isobe at the Baby booth :]



Saturday

Our 'main' meet-up.




from left to right: Daphné [
oniplume], Aurélie [
lilikadesbois], Julie [
dismal_carnival], Gabrielle [
addictive_sugar], Sarah [
moi_10_mois], and Lucie [
lsirial].




Lea was adorable in her Btssb Oz coordinate!




We had sugary sweet green sweet check twins! ♥




Smoking is so not rori...but then again it's a pirate, and pirates do nasty things. arrr! [don't you just love Sarah's facial expression? i sure do! xD]




There was also another pirate who was admittedly a tad sexier than the previous one...no offense, Sarah :p




We then encountered our lovely classic lolita, Valérie [
nella_fragola] :]




Julie and Aurélie got a Kana autograph. and I got jealous.




Again, some furry thing tormented a poor lolita :[ altough Lucie doesn't look that bothered.
[the sign said 'don't touch! he's sensitive' :D]




it says 'credit card accepted'.
i don't think i have anything else to say, the pic speaks for itself +coughcough+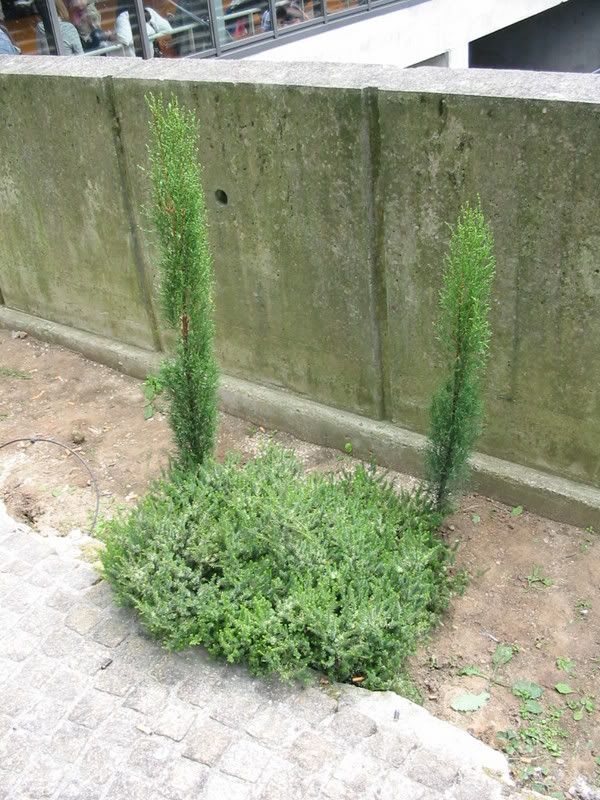 Bunnies everywhere!!

We also got photographed by the Gothic, Lolita and Punk Brandbook :]



Pictures of the fashion show:

Btssb:





A&tP:





AP:





ETC:




Putumayo:




A couple of videos since i couldn't find many good pictures: 1 2 3 etc. :p

Too bad most of the models were fugly.



Sunday




I met my prince charming a lovely young man :D and let my inner weeaboo out.

Daphné, Sarah and Lucie were also there but sadly we didn't take many pictures :[



Some pictures of Nana Kitade:




Signing autographs.




As a model for Atelier Pierrot - Fairy wish.

Her live at the Laforêt show:




probably the cutest thing evar, no?

Moar picshazz of her can be found here and here!

She was tiny, had the cutest voice and was very bouncy, even her headbanging was adorable rather than wild! she also said a couple of things in french with a very cute accent, the audience went crazy xD
Too bad we didn't see much from the actual stage because we were too far away and there was a huge crowd in front of us :/ we basically watched the concert and fashion show on the screens.



Maki & Asuka:




Lea with both of them. I r jealous rori rite now.

the funny thing was, they both had the exact same haircolour Nana had. Must be some kind of rorita trend over there. [/useless comment]



Baby's shop clerks:




Lea with some of the Btssb clerks [i r jealous rori again]. The second one is in front of the Baby stand :3

If i remember correctly they were five or six all in all, so at least one of them is missing D: i could be wrong though xD; We didn't take enough pictures of them, even though they were all so adorable and well dressed :[



Other lolitas who weren't part of our group:




We saw her on Friday, but I wasn't wearing my Marie-Antoinette JSK then :/




But i randomly found another twin on Saturday :]
We could have been triplets, though! mucho sadness.






Moar pics can be found here, here and here, if you don't mind browsing through tons of cosplay pictures. or pictures of giant pokemons. yeah.



On Monday, july 9th, Nana Kitade was invited at 4pm at the BABY Paris shop to sign autographs.
We decided it was the perfect occasion to meet up again.



lilikadesbois, her boyfriend,
oniplume,
moi_10_mois, her cousin and myself met at noon at the japanese bookstore Junku near the Opéra, before heading to a small japanese restaurant nearby.
Afterwards Aurélie and I had some trouble with the fit of our burando because of the enormous plates of chicken curry rice we ordered :p
We then had to abandon our plans of visiting an exposition because of the rain and decided to go to Starbucks instead. Because we all know coffee > culture.




Law of nature: lolis love Starbucks. Also, plz to be ignoring mah face, thx.




Lolis also love camwhoring...




...and being silly with their Hello Kitty mirrors.

Marie [
sweet_yunie] then joined us and we went to the Galeries Lafayettes to drool over a. handbags b. cosmetics c. Hello Kitty merch and, more importantly, d. Vivienne Westwood stuff 8D they had these amazing shoes on sale but sadly, 275€ were still a bit much :[

Eventually
dismal_carnival also came along and we headed over to the BABY store.
There were already a lot of people waiting and Nana was late :/ celebrity, eh.




rain: DO NOT WANT. swimmer umbrella with roses and strawberries, however...




Nana finally arrived. She was wearing the 'I scream' JSK :] she was so adorable. We were litterally squealing over her cuteness ♥

The people waiting already all rushed inside the store to be able to take pictures and participate at a quizz with questions about her. The price for each correct answer was either a Btssb mug or plate. Lilika won a mug xD
They also handed out free Btssb x Nana Kitade x Charmmy kitty tote bags :D
Since the store was already crowded we decided to wait outside until all the other people got their autograph.

Eventually, we all also got an autograph and our picture taken with her...




...including Sarah's not-quite-rorita cousin Kate.
please to be noting the Xtreme pidgeon-toedness; it was quite scary xD;
yeah...she was actually walking around like that, too.




I just had to put this one up, because it's quite possibly the cutest picture ever *-*




Sarah got her Bunny-bear Cocaïne autographed :]
And as you can see, there was a camera-woman who filmed the whole process...I wonder if we'll ever get to see the final product on youtube.




Aurélie and Julie were happy about their autograph, obviously. and I was touched by divine light? or something? o_O;




eh, yeah. DON'T QUESTION THE POSES. IT'S CUTE OKAY.




well...maybe not quite as cute. [a week later, Julie also discovered the metalhead inside her]
Sarah and Daphné with Florian and Karine [
etoiledejade] :]

Outside, Sarah, Lilika and I got our picture taken by Kera!




Sarah was number 13 xD Let's hope it'll bring her luck and she'll be picked to appear in the street snaps :]




Ms. Sato [she works at Baby and is adorable!] and the Kera photographer, who was lovely.




He took this group picture for us :]
The lovely loli on the left was one of the Baby clerks who worked at Japan Expo, as seen previously. In the middle between Marie and Sarah is Mr. Sawada, the manager of Btssb Paris. He's an angel, but we had a hard time convincing him to let us take a picture with him; he's shy :p In the front next to Lilika is Ms. Sato again. Jeanne [
la_mome_neant], on Julie's right, joined us a little late because she had to work that day.

Before leaving, we also got a gift from Mr. Sawada - he gave each of us a Btssb x Novala Takemoto ring :] I told you he's an angel ♥

That's it! Here's hoping you're not sick of us french lolis by now :p



the pictures are pretty much from all over the place and i lost track where i got them from, so sorry for the lack of credits :/

anyway, thanks for looking :]