Let's start off with definitions.
Cyber - Although this is roped in with cybergoth, the two are fundamentally different. Cyber may have some black in it, but is mainly a colorful style. It is significantly less subdued than cybergoth, which is meant to be more of a casual style whereas cyber is mostly club wear.
Now, in it's original intention, cyber was fashion that was technologically based. Much has changed since then, leaving us with what it is now.
Cybergoth
- Gothic fashion cut with raver undertones. Florescent colors used, big boots, etc. Looks like goth, but with bright colors and extensions. Note, GOTHIC, meaning that this style uses a lot of black, pvc, etc.
Cyberpunk
- A literary style pioneered by William Gibson's Neuromancer, Neil Stephenson's Snow Crash, and other such works.
Cyber is someone full of color, stuck in the internet. Cybergoth is a goth stuck in the internet. Cyberpunk is someone stuck in technology.
Examples:
Cyber
1
2
Cyberpunk
1
2
Cybergoth
1
2
This is not meant to offend anyone, piss anyone off, or get anyone's bloomers in a knot. I'm simply incorporating a mixture of niche fashion styles into one crazy outfit.
I know I look insane. I know I have no make-up on and that would dramatically change the outfit. I know that I have very olive skin, which doesn't work well with the fashion style. Any constructive criticism that looks past these items would be lovely.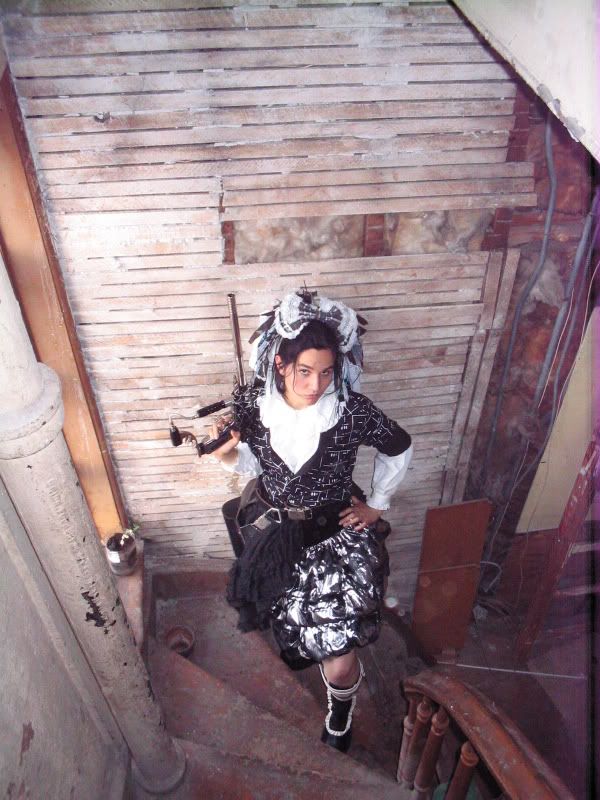 Outfit run-down


Hairbow - Angelic Pretty

White shirt - Meta

Black shirt - Z-2

Black skirt - Meta

Crazy underskirt - found at thrift store

Boots - AaTP

Belt - made by my dad for my Leia Endor costume

Falls - made by me (from plastic bags)

Gun - Paintball Marker ('cause it ain't a real gun.)

This post includes pictures and information. Read on if you'd like to help me break these terrible stereotypes.