I came up with the base design about 3 days ago, then I visited TA in HOPES that Takuya-san was finally done with my jacket (which it wasn`t but offered me his show tape from 8 years back and took me out to dinner/drink so all was good :D ) with the original sketch, whom suggested me a few fix-ups (and showed me some of his new [Astroboy / Bugman (cape)] designs while listening to my plea for a TA backpack), and I came up with this particular design: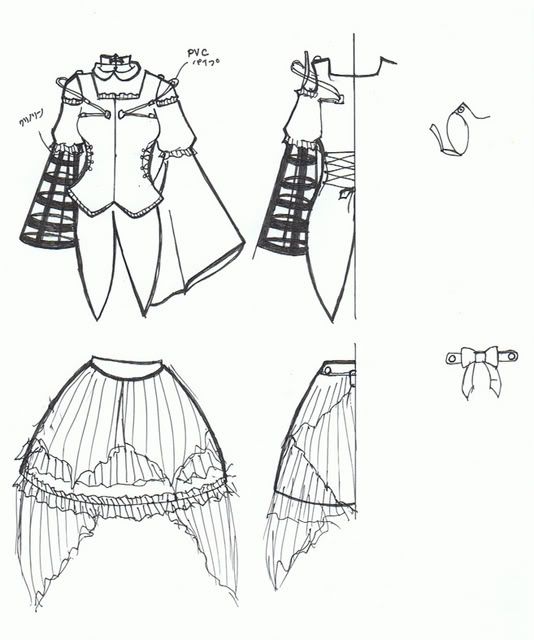 Very very :O for the people who do not like Cyber mixed with lolita apparently (look ma, there`s TUBES) I originally aimed it to be something with some wa-image by trying to make the detachable-sleeve kimono-ish, but then when you try that in real life I find it very uncomfortable so I moved it out of question, and gave it Crinoline-arms to try and create a (somewhat passable hopefully) ero-loli taste.
The skirt I admit is HORRIBLE, hence why I`m currently modifiying it. I originally had the gigantic hanging layer to be overlapped by the Blouse`s so you see a bit of it but it ended up to be pretty disastrous ;_; So I modified it a bit in this illustration: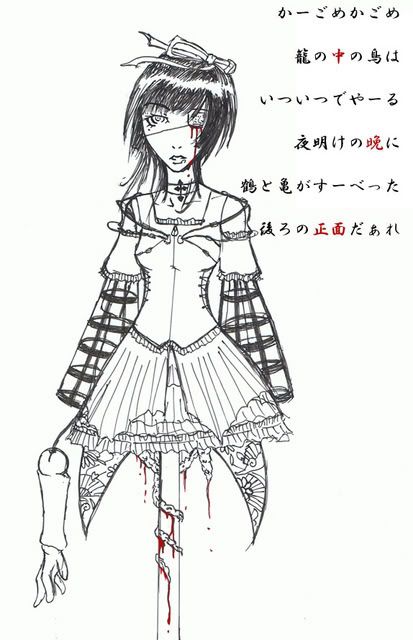 I`m oddly attracted to traditional japanese children songs again for their odd morbidity.
(I must also be the one person who still questions if blood splattered on any burando will become Guro-loli instantly)
And I shall quit posting for the next 2.5 days till I finish all the Shopping craze for some of you guys X_X
Note: There`s LOTS of updates, 2 people that did contact me.You guys will just be getting your second choices, and this will be FINALIZED (as I am providing a self-made list to people who are helping me in 4 hours and don`t want to confuse them) If you don`t get the second choices, well you`ll be getting some random pack of the same price.