For those in attendance of this year's Anime Expo & would like to meet up & catch a little lunch with fellow lolitas ...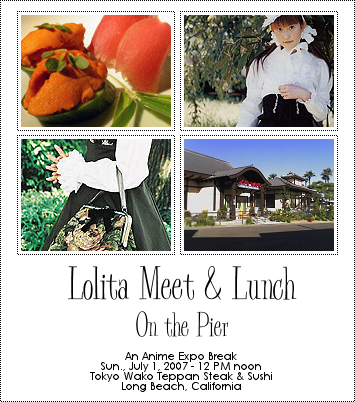 Hello, everyone!

It's that exciting time of the year again -- Anime Expo! Since many lolitas will be in attendance, it would be great if everyone could take a little break from the con and meet up together at least once that weekend!

This year, I (Lauren; LJ name:
kuramew) will be hosting a lolita meet & lunch on Sunday, July 1, 2007!

It will be held at noon (12:00 PM) at: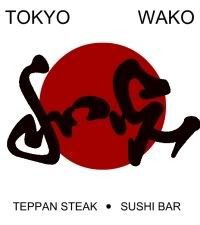 Tokyo Wako
310 S. Pine Avenue
Long Beach, CA 90802
http://www.tokyo-wako.com



The price of lunch will be $22.00 per person inclusive of tax and gratuity and will include the following:

Hibachi/Teppan-yaki Lunch Combo
(Choices for beverage, 2 entrée items and dessert are to be chosen when you order!)

Beverage: Your choice of soft drink (CocaCola, Sprite, Diet Coke, Lemonade, Iced Tea), Japanese green tea, or coffee

Mushroom Soup

House Green Salad

Hibachi Vegetables

Steamed Rice

Entrée: Your choice of 2 different items (Mini steak, chicken, shrimp, salmon, scallop, calamari)

Vegetarian Entree:
1. Teppan yaki vegetables - a larger variety and greater amount than the normal hibachi vegetables that everyone receives. According to the manager, it will contain the same vegetables as the hibachi choices plus white cabbage, napa cabbage, mushrooms and broccoli.
2. Tofu steak

Dessert: Your choice of ice cream (Green tea, mango, red bean, chocolate)

----------

Location:




In terms of location, this restaurant is literally across the street from the front of the Long Beach Convention Center. (Please see reference photo courtesy of my boyfriend Matt's cell phone). I have already visited this restaurant location today (June 18, 2007) and it is adjacent to Gladstones and across the street from Borders Books & Music.




Walking Directions: Leave the Convention Center through the front main entrance where the stairs lead to Pine Avenue below. Proceed left towards the pier and cross E. Shoreline Drive via the crosswalk. The restaurant is immediately ahead.

Parking: If you will not be walking from the Convention Center, there is a small parking lot located in front of the restaurant that will allow 1 free hour of parking with validation (at the restaurant) and $2.00 for each additional hour.

Please arrive on time, as we will be having reservations and I will be there to welcome & escort you to the tables!

----------

RSVP & Deposit:

Because of the nature of this event, I will be asking that individuals who wish to attend please RSVP to LiLQTpika@aol.com with your real name, LJ name, phone number, Paypal payment type and any other additional attendees (significant others, friends, etc.) with their respective information.

The payment for the meal must also be made ahead of time so that I may pay the bill at the end of our event and no complications arise! Along with your RSVP, I will require that $22 per each attending individual be sent via non-credit card Paypal before the event. Alternatively, if you wish to pay your deposit by credit card Paypal, the total will be $22.94 to cover Paypal fees.

The last day to RSVP and send your deposit is midnight Wednesday, June 27, 2007, as I will be reporting back to the restaurant with a headcount of those attending. Cancellations or additions after this point will not be accepted.

Before you send your deposit, you need to RSVP first so that I can confirm your Paypal method and provide you with 1 of 2 payment addresses! Please do not send Paypal deposits to LiLQTpika@aol.com if you haven't received a response from me!

----------

Enforced Dress Code:
In an attempt to stray away from events in the likeness of those organized by Cosplay.com and in order to maintain an authentic 'lolita atmosphere,' the following dress code will be enforced:

1. As this is NOT a cosplay event, please NO cosplay lolita! This also includes characters that have lolita-inspired or lolita-influenced outfits.
2. No punk, kogal, visual-kei, fruits, ero lolita, guro lolita & 'maid lolita' cosplay.
3. No excessive cosplay-like makeup (i.e. in attempt to cosplay Mana, etc.).
4. Yes; significant others, friends, etc. are allowed with casual street clothing. However, if they are not wearing lolita, they should not be wearing anything that breaks the above dress code.

Please understand that we just want to keep this fun and lolita-oriented for those truly into Japanese gothic & lolita fashion!

----------

I believe this is one of the few lolita events being planned at Anime Expo and since a bunch of us are attending, I would love to see you girls there!

And of course, dress in lolita is highly encouraged!

Attendees:

1. Lauren (kuramew)
2. Matt (mattster_v1 – Lauren's boyfriend)
3. Audrey (ignipotent)
4. Lynda (pawteegal)
5. Jacki (jackichen007)
6. Nicole (sekiria)
7. Rebecca (carmila)
8. Derainna (rayna1)
9. Joseph - Derainna's boyfriend
10. Sheyne (neku_niku)
11. Debi (deedlelu)
12. Terra (hazaken)
13. Ashley (venus_ivy)
14. Veronica (paranoia9)
15. Katie (exploding_candy)
16. Diana (miyoung_boz)
17. Janora (riantlykalopsic)
18. HowlnoNyanko
19. HowlnoNyanko's husband
20. Paula
21. Todd - Paula's bf
22. Brenda
23. Jennifer (frozenemotion9)
24. William - Jennifer's bf
25. Johnston - Jennifer's brother
26. Jodie - Jennifer's sister
27. Mary (Mayuka13)
28. Stella (miffytoki)
29. Rob - Stella's fiance
30. Trang (thevisual_beast)
31. Julie (smileysquid)
32. Ben - Julie's bf
33. Remy (gremlinita)
34. Sara (panda_usagi)
35. Chau (Muted_Serenades)
36. Janet - Chau's sister
37. Ashley (accelagirl)
38. Michael - Ashley's bf


EDIT June 21, 2007; 9:41 PM - Vegetarian option added above.

EDIT June 21, 2007; 11:06 PM My friend, Joyce, has been nice enough to put together the above information into a webpage in case you have lost this post:

http://www.digital-wing.com/lolita/

Additionally, it has an Easy Question & Answer script on it, in which I can answer your questions immediately rather than having to sift through them on this post. Please use this feature BEFORE e-mailing me if it does not concern your RSVP or deposit!

RESERVATIONS CLOSED! THANK YOU & SEE YOU SUNDAY!