I've never been able to get my lolita wardrobe all together like this before, it's always been scattered between three diffrent locations. Until now!! XD All items are made by me unless mentioned otherwise.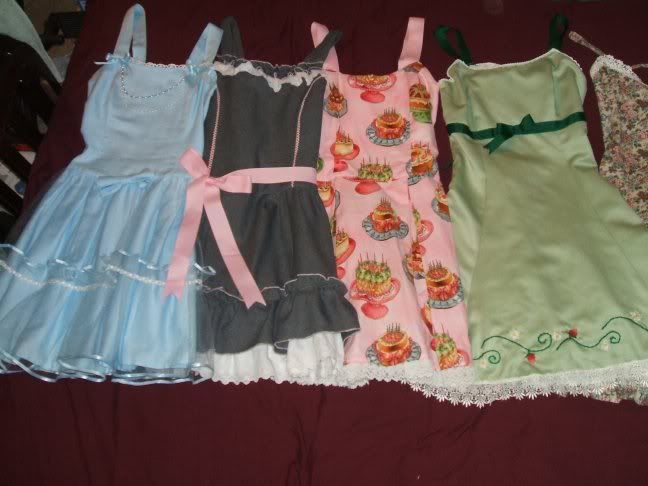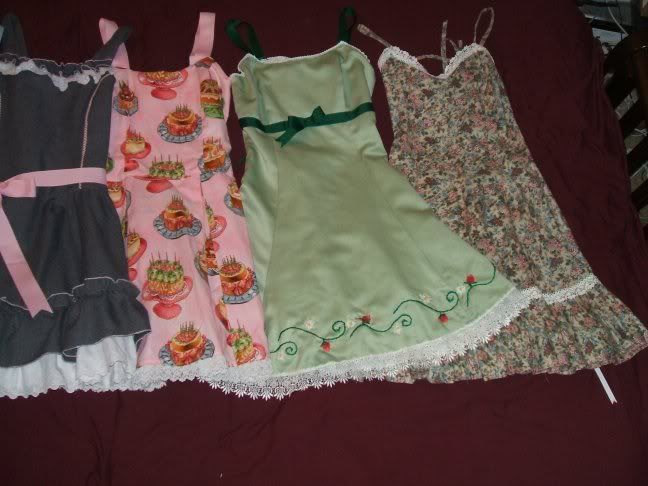 It took two pictures to get my jsks. From left to right: My pretty party frock in blue, grey/white and pink dress, "birthday dress" (I'm going to chage the skirt eventually), pistachio green strawberry embroidered dress, and floral jsk (The first jsk I ever made).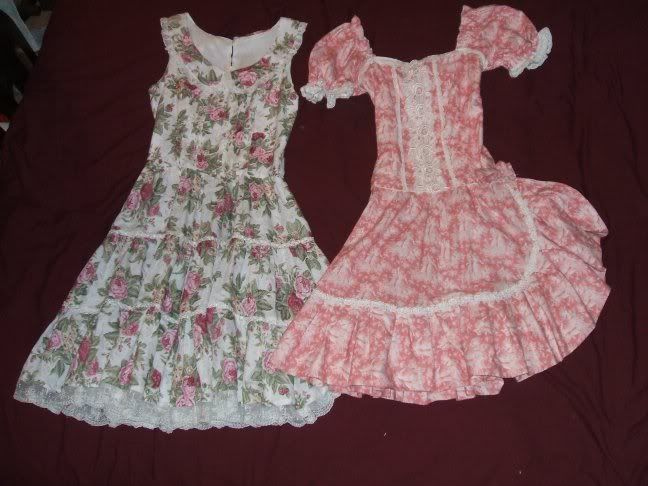 Dresses: My floral VM/MM inspired sleeveless dress and my dusty pink toile dress (the first dress I made). I would have a 3rd one (my robin's egg blue bustle dress), but it was stolen this past year (along with a petticoat, and the dress maker's dummy they were on).



Skirts: Keys to the kingdom skirt, my "Christmas" skirt, eyelit ruffle underskirt, and one of the few brand peices of mine; a VM skirt (which I'm thinking of selling, anyone intrested?).



Blouses: A Forever 21 high neck blouse, pretty pink blouse from a US brand called Soup (I think it's a little girls brand) that I found at goodwill, Dress barn short sleeved blouse, Meta lucky pack blouse (again I'm intrested in selling this). I have some blouses I'm working on, but sewing blouses are as fun as other things, so they keep getting pushed aside.



Underwear!! My 3 petticoats, all leg avenue, from sock dreams. Also my pretty bloomers I made from this amazing eyelit "trim"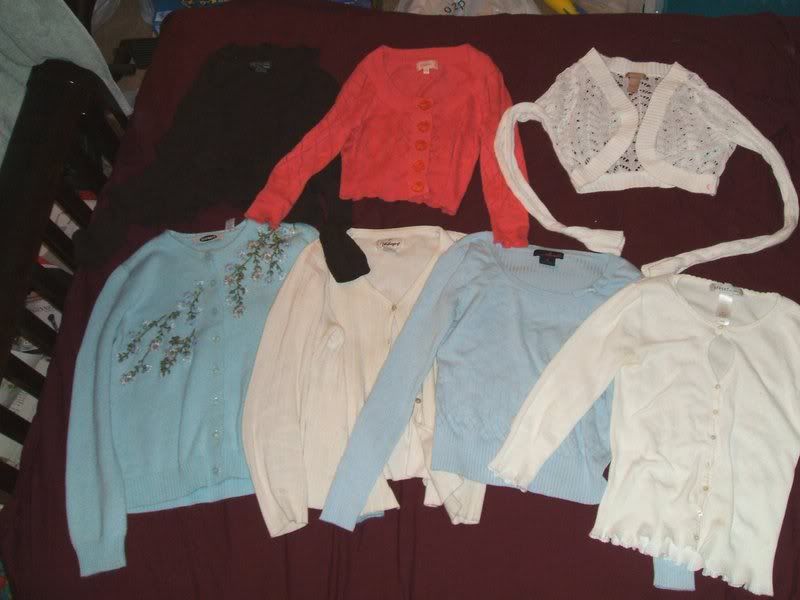 I don't really own cutsews, but I do love sweaters. Alot of these are from my daily wear, but given the right dress or skirt (most of which I havn't made yet), I really think they could work. left to right, starting at the top: Pretty ruffled brown shrug Sears, salmon cropped cardigen (which goes with this adorable sundress that is rather lolita itself) Kohls, white shrug Forever 21, blue rose embroidered sweater: handmedown from my friend, off white cardigen from Goodwill, blue bow sweater TJmaxx, and my favorite sweater ever (which I can't remeber what store I got from).



Tops that don't really go into any other catagory. My one "cutsew" type top, a nice "eyelit" cutsew that has corset like lines, and my matching bustier for my Keys to the Kingdom skirt.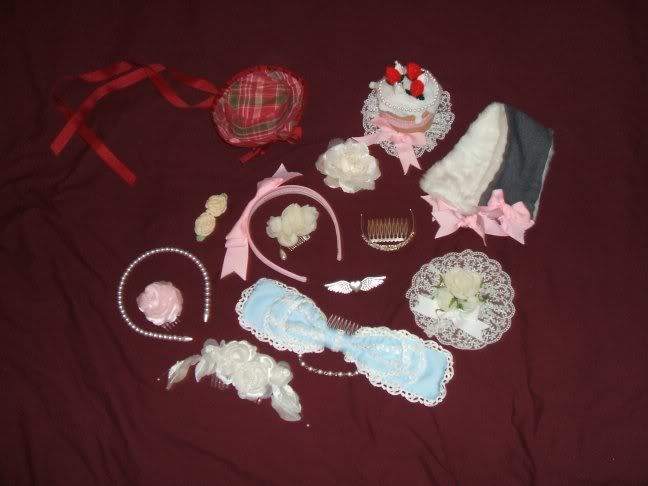 All the things I stick on my head, or atleast the ones I could find. Starting in the left corner: Matching plaid hat for my "christmas" skirt (needs to be stached and ironed), large white rose comb, felt cake hat, fake fur lined "earmuff" headress to match my grey jsk, crochet rose hair clip (bought at a craftshow), pink bow headband, rose comb with pearl drop, small rhinestone tiara from claires, pearl headband from a "beauty shop", pink rose comb, innocent world "winged heart" replica (used to be a necklace), lacy round headress, blue "princess" headbow with glass pearl strand, VM style rose comb.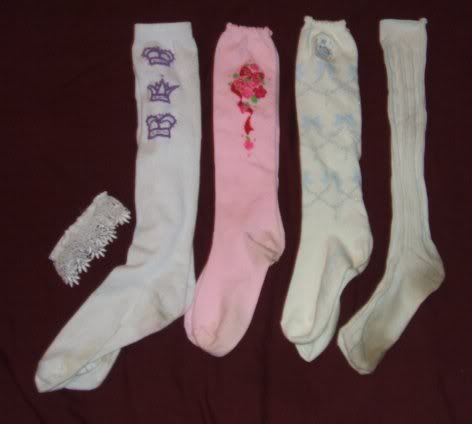 Socks: Hand embroidered crown socks (need to finish these, they are supposed to have 5 crowns), Btssb strawberry socks, AP "jewlery" socks, and finally my plain white socks (which need to be bleached, dark brown shoes!). Also shown is one lonely sock topper (I found the second one shortly after putting all my stuff away). I also have several pairs of thick white cotton tights for the winter, but I didn't want to pull them out of storage.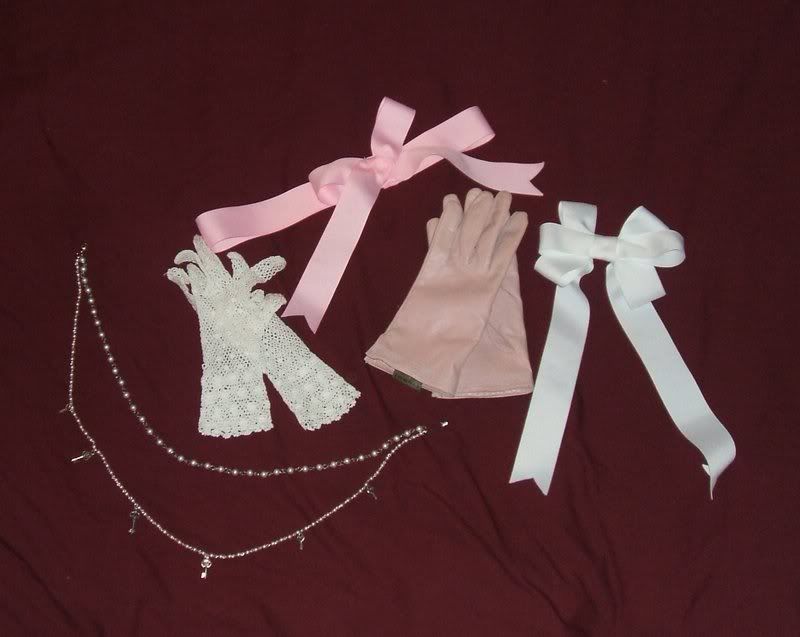 Gloves and "belts": My white crochet gloves from online, pink ribbon belt, pink leather gloves (for the colder months) which I got for Christmas, white triple ribbon pin, and Keys to the kingdom pearl "belt".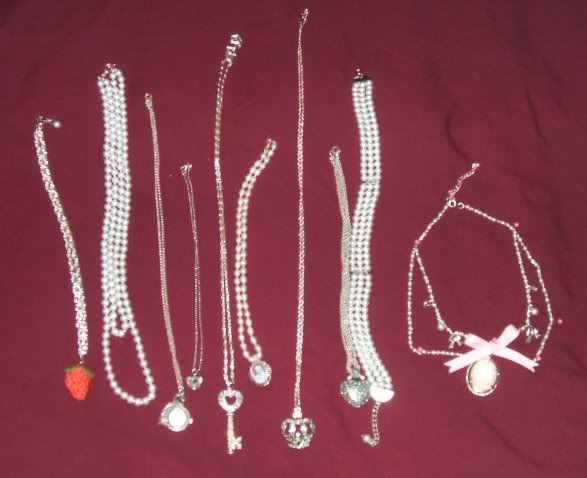 Necklaces: Sculpy strawberry with seed bead "seeds", Double strand glass pearl necklace, Swan clock pendant (which was a "belt loop" accessory from Kohls originally), small crown necklace my brother gave me, Key pendant from South Street Philly, Freshwater pearl necklace with removable shell cameo my Mother made for me, very very large crown necklace from a small store in a mall, Blue rhinestone heart pendant from Wallmart, triple strand glass pearl choker (I want to remake this), and finally a pretty roccoco inspired pendant that really didn't photograph well at all (I tried to pin it down to show how pretty it is, but no luck).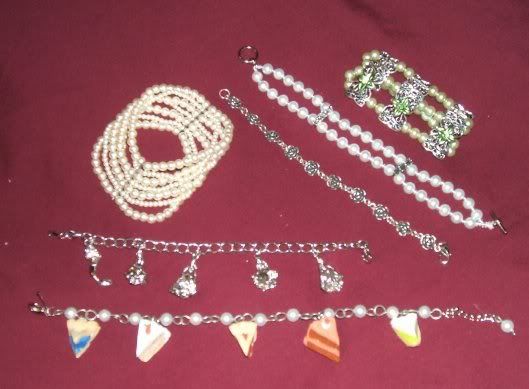 Bracelets: fake pearl strechy bracelet I got on south street, silver rose bracelet from Otakon, glass pearl bracelet, green pearl and "cloisone" bracelet, Disney Princess charm bracelet that I got from Disney World, and a cakes and pies charm bracelet.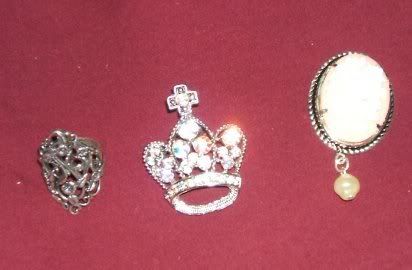 Rings and pins: Pretty silver floral ring from Rio Grande, crown pin from south street, and cameo pin with dangly pearl. I have another floral ring that I got at the boardwalk, but I can't find it =( I want more pins, they look great on high collared blouses.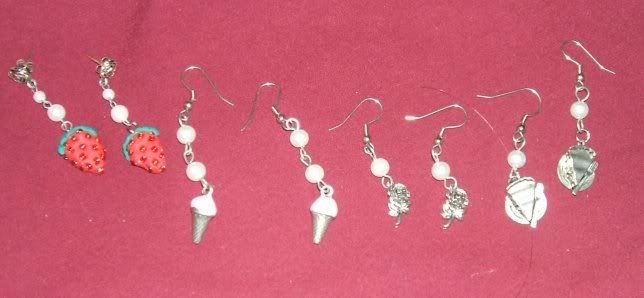 Earrings, not all of mine, but I admit I'm not too enthusiastic about them right now because one my holes is closed up. Sculpy strawberrys (to match the necklace), Ice creams, roses, and pies.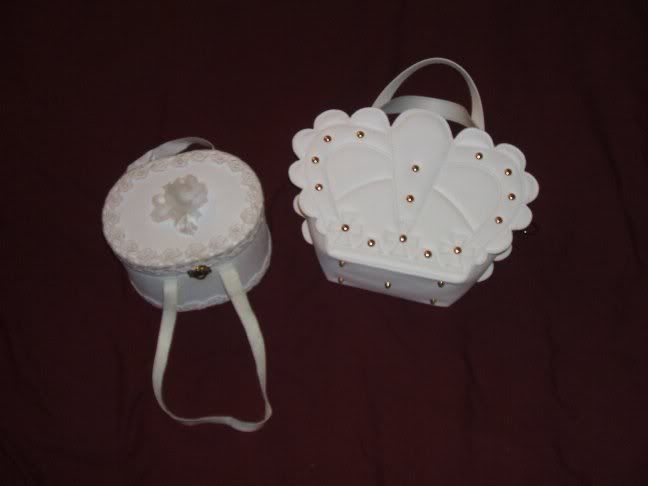 my original white bag and my new f+f crown bag (which I love), I want to make a cake shaped bag next XD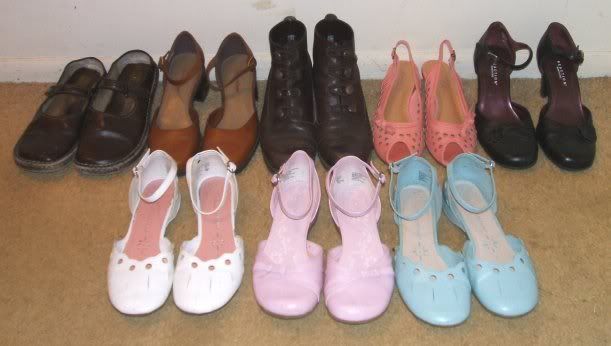 Shoes, I have quite a few, but I don't think I payed more then $25 for any of them. Top row: My original brown lolita shoes from wallmart, they have seen better days and need replacing, carmel colored heels I got a a thrift store, wonderful brown ankle high "button" boots, also from a thrift store. Peachy pink peeptoe heart cutout sandles from cutesy shoes; I also got the "white" ones, but they are more of an icky stone color, spraypaint anyone? Black heels with a flower on them, from TJmaxx. The second row is all from payless, white castle flats, pretty lavender flats, and blue castle flats. I might be also getting the pink ones from Carla XD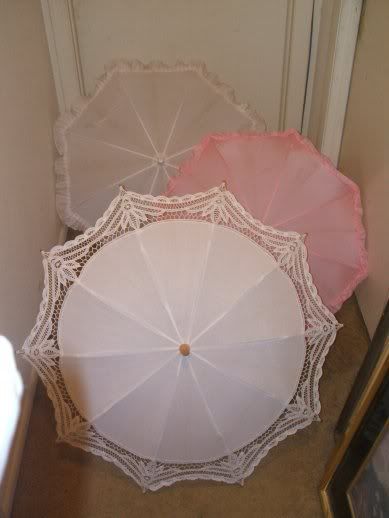 And finally the last picture, parasols. The one in the front is a pretty battenburg one that I got online, the pink one I got at wallmart, and the white ruffled one was purchased at disney world XD.

So yes, I have sewn more things then this, alot of it is from my first year or so dressing lolita, and so is thus not actually wearable anymore in my mind. Other stuff was experimental, or doesn't fit into my style anymore.