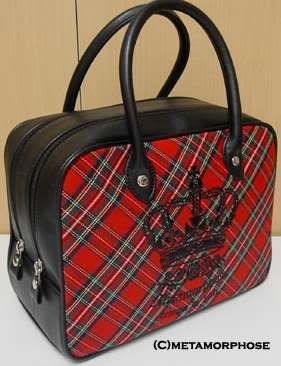 I purchased the Meta Crown Embroidery bag new from mbok to match my plaid Meta skirt. When I initially received the bag, I was slightly disappointed as it looked smaller than I expected it to. After measuring it and comparing it to Meta's on-site measurements, it seems I just fail at recoginizing sizes their measurements are correct. The bag is separated into two parts by a nylon type material & lined with it as well [picture]. The first (front) part has one big pocket along the back which I promptly used for storing my numerous pens & other items of similar shape [picture]. The second (back) part of the the bag has a smaller zipper pocket in its back that measures approximately 4.5in. x 7in. [picture]

My only gripe about this bag right now is that the front top part of the bag in between the handles dips a bit [picture]. Admittedly, this could be due to the way I had it shipped though. Other than that it fits everything I need it to with room to spare and it has also taken all the abuse I dish out to my purses without so much as a scratch or rip. I've used it for approximately one month.

Is it really worth its original 9,800 yen price? If you're a fan of Metamorphose or are just looking for a simple, decent size brand bag that won't completely break the bank, then yes, it is most definitely worth it.

The following are all the pictures included in this review with one extra:
[Front]||[Bag side (closed)]||[Side (opened)]||[Front compartment]||[Back compartment]||[Front embroidery]||[Official Meta pic]

Suggestions & questions are welcome & encouraged.