You may have already seen the pictures of the recent "Philadephia" meetup taken by our honorary Philly lolita Carla, but here are some others of another persepctive; or atleast taken by another camara.


Nick and I got at the "Deleware Anime Picnic" at 12 the first of the scarce lolitas to show up. This is likely in part to us being the only ones actually living in or remotely familure with "the first state" as this small state calls itself (Napoleonic complex anyone?). After some time of ignoring the otaku's and them ignoring us (and waving to confused soccer moms as they drive by); we decided to take some photos.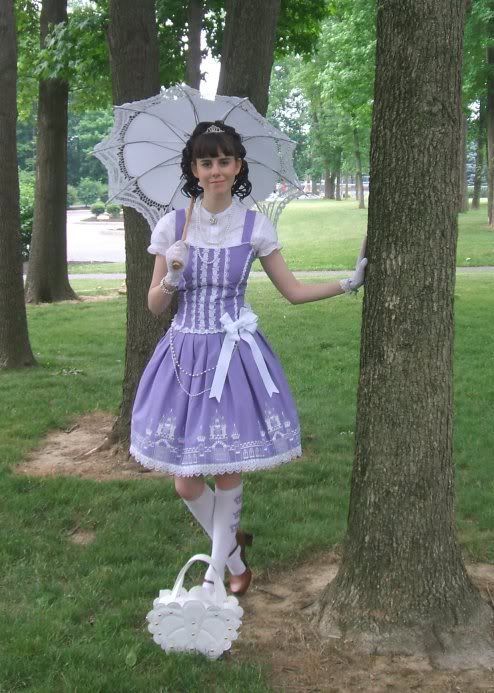 The bodice was an experiment, I usually perfer jsks to skirts, but skirts are nice to wear casually. Making a matching bodice was a nice compromise.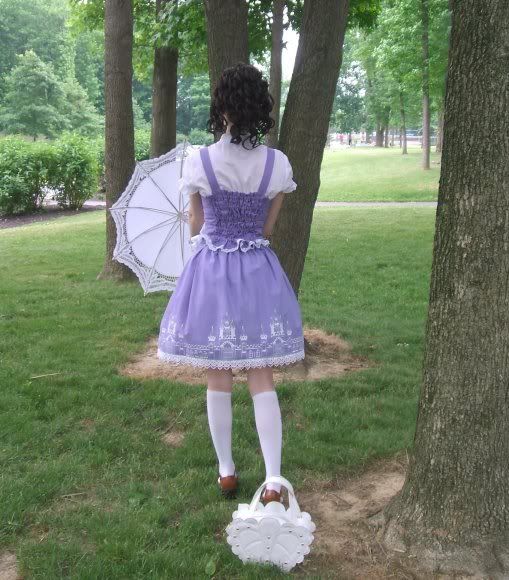 A somewhat silly pose, but the only good picture of the back. I rather like the gathered lace buncing at the waist, fun!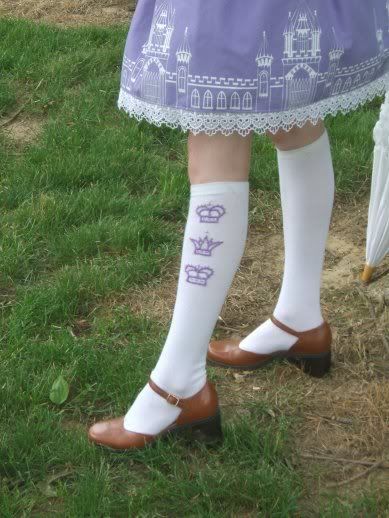 Another experiment, hand embroidered socks. I've always loved crown socks, but never can seem to find the colors I want. At some point I plan on adding the final 2 crowns to both socks to complete the full five.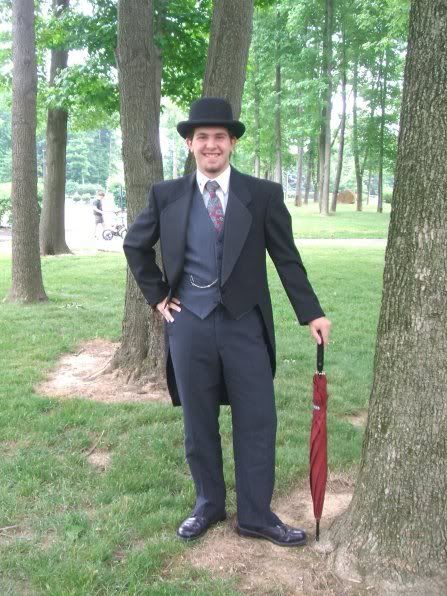 Nick wearing his Dandy duds. I made him laugh before I took this, oops!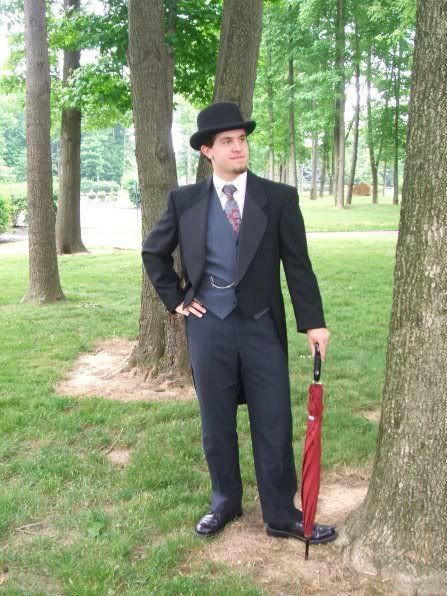 More serious now XD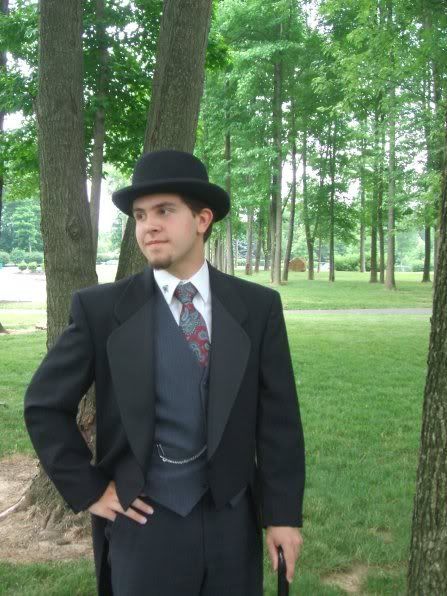 Close up, Victorian GQ? XD

Shortly after we took these pictures Carla and Kara showed up, yay! We chatted a bit and then ate a very most un-lolita like lunch. I also shocked Carla (a NYC resident) with the fact that DE only has one Area Code for the whole state (302).



Hotdog!! XD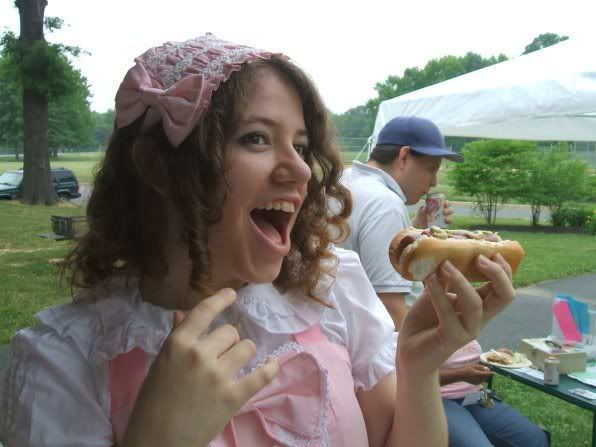 IMAGONNAEATCHOOOO!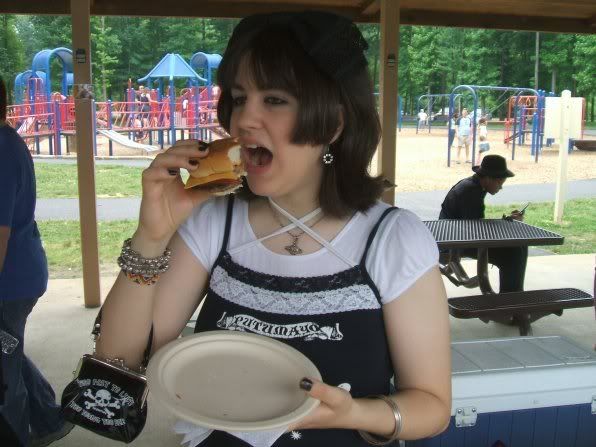 ANNCHOOOTOOO!!!

After our delicate repast we turned to picture taking. Of course!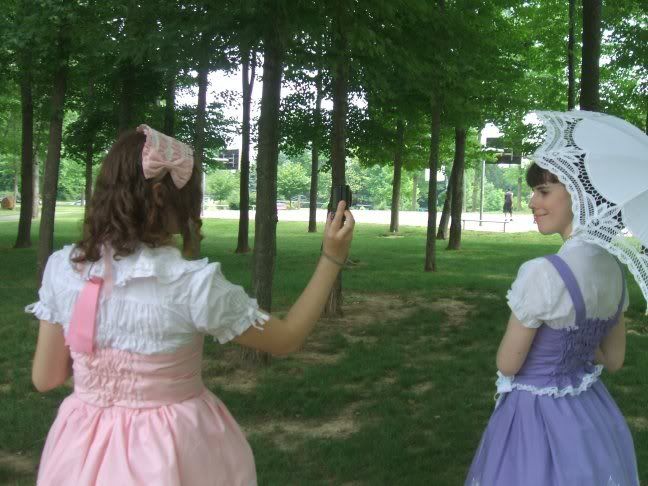 I was nominated as the first to pose for the singles, but of course Nick already took pictures of me. So here is one of Carla taking a picture of me.....how artsy XD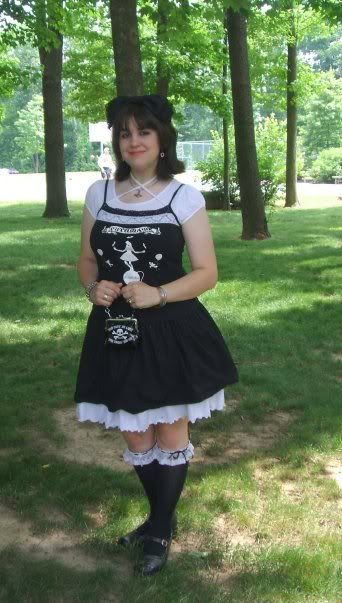 The darling Kara in a nice onsomble of layered skirts and teeshirts. Oh, and tiny purse! You should see all the stuff she can keep in that surprising bag.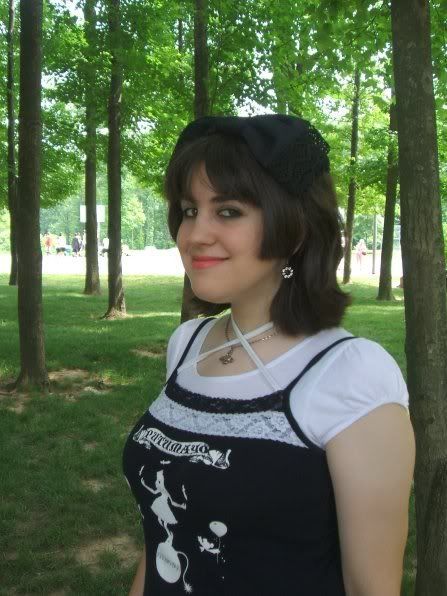 Cutie!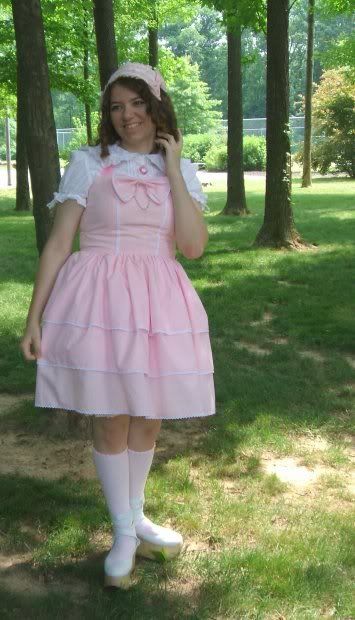 Carla in a very nicely handmade halter style JSK, with imported lace from Philly-town. XD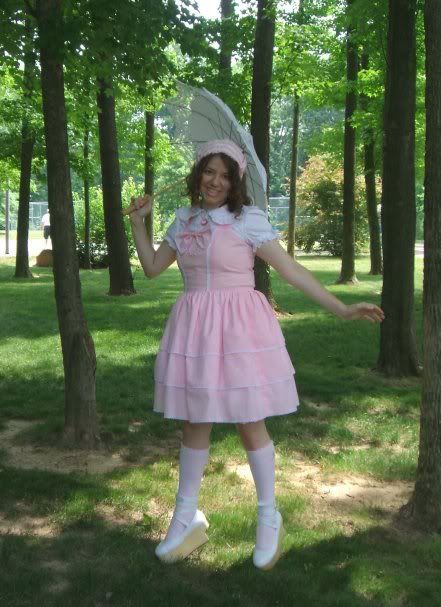 I forced her to stand "on point", I am a demanding camra woman.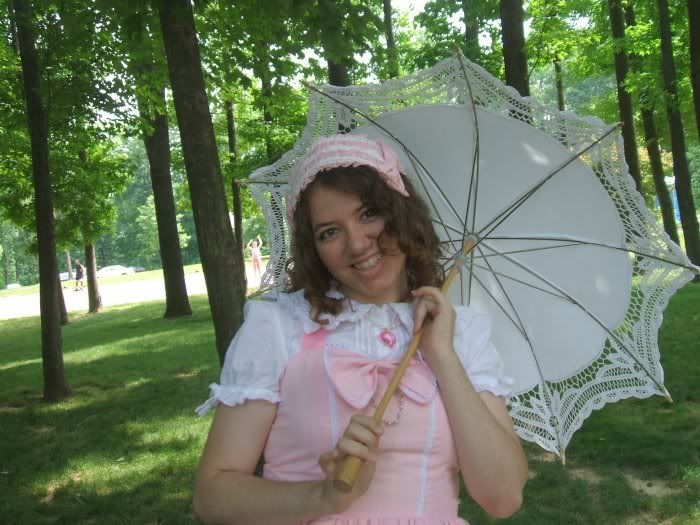 Closeup with theived parasol!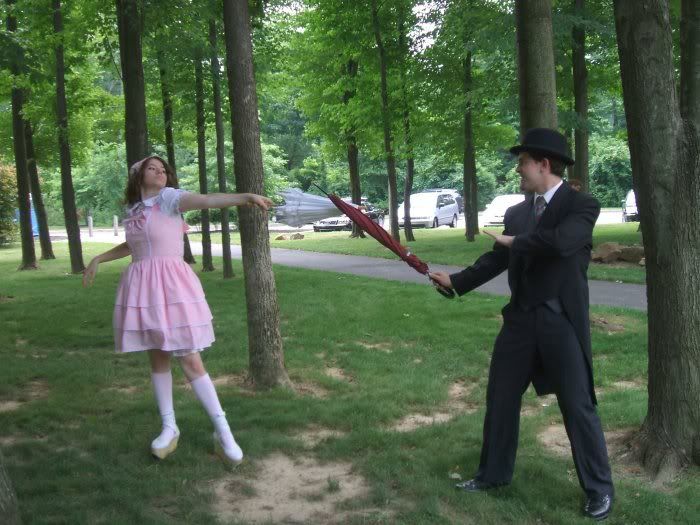 Nick is sorely offended by the theivery of my parasol, he attacks!!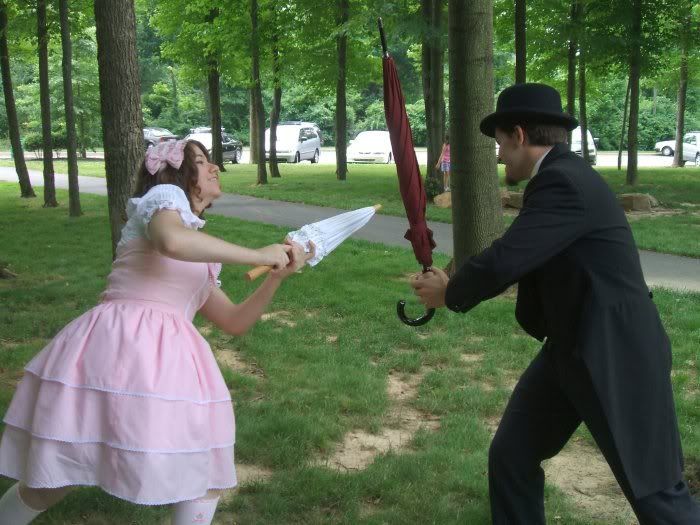 vvvvvsssshhhhhhLIGHTSABERNOISE!!!!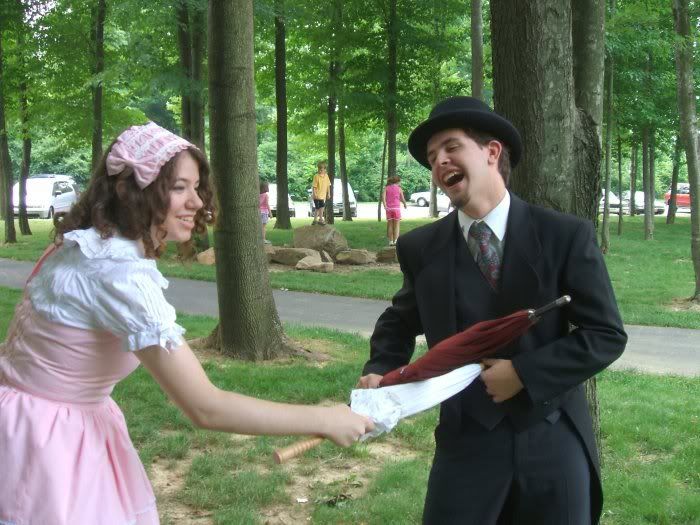 LOLITAOWNED!!!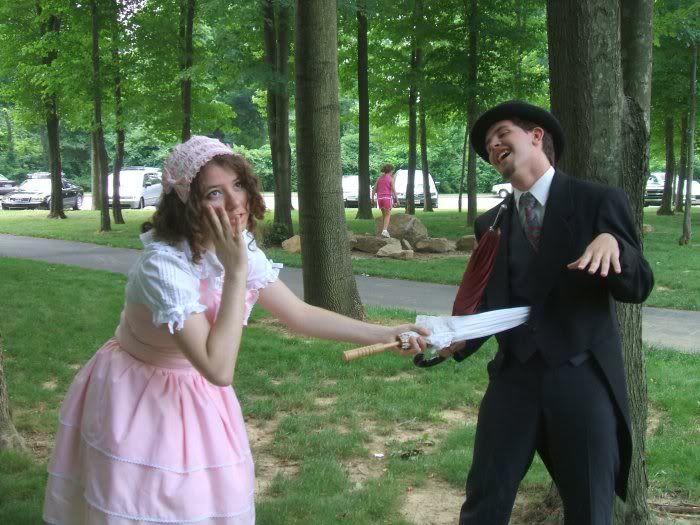 "Carla, you look too happy! Act sad!" XD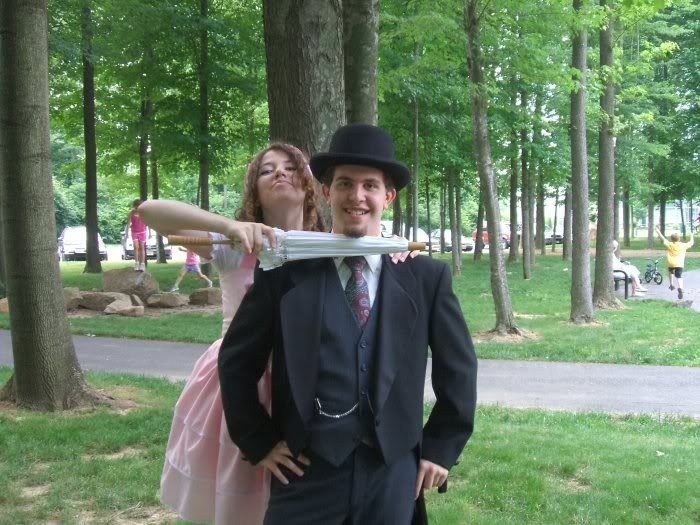 Not just happy to stab poor Nick in the gut Carla prepares to behead him. Fear not! I take the parasol away from her.... I didn't want blood stains on it! Nick looks a little too happy about the prospect....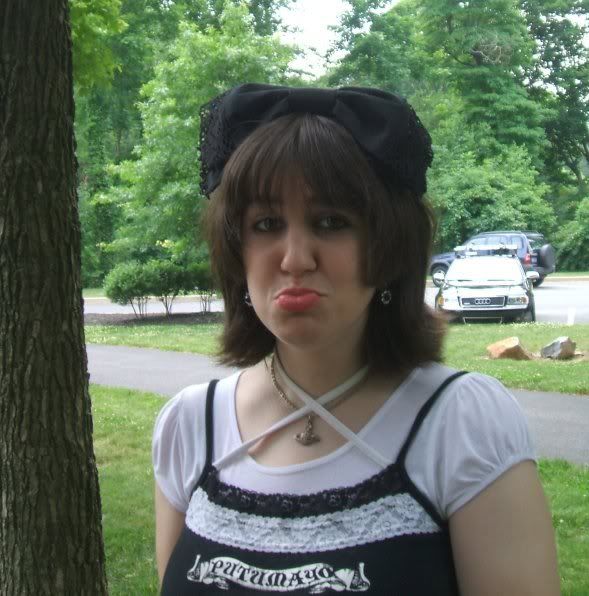 A better actor; Carla shows her unhappiness. Wether it was because she feared for Nick's life, or because she was disapointed that Carla didn't end up going through with it, I know not.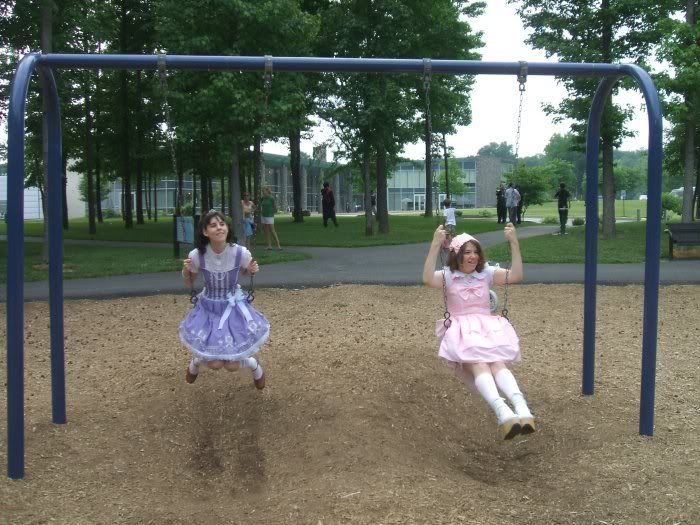 Seeing that the small children had abandoned the swings, we swiftly took them over. HAHA!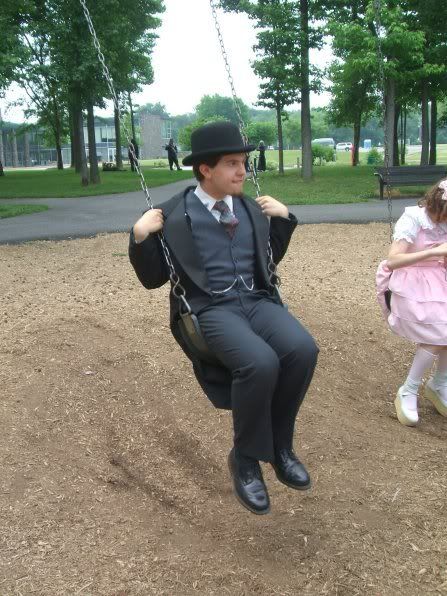 Our dandy calmly swinging.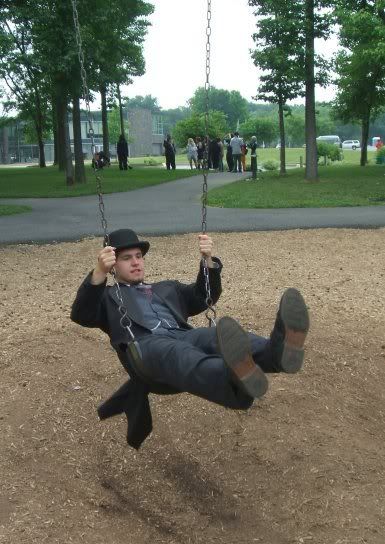 Flying forward feet first!!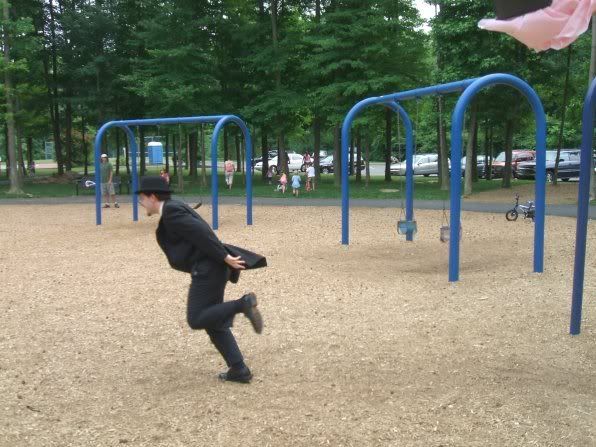 Nick jumped off the swing, but I couldn't quite get him in mid flight.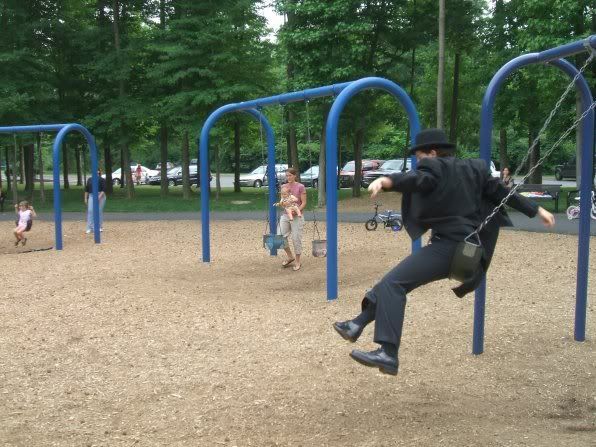 So I made him do it again! XD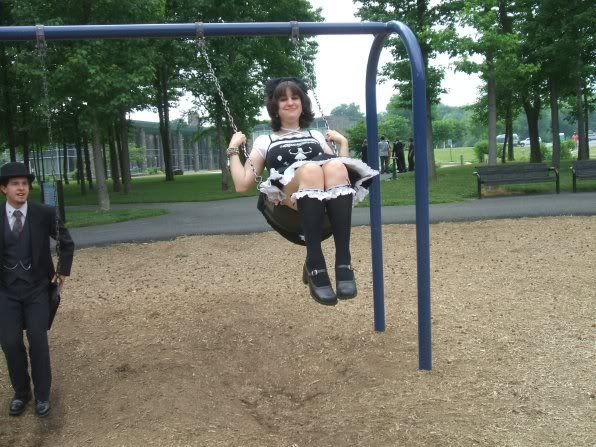 Swinging Kara! I took quite alot of these swinging pictures, but quite a few showed too much leg XD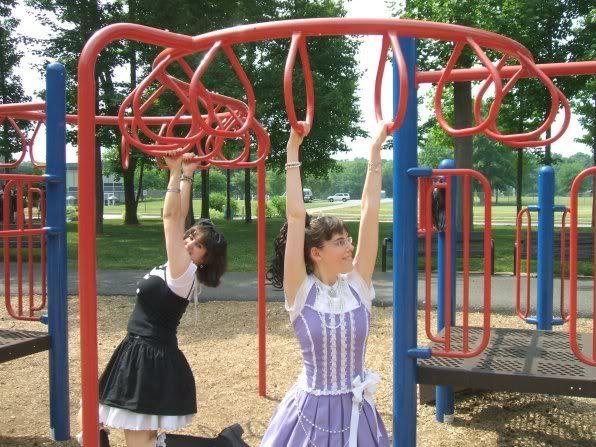 Monkey Lolitas!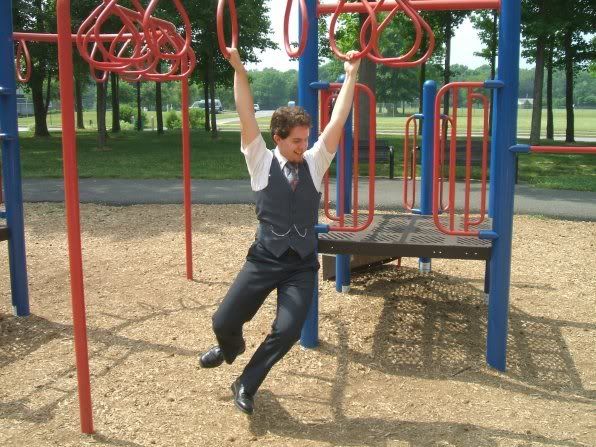 Nick in his shirtsleeves! Scandle!!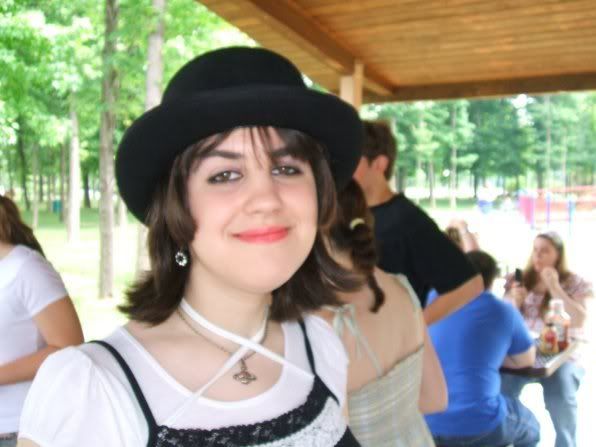 Kara wearing Nick's hat (porkpie?? I do not have his expert understanding of hats); it's balanced on her headbow XD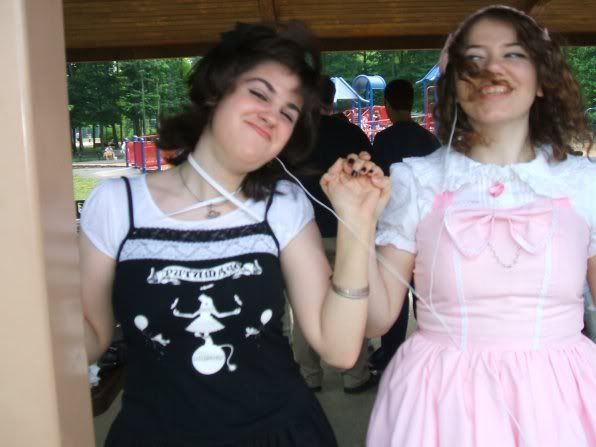 A parting shot picture, Carla and Kara dancing to an Ipod... This is how we spent the time right before our "pannel".

Yeah the pannel was frustraiting, the only question we got after our presentation was about the recent LJ debacle. >.< ah well, we enjoyed each other's company.