Wednesday, we managed to catch the last run of Pirates: World's End. Fittingly, we decided to go as loli-pirates!





tsu (left) wearing sailor shirt (comissioned), BTSSB black alice chess, non-brand socks and shoes.

sakky (right) wearing handmade OP, handmade ascot, BTSSB redxwhite socks, non-brand shoes.


Then today we had a teddy bear tea party! It was sponsored by Dome, and basically all you needed to do was bring a bear and get a free drink :D Anyway, on to the pictures




The cafe, it was so pretty with daylight and the darkwood. I really liked the furniture and colours.



Our teddy bears~ lol, the sad, white one on the bottom right is named Sephy after Sephiroth (FFVII)


claudine wearing a bordeaux bisque doll jsk. she looked so gorgeous *_* and the material feels so velvety and soft~<3


sakky_ looking adorable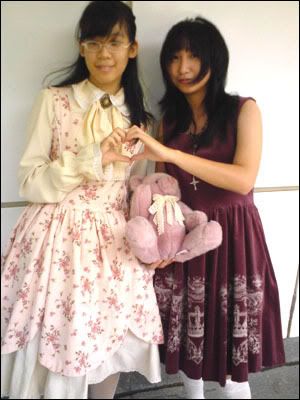 Sakky and Kuro~



...........and that's me. yes, i know~ i look hilariously dorky and libarian-ish.



Sakky and tsu

So after a while (photoshooting is hard work!), we went back in for dessert(s).


and.............yaoi p0rn. (what else?!) If you're curious, that's EIGHT volumes of Junjyou Romantica on the table lolz.



Then sak said she needed to buy thread at Spotlight, so we went there. While she was shopping we went and saw........



A MIRROR! and of course, we couldn't resist pimping and taking pics.


This is Sak:


She's the only one who can twirl decently in photos. And so, she's going to teach us how to twirl.

........although, she occasionally walked into a wall.



And so she tried to teach us, rather unsuccessfully at first



But after (many) mistakes, tsu finally! managed a decent twirl.



And, That's All Folks!