wradrobe post! I admit it, I'm a total skirts-whore. To date, I have over 20! skirts, some I didn't post because well....it's kinda embarassing >_>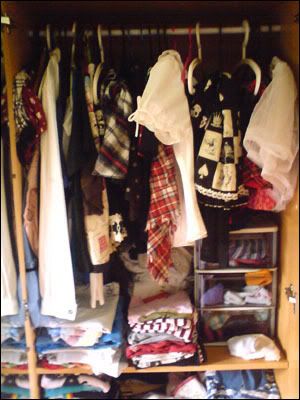 the mess! I squash my clothes together, so it's a mix of loli and non-loli clothes. The back is ALSO filled with clothes *sighs* I guess I'll have to sell soon, but I'm too lazy >_>




Non-tartan skirts
Clockwise: cream townhouse print, Katamari orange/cream, brown wool polka dots with velveteen lace, JM brown floral longskirt, brownxpink emboridery skirt, blackfloral skirt, redxwhite hearts circle skirt, redxwhite polka dot skirt

Not pictured: Pink x white Emikyu strawberry skirt (replica), I bought the *original brand* fabric but tailored it to something else. PICTURE




Non-red tartan skirts
Clockwise: Navyxwhitexred flare skirt, Tealxblackxcream bubble skirt, black x white pleat skirt (it's the same from HanaDan!<3), bluexgreyxred pleated cullocks, pinkxwhitexblack pleated skirt, creamxredxblack pleated wrap skirt, asymmetrical redxbrownxcream (comes with pockets)

Not pictured: blackxwhite asymmetrical from Japan




red tartan skirts
left: short punk chain skirt from Japan, circle asymmetrical skirt (it goes with EVERYTHING!), pleather with diamete skirt I got from the kids' section




Solid colour
clockwise: black double ruffle skirt, grey pleated skirt, purple lace skirt (the panels are crocheted lace), purple pleated flare skirt, asymmetrical black cotton summer skirt, red wool winter skirt




long skirts
left: blackxcream ruffle emboridered skirt, white lace skirt

Not pictured: blackxcream 3 tiered circle skirt

As
claudine mentioned.....THE SKIRT




...........the love of my life, and also most expensive skirt I've ever owned. but totally, totally worth it.




tops
clockwise: shortsleeved meta replica with btssb lace (lace was bought in chinatown), longsleeve knit emboridered collar cutsew from kids' section, disney cardigan and sailor top (it was my mom's)

Not pictured: this knit top (worn with strawberry skirt)




OPs/JSKs
clockwise: bluexblack chiffon OP with scalloped ruffles, Beth Alice Trump pink OP, Beth OP replica in meta tan check, red maneki neko JSK (design from VM)

Not pictured: MM coat in navy cashmere




clockwise: Beth parasol print, ALidel townhouse print, BTSSB tartan baby blue

My stash of brand fabric! I only pictured some, but actually I have a whole pile. It's great to live in SG sometimes, because we import a lot from China and Japanese companies manufacture from there before sending it off for finishing. Anyway if you live in SG, you should really check out these places before buying brand - simply because, it's waaaaaaay cheaper to tailor.

Tanglin Mall - VM,Beth etc....as long as it's floral or kooky, you can find it there. doesn't come cheap at $22sgd/m but I got my hands on VM's tealxcream floral print which was in their 2006 winter collection. No bargaining.

Chinatown, People's Park, 2nd Floor - BTSSB, AP and Emikyu. Sakky bought the garland shirley temple print, as well as the poodle cutsew print. We bought up the last of the strawberry prints but they still have BTSSB yellow tartan, BTSSB baby blue (mine was $8sgd/m) and BTSSB baby pink. Can bargain if you're good.

Chinatown, People's Park Centre - there's 2 lace shops here. One's inside the building, near Exit D. That's where they sell tulle lace and the rose lace I got for the meta replica. The other one is along the stairwall near Furama hotel, where they sell TRUE BTSSB ROSE lace. As in, the REAL thing. It doesn't come cheap at $18/m but at least we know it exists. LOL. They also sell brand fabrics sometimes in the back, that's where I got the Beth parasol print from. No bargaining.

Arab Street - People get lost here so here's how to get there. The textile shops are located from the left of the mosque, opposite 7-11. There's a huge tree at the side. Walk straight down. Here, you can get tartan. I mean TARTAN. As in, $2/m tartan. They also have BRAND stuff like LV print velveteen, Chanel sparky edged twill and of course, Burberry tan check (mine was $6/m). Your best bets are in Aik Bee Textiles and the Nameless shop1+2 run by a guy named Joseph. Along the sides are also cheap lace shops which sell edging lace for $1/m. Can bargain.

PS. if you think it might be brand or not, simply check the bottom of the fabric. real brand fabric has a "100% MADE IN JAPAN" and a corny title along with it. For instance, beth parasol print is: "YUWA. LIVE LIFE GOOD COLLECTION. 100% MADE IN JAPAN". other brands are yoshino, duchesse(sp?), ruka and morimoto.