....I`ve been questioning this for the past week to myself. After selling off all the lolita clothing from my closet, I kinda want to own a couple of items again but I can`t figure out where to start.
I stepped out of wearing lolita clothing because I felt like it looked really odd on me, and I`ve been wearing lots and lots of Gothic/Cyber/TA clothes. So why not ask the EGL-ers what I would look best in this time so I can actually feel better about the fashion :3
I do understand Lolita isin`t about body type, but I really would prefer to wear what would actually look good on me. It`s a little complex I have as a perfectionist. (I admit I`m a horrible perfectionist when it comes to clothes @_@)
So basically what I`m asking for is what genre of lolita and what colors would perhaps not make me look hideous. Naming brands and images of what you had in mind would help a lot too.
A few notes:
I`m 173cm tall. The average lolita clothing is designed to be made for someone around 160cm.

I have rather long legs, at 90cm from ground to crotch. The Scallop JSK by Baby ends 4~5cm before my knees.
I actually have a bust of 88cm~ which stops me from wearing some brands.
If you`re going to suggest brand and say Meta, I will cringe. I`m a bit iffy on their lace quality.
I do bits of Ouji/Kodona and I don`t classify it to be lolita. Please don`t suggest me this.
Lastly, I look like this.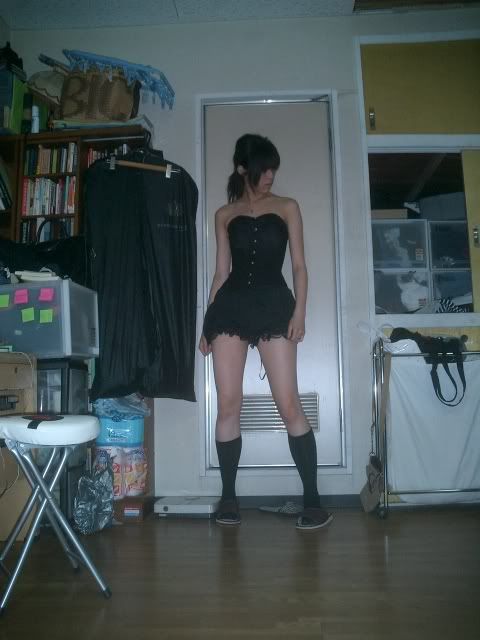 Forgive me for the slippers and the under-garment(corset+bloomers) shot (/ω\), but It`s to give you a image of my bodyframe. Corset isin`t tightened whatsoever. My hair is semi-hime cut.

Thanks :3