My lolita closet!


I was a bit hesitant to do it, because I don't own any brand. At all. Not even socks. Or a hair bow. None. But then I thought about it. And I thought about it, and said that I was being stupid to think I couldn't be lolita without brand after how long I've been involved in the fashion. And so here I am.

Also, keep in mind that I wear casual lolita a lot, so some of this isn't the frilliest or ruffliest.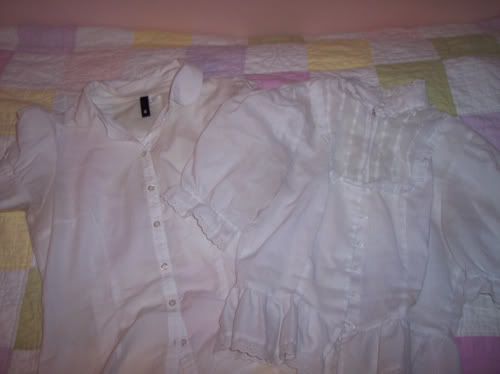 Blouses! H&M (on a trip to NY, curse you NC for not having them!), and vintage (mom's from the 70s). Very small amount because I have about a million...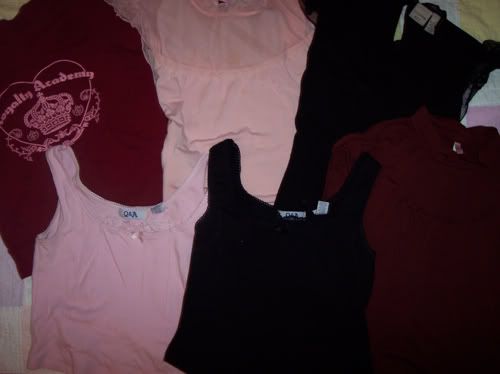 Cutsews! From left to right, top to bottom they're from Target, Dillards, Dillards, Hechts, Hechts, and Target.



Sweaters! The bunny hoodie was from the gap a looong time ago, before I knew what lolita was, and then altered the hell out of by me. So it's a little beat up, but this photo makes it look really dirty, when it isn't o_O. I can't resist the fuzzy sweater. So warm. So cozy. And the cute little pearly buttons, from Hechts I believe. Dillards? I think, it's got a lace peplum at the back.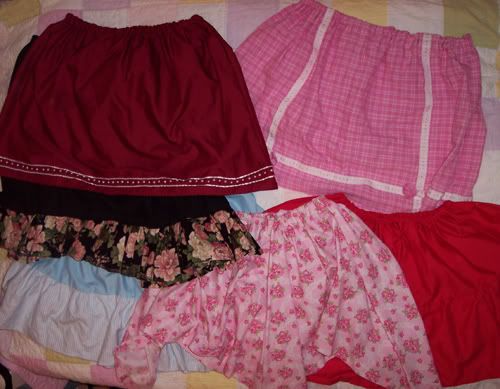 Haha my collection of elastic waist-banded skirts. Because sewing zippers on a dying 40 year old sewing machine is not my cup of tea. All made by me, and the top two I wear with a underskirt with a white ruffle on the bottom, so they don't look so lonely.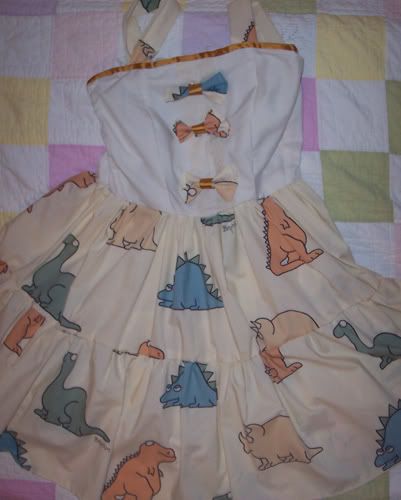 My lone jsk, the dino-rori. I figured I'd take a few shots because I never really got to show it off.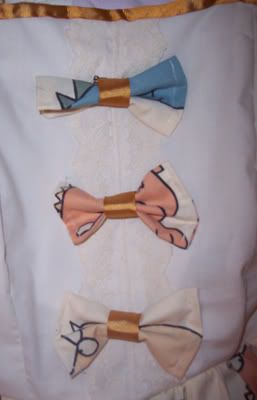 The front!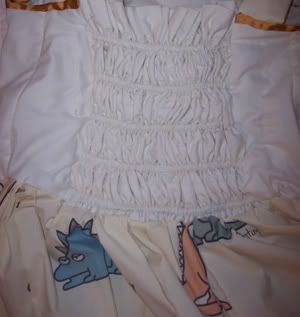 Aaaand the back. My first shirring was an adventure, I'm in the market for a new sewing machine because it hates elastic thread though.



Some random accessories. The caplet was hand knit (the pattern is here for you loli knitters, and don't forget tomorrow is national knit in public daaaay! Two tiny pirate hats, made by me. A matching hat and tie set (goes with the pink plaid skirt and purse) made by me. A few of my favorite hair bows, still made by me. A string of grey pearls, Honora I believe. Aaaand some hand-sewn white gloves, by my great-grandmother I think.



My sad collection of socks because half of them have dissapeared on the trip back from college, the first two are from target, and I have a red version of the blue ones (pom-poms are love), and then the last pair were a gift.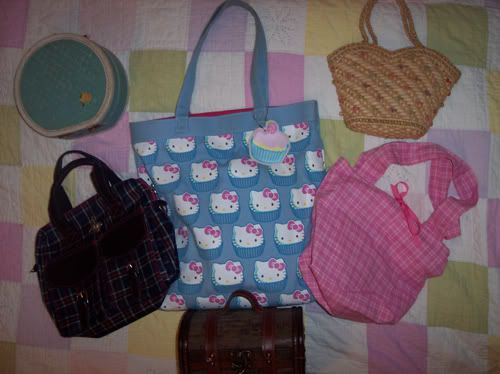 Purses! The small blue one is a case that was my mom's when she was a kid! The woven looking one was a gift, it's got cute little pastel flowers on it. The dark plaid one is a VW knock-off, part of a Nana set actually. The Hello Kitty one is my school bag, from Hot Topic (le gasp). The wrinkly plaid one I made, and it needs to be pressed. And the bottom one that's hard to see is a really excellent little pirate-loli treasure box, that I believe I found at Hobby Lobby.



Shooooes! All but the bottom left pair are from Payless, which is really kind of sad. I believe those were from Hudson Belk, I originally got them for prom but they're sooo comfy!

So...yeah! My completely non-brand loli closet. I like this theme! It's cool to see what people have.