Hello fellow lolitas. I come with a question.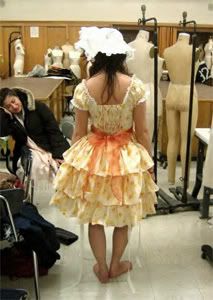 Edit : Thanks everyone for your feedback.
I am really surprised that everyone liked the transformer lolita.



My friend is a skilled seamstress, who currently attends Parsons in New York. She needs your feedback and wants to know if anyone would buy her dresses and other lolita accessories.

This picture is an example of one of her dresses.

The dress is 100% cotton.

Bust 32-36 max

Waist 24-30 max

The dress on the runway in New York.
A short clip of the runway show.
She would be able to make this dress in different colors and sizes as well as other dresses.
Also she is currently selling this dress so if you'd like please make an offer.