So. We went to Central Park on Saturday for Loliday. Here are *the rest* of the pictures I have from the trip. D':



While I was waiting in my house for Carla to finish her hair, I decided to take a picture.



MAH MESSY ASS ROOM.
Well, me and my brothers' messy ass room. D': Basketball posters are so not rori desu.

Close-up.






Before I left my house to meet up at Central Park, I showed my sister and her boyfriend what I was wearing. D': She HAD to take a picture. I wish I had took a picture with my nephew, who kept on saying, "Amber, you look beaaaautifulll. O:" while running in place (Haha, 4 year olds).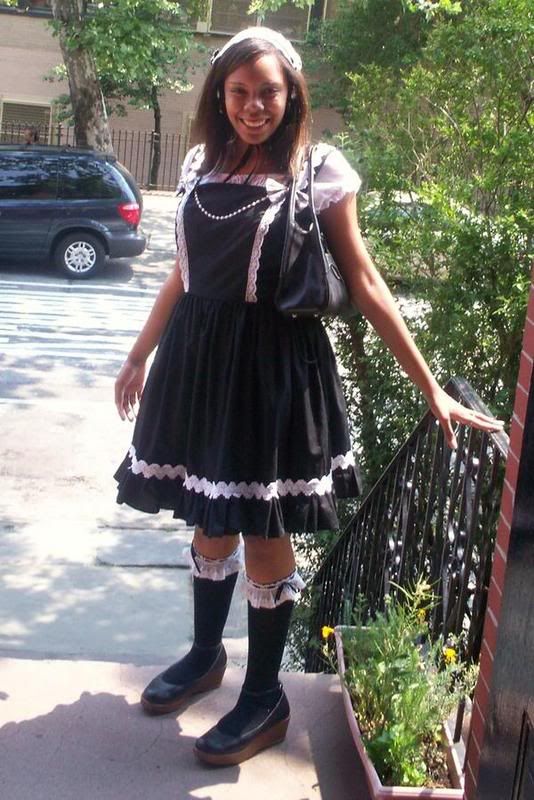 Petticoat sort of died there. x_x;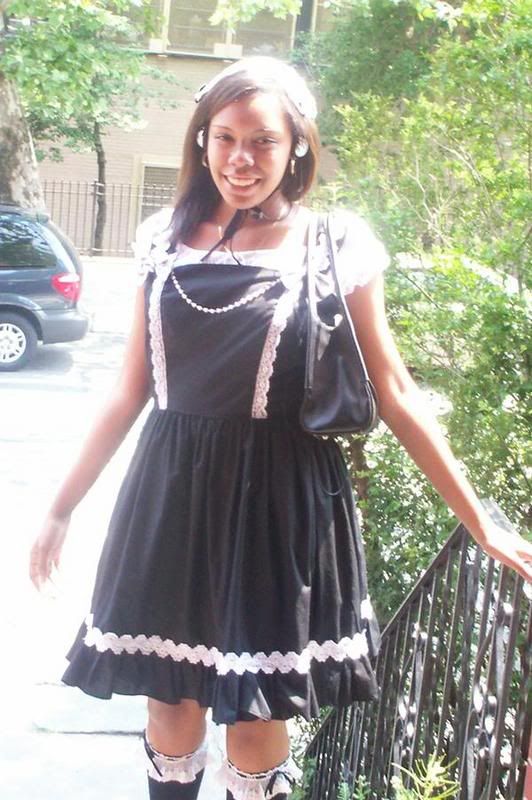 While I was getting a metrocard refilled so I could get in the subway, I had a... conversation with the guy at the cashier box. D':

Him: Hey. What kind of style is that you're wearing?
Me: Lolita. It's a fashion based on the Victorian and Rococo Eras.
Him: Oooh. So it's some kind of fantasy thing, right?
Me: Um... yeah, I guess. o.o
Him: Who's fantasy?
Me: Mine, I guess...
Him: ...Is there anything I can do to fulfill that fantasy?
Me: D': NO!
Him: Awww. How old are you?
Me: 17.
Him: Oh nah, I can't mess with you.
Me: o.o; (No shit, Sherlock.)

And then when he was telling me the directions to the other trains (big train station, and the train I was supposed to take was down. Dx), he kept on calling me "Rococo". [His pronunciation, "Raa-ko-ko"]


When I got there, I met up with Solange and we had to wait a loooong time for Carla and the rest to come. xD And after that, we walked around, from the park to Starbucks, from Starbucks back to the park, and so on. xD While we were in Starbucks, this old guy outside was staring straight at Carla and pointing at her to his wife or something. It was hilarious.

Anyways, on to the park pictures!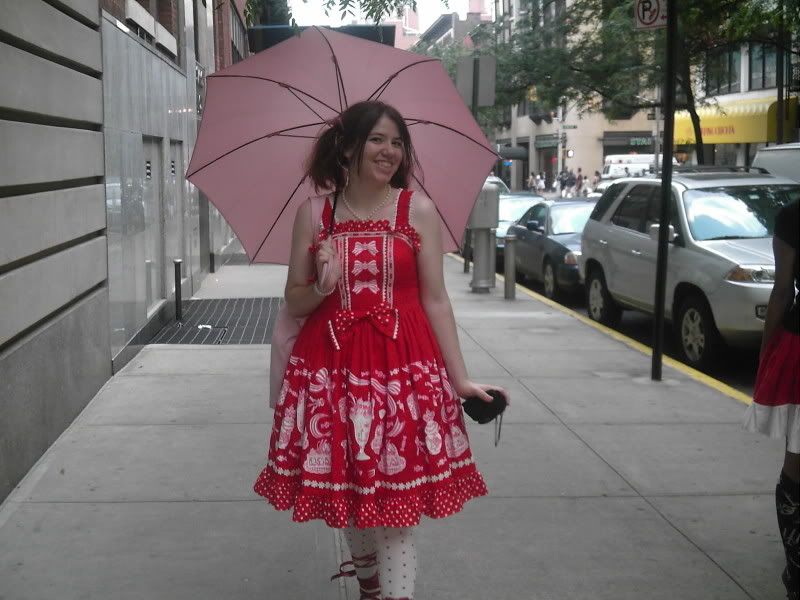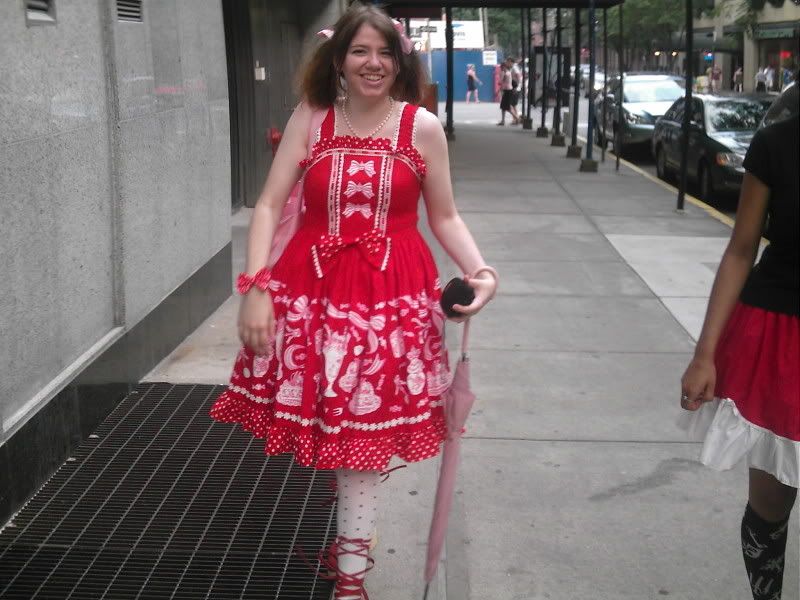 lolz. Her shoes kept getting untied. Every 20 minutes or so there was always "FIX UP THE PRINCESS! D8"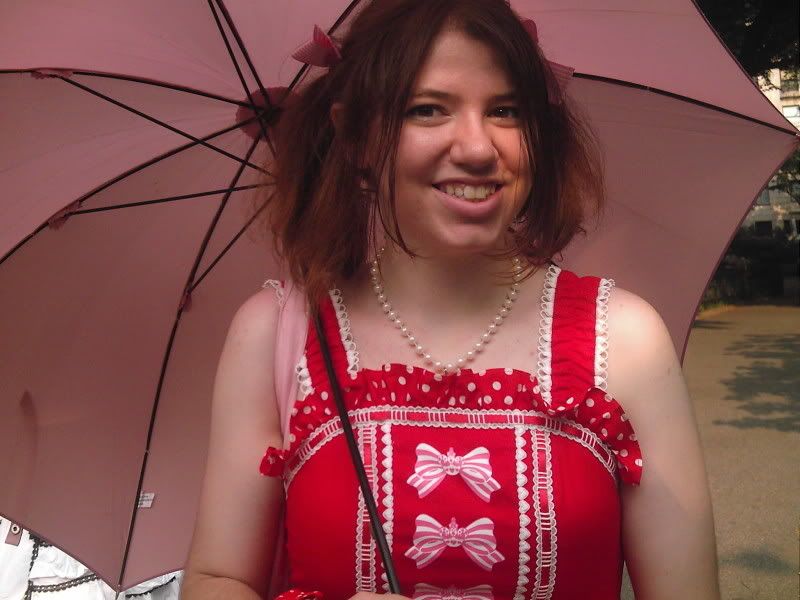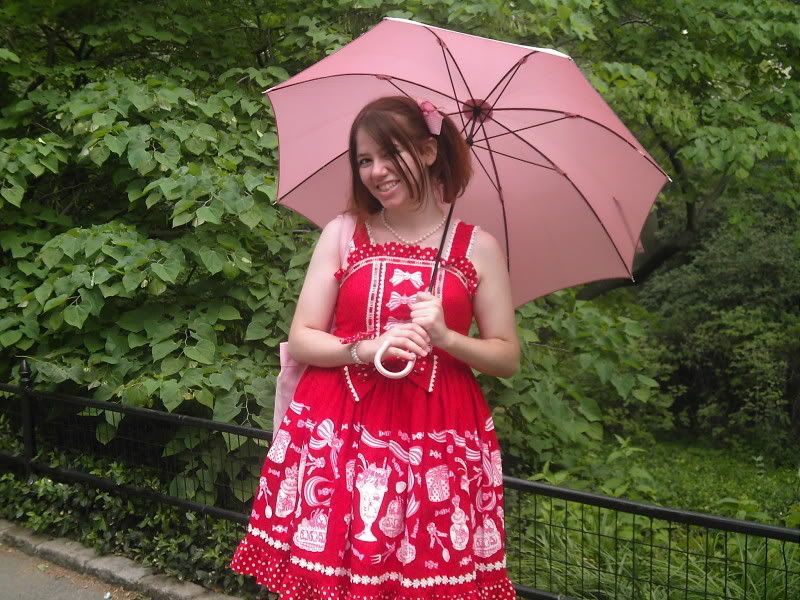 The Rundown
Amber
Jumperskirt: Made by Carla
Top: Forever 21
Headdress: Made by Carla
Petticoat: eBay'd
Socks: BtSSB
Shoes: Forever 21
Bag: Mah Momma's. xD
Umbrella: Uniqlo

Carla
Jumperskirt: MAM
Hairties: Metamorphose
Petticoat: In the Starlight
Socks: Angelic Pretty
Shoes: Rose Chocolat
Necklace: GirlProps
Bracelet: Claire's
Bag: BtSSB
Umbrella: Uniqlo