First off, I'm looking for the top (wine velvet) pictured below. I have the matching skirt, and would really love to own the complete outfit. If you're willing to sell it, or have seen it for sale somewhere, please let me know. Measurements would be helpful, since it's so old that I don't know what sizes it came in.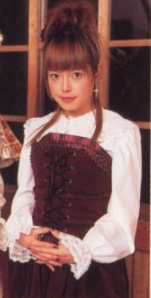 (photo cropped from scan from avantguache.)

Secondly, I'm looking for this blouse in size medium, off-white.
http://innocent-w.jp/shopping/blouse/071102/071102.htm

Thanks for helping!