100% BRAND NEW Black Rockinghorse Shoes size 24.5cm by Montreal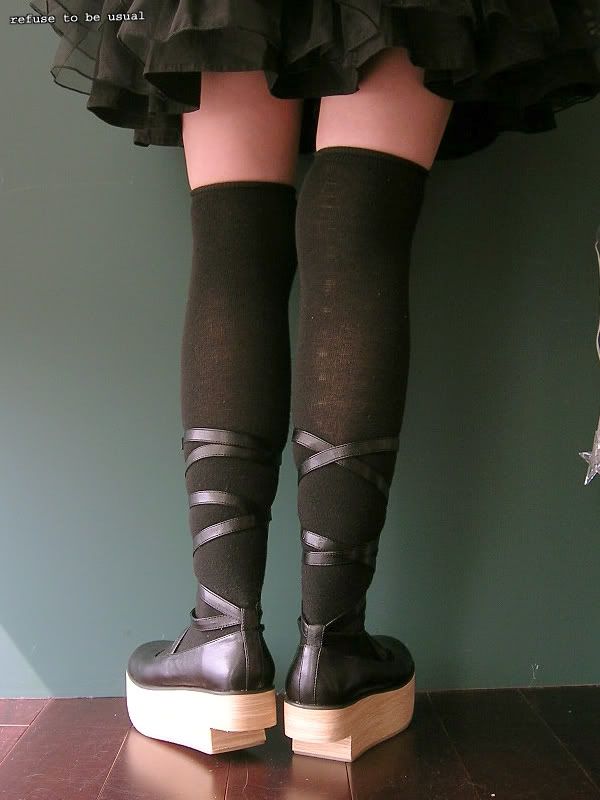 (Picture credit given to Refuse to Be Usual.)

They are the same as seen above, but with ribbon, not leather, laces. The platform is approximately 2in.~3inch. in height all around and are made of foam, so they are low for a platform and very very light. They're extremely easy to walk in, and are good for those not used to platforms. They are a size 24.5cm; I recommend these for someone who is a size 8.5, perhaps a small 9.

Originally bought from Little Chili Lolita Shop on ebay. They ended up being .5cm too large. :B They are 100% brand new, only worn twice. Once to try on, the second for about three minutes. There is absolutely no damage done to them.

I spent approximately $65 including shipping for these.

I'd much prefer to trade these for the same shoes in a size 24cm in black (I will also accept white.) They don't have to be brand new, as long as they're in relatively decent shape. :B I don't mind a few nicks here and there. I'm really not a picky person when it comes to the condition of the shoes.

I'm also willing to sell them. Since they are brand new I'd like to get back what I initially paid for them ($37USD w/o shipping.) I'm willing to go down some, just ask me and we can negotiate. :3

Also, if you'd like more pictures of my own to prove I have them, I can totally do that. It's just 3:00 in the morning and I'm lazy. xD;

I also have feedback on ebay if you're interested in seeing that. I don't really have any of LJ because I've only sold something here once before.



Thanks~~! SOLD thank you!