I hope this isn't too soon to repost. ><

All the prices are shipping included in the US; I have no pets and the house is non-smoking. I will ship internationally, just not sure of what the extra s&h cost would amount to.

1. h.Naoto Frill JSK

Purchased from
egl. It's in like-new condition, the seller purchased it from Closet Child and it was shipped from CC to me. NWOT.

The white lace ties at the neck, there's a black velvet ribbon at the neck and there's another strip of cloth at the waist that ties in the back. Very stretchy material, fits me ok but the armholes are a bit tight and it's way too short.

Measurements are all unstretched, but it can go at least 7" wider (laid flat measurement), I think.

Armpit to armpit - 15"
Bust - 16"
Waist - 15"
Waist to hem - 20"
Hips - Free

$120.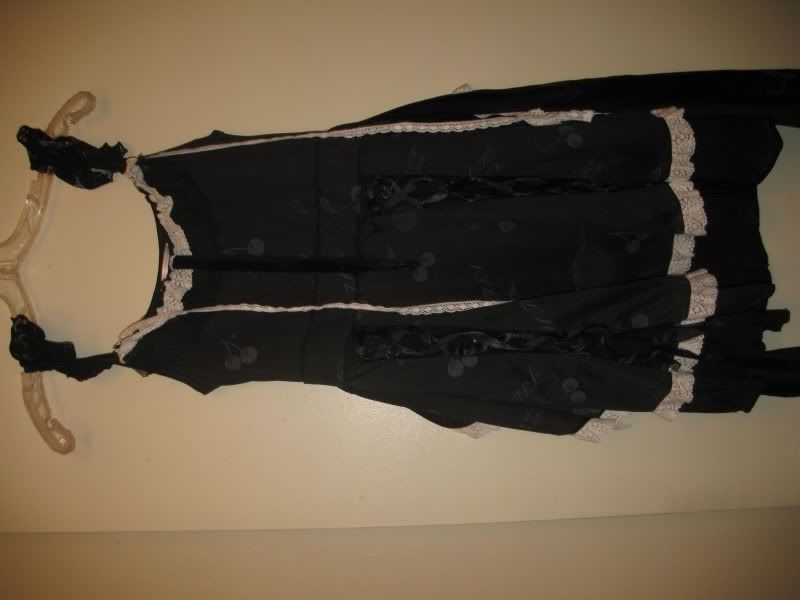 -Close up of the print (front apron part).
-Close up of print on the back, and under the apron.
-Back view.

2. H.Jelly coat

Purchased from
pearlise a couple weeks ago. My shoulders are too broad for it, though. NWT.

Shoulders - 15"
Bust - 17"
Waist - 16"
Sleeves - 18" from armpit to cuff
Hips - Free / will accommodate 42"+

Bought it for $180 shipped but asking $165. On the day I received it, I tried it on once and haven't worn it again so it is in perfect condition.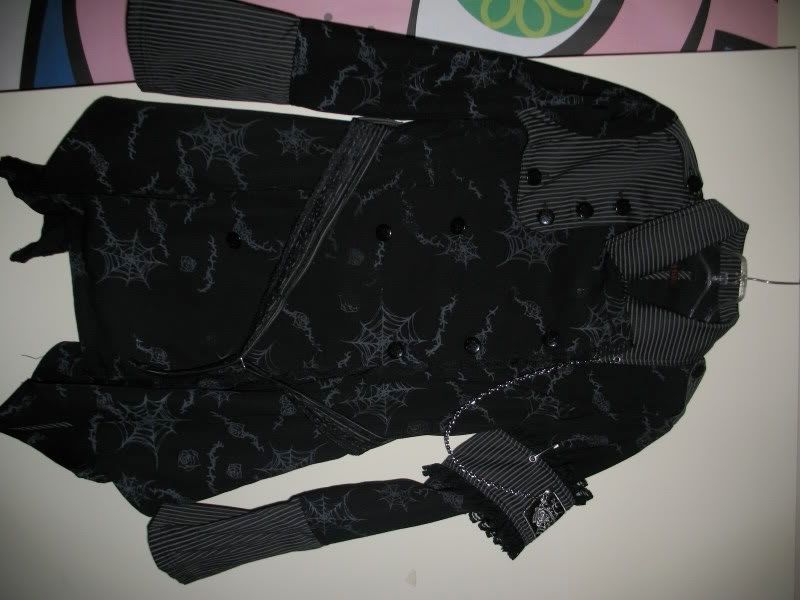 -Closeup of tag.
-Closeup of armband.
-Closeup of print/buttons/belt.

Please let me know if you have any questions, I'll be glad to take more pictures as needed.

For reference, my measurements are 36-31-42. I'd prefer to sell but I'll entertain trades and offers. I'm not willing to lower the prices too much because these are like-new (and I've already made them slightly cheaper). Since I don't have much feedback, if you want to do the sale through eBay or something with buyer protection, I'll be happy to.

I'll take pretty much any payment type, or if you'd like to pay in parts, etc.

Here's my eBay feedback. Most of it's from buying but I have made a couple sales and bought from a few people on this comm as well--if you have bought from me, please comment here.

Thanks for looking.