All the prices are shipping included in the US. I have no pets and I do smoke occasionally, but never indoors (and I have never worn any of these out), so it shouldn't be a problem.

Edit: I will ship internationally, just not sure of what the extra s&h cost would amount to

1. Putumayo cutsew, lightly used - on hold for
boundary_noise.

I purchased this from someone else on this comm, a loooong time ago. I have only worn it once to try it on, otherwise it's just sitting in my closet. Something like a size M. Fits snugly on me but would look best on someone smaller.

$20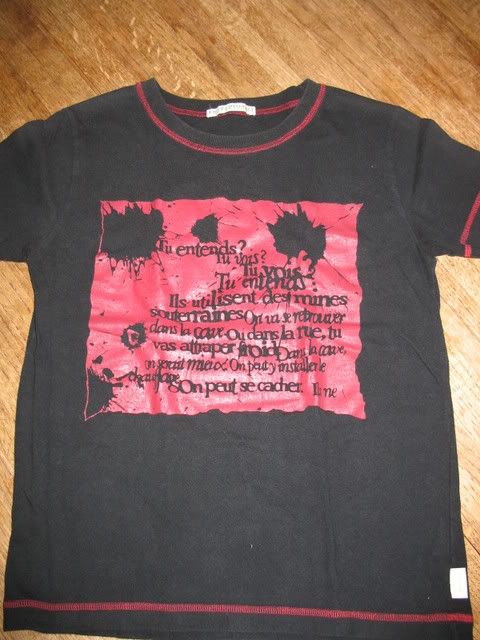 -Closeup of tag.
-Closeup of print.

2. h.Naoto Frill dress

Again, purchased from
egl. My first attempt at a kuro-loli miserably failed, but it can be your gain. :P It's in like-new condition, the seller purchased it from Closet Child and it was shipped from CC to me. NWOT.

The white lace ties at the neck, there's a black ribbon at the neckline and there's another strip of cloth at the waist that ties in the back. Very stretchy material, fits me ok but the armholes are a bit tight and it's way too short.

Armpit to armpit - 15"
Bust - 16"
Waist - 15"
Waist to hem - 20"
Hips - Free

I bought it for slightly over $130, but this is my asking price as I only tried it on once.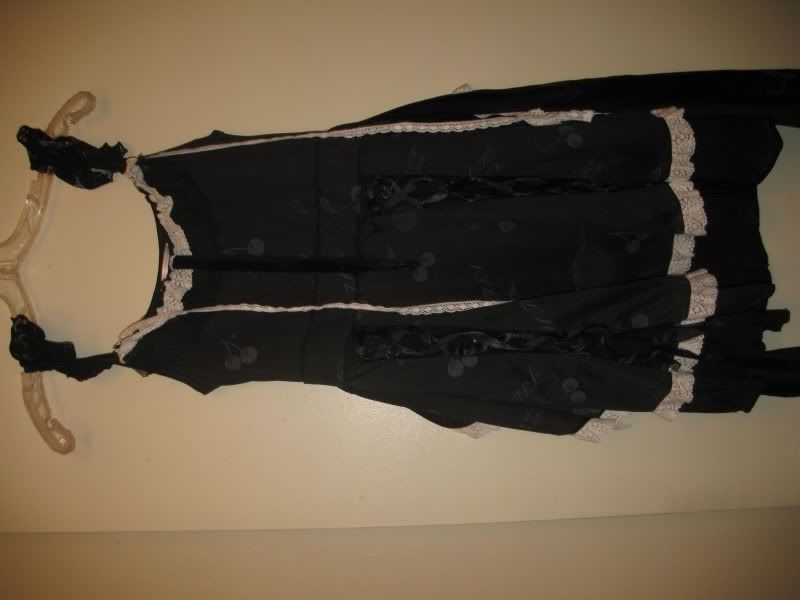 -Close up of the print (front apron part).
-Close up of print on the back, and under the apron.
-Back view.

3. H.Jelly coat - On hold for
cidsa

Purchased from
pearlise only about a week and a half ago. My shoulders are too broad for it, though. NWT, although I don't have photos of the hangtags, but they are there.

Shoulders - 15"
Bust - 17"
Waist - 16"
Sleeves - 18" from armpit to cuff
Hips - Free / will accommodate 42"+

Asking $180; this is what I bought it for. On the day I received it, I tried it on once and haven't worn it again so it is in perfect condition.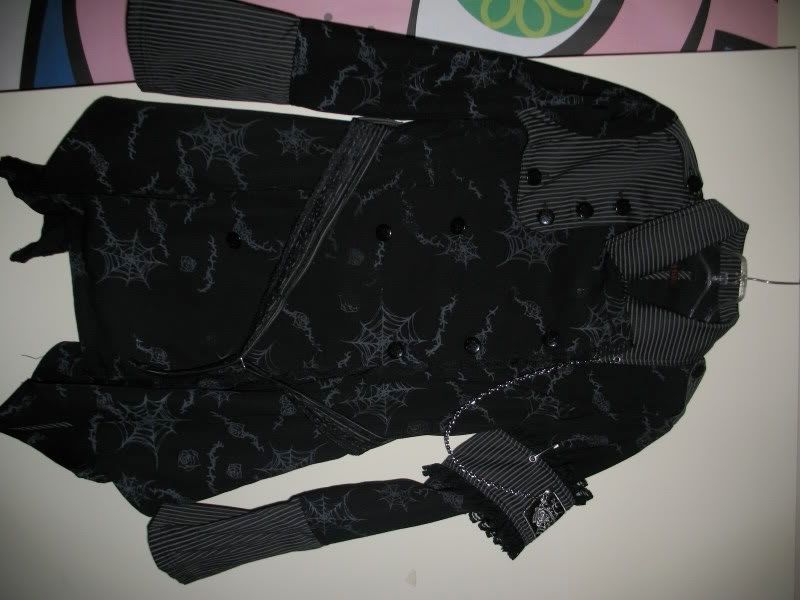 -Closeup of tag.
-Closeup of armband.
-Closeup of print/buttons/belt.

Please let me know if you have any questions, I'll be glad to take more pictures as needed.

For reference, my measurements are 36-31-42. I'd prefer to sell but I'll entertain trades for AaTP, h.N subbrands, or Vivienne. My shoe size is US 9 or 9.5, as I'm also interested in RHS or other punk/loliable shoes. Feel free to make offers, but I probably won't deviate a lot from these prices, since I'm not in a hurry to sell them and they have barely been touched.

Here's my eBay feedback. Most of it's from buying but I have made a couple sales and bought from a few people on this comm as well--although I have yet to make a dedicated feedback post to actually prove it...