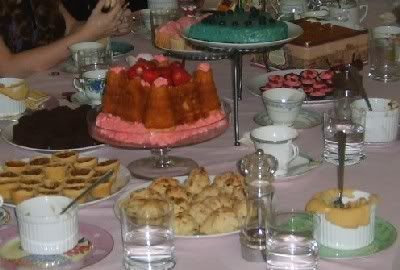 This month I had an excuse to wear lolita two weekends in a row. I went to Anime Supercon and the South Florida Lolita Tea Party hosted by
taichotoki .



Blouse, Skirt, Parasol: Baby, the Stars Shine Bright
Socks: Ebay
Shoes: Ling Lam
Hairbow: In the Starlight
Necklace: Carriage Light Tea House
This is the outfit I wore on Friday at the Convention. I recieved a lot of compliments!
Nothing really interesting happened on Friday though.
One of the few other Lolitas that I met at the convention. I have bad posture in this photo. :/
This is the outfit I wore on Saturday.
In the background on the left you can see one of the vendors in the Dealor's room selling Fan+Friend.
Jumperskirt, Parasol: Baby, the Stars Shine Bright
Blouse: Innocent World
Socks: Ebay
Shoes: Ling Lam
I attended a panel on Gothic Lolita on Saturday. It wasn't very interesting, but I met lil_asian_kitty there.
She looked really cute in her Baby one piece. I want her Angelic Pretty Handbag. T_T
On Sunday, I saw taiko drummers play and went to the EGL tea party.
I didn't have a matching headdress for this outfit so I wore the detachable ribbon from the dress on my head.
Jumperskirt: Metamorphose
Blouse: Baby, the Stars Shine Bright
Socks: eBay
Shoes: Ling Lam
Bag: Off Brand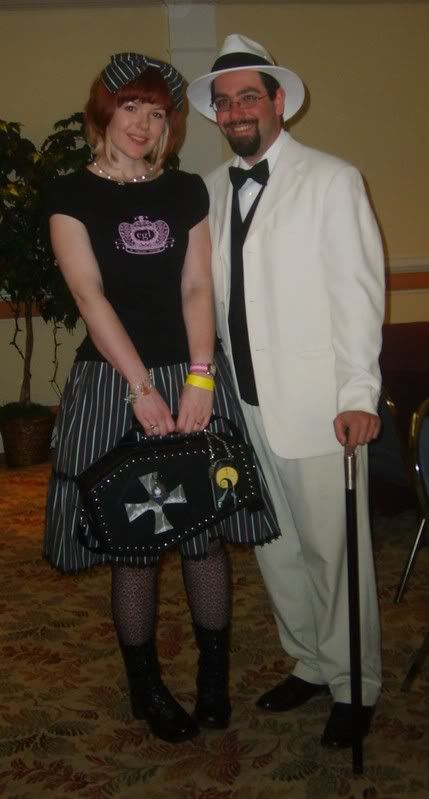 At the tea party I met
missmeganmaude
and her boyfriend
mastergode
. It was a lot of fun talking to her. :)
Also, she was very knowlegeable about tea. She should really hold a panel/ write an entry for a memories on the topic.
Most people at the tea party (including myself) had no idea what we were doing. xD
Next Sunday, I went to taichotoki 's Fairy Tale themed Lolita Tea party. I went as Rapunzel.
Since I arrived late, I missed all of the group photos. :(
I arrived an hour late because:
1. It took an hour to figure out how to attach the long braid to my head
2. It took an hour an a half to drive to the tea party.
I usually never wear black, but for some reason I had a strong urge to wear it after seeing a few good bxw color combinations.
Jumperskirt: Metamorphose, Crown Series
Blouse: Baby, the Stars Shine Bright
Socks and Shoes: Ebay
Tiara: A fabric store in downtown Miami
Even though I was late, I arrived just as everyone was starting to eat.
Another shot of the food. :P
Not only was everything delicious, but it was also vegetarian/vegan so I was actually abel to eat it!
I should have asked or the recipes.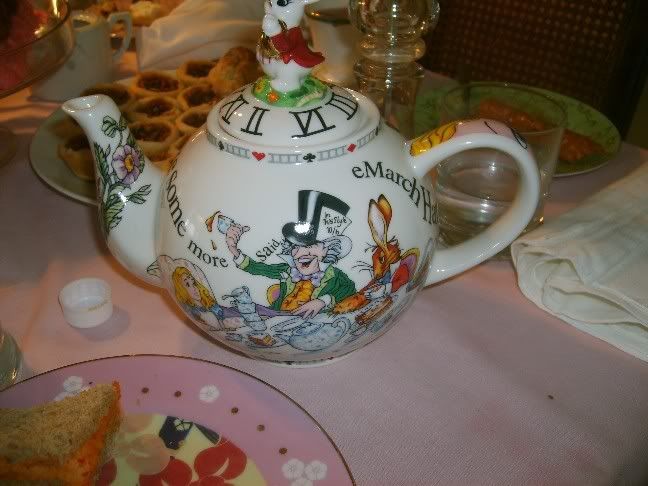 A cool Alice in Wonderland themed teapot.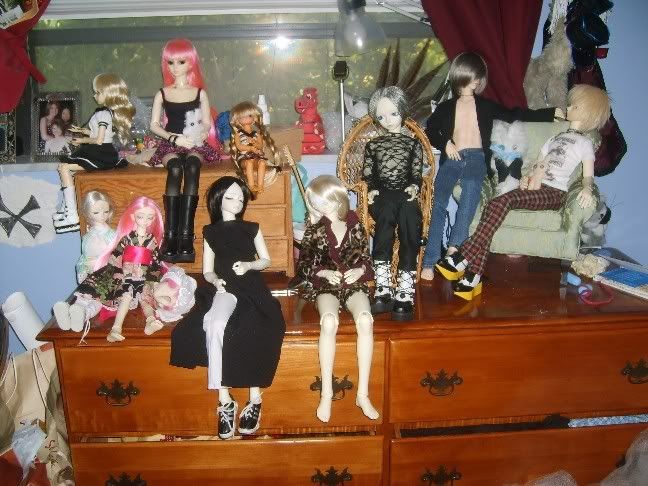 So many dolls! I want one. *_*
If I sell my entire Lolita Wardrobe, will I be able to afford one?
After we ate, we fooled around on the piano.
Wendy brought Answer cards, Tarot cards, personality analysis games, etc.
The Druid Stones (?) that she brought predicted that I would do badly on all of my upcoming exams. T_T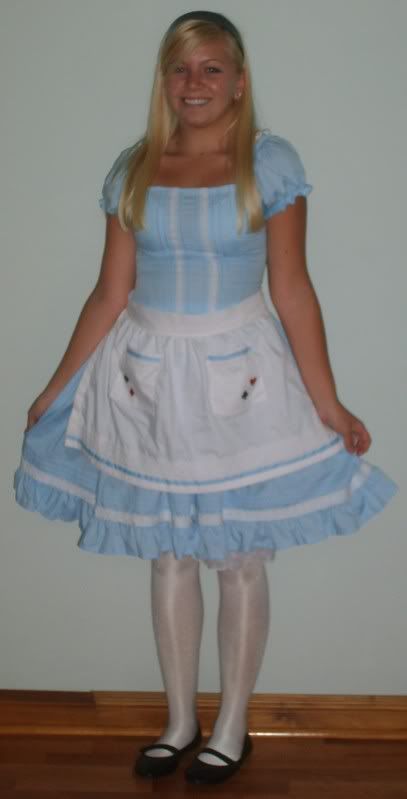 silverfairy886
and her friend had to leave early. I managed to get a photo of them.
Unfortunately, I had to leave early too. However, I made sure to get my photo taken before I left.
This photo would be perfect if half my petticoat wasn't showing. This is my first time wearing black, so I didn't have a black petticoat.
This is my favorite photo. It reminds me of The Secret Garden.
It was a long drive home, but I felt that it was worth it. I tried to take a few more photos.

This is the first mirror photo that I've ever taken where the camera is not showing. I have no idea how I did it.

These past two weekends were a nice change from staying at home all day doing homework.

I even got to meet people with similar interests. Most of them make their own Lolita clothing, so I'm envious of their sewing skills.

However, I realized how uncomfortable wearing more than one layer of clothing in South Florida could be.

I often got headaches because it was so hot.


**Note**
I didn't think of asking permission to post other people's photos online until after I uploaded them from my camera.
Though most of the photos are of me, if I posted a photo of you and you want me to take it down, tell me and i'll do so right away.