More things for sale! I'm leaveing for Japan in 3 days~! I want to be able to do some shopping while i'm there (and you know. . pay for my hotel) so please take a look~! I made everything . . again.
Plaid Sailor OP
I was a little hesitent to sell this at first. . . becuse I love it so much . . .but I just don't wear it! I don't look as good in plaid as I want to -_-;
It's made of a slightly streatchy blue/grey/black/red/white plaid material. it's very soft and comey. Tee front has snaps that close the bust and the back laces up with a black ribbon (matched the ribbon used to trin the sleeves/collar/ and hem) the collar and cuffs are made of plain white cotton. and the hem is trimmed with white eyelet lace. There are two pockets inf ront also trimmed in eyelet lace and ribbon. The clip on tie isn't included becuse I wear that alot. . . but I can easily whip up a black bow to go in it's place!
Bust: 33 - 36 inches
Waist: 27 - 33 inches (laceing in the back)
$50
Disney Princess JSK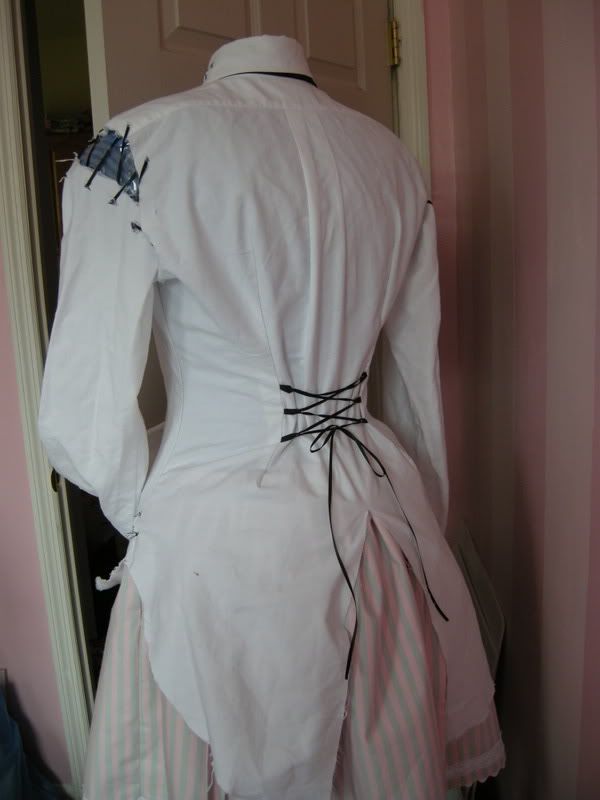 I just finished making this. . .only to realize that no matter how cute this is. . I probably won't wear it. . . I'm more of a baby blue person then a pink person.
It's shirred all the way around so it'll fit a few different body types. (the shirring only looks weird in the pictures beuce my manneiquin has abnormaly high hips. . . )the hem is scalloped with little rose window style portraits of Cinderella, Sleeping Beauty, and Snow White. The fabric was just so cute I had to make something out of it! The hem also has a layer of white ruffles attahed underneath it (so no underskirt is required) it could probably fit 6-7 inches smaller then the max size
Bust: 36 inches max
Waist: 30 inches max
$50
Please Check out my other sales!
thank you for looking~!