Hello again EGL~! Now with loxwered prices I'm trying to fund a mini shopping spree while I'll be in Japan! Alot of things have been lowered by at least $5
red means I've lowered it by 5-10 dollars. . . . That's alot considering that most things were only $20 to begin with.
I know I re-posted some of the things on hold. If they are on hold for you PLEASE SEND ME AN E-MAIL AT taichotoki@hotmail.com and in the subject line please write what is on hold for you! (i don't want to send the wrong things to the wrong people)

Star print JSK
Made myself. I just don't wear it. It's shirred all round so it'll fit a great variety of sizes. It's pretty and simple with two pockets. Add 6 inches to the size for the max bust and waist. You could probably take 3-4 inches away for the min size.
Bust 33in
Waist 27 in

SOLD
.
Green plaid skirt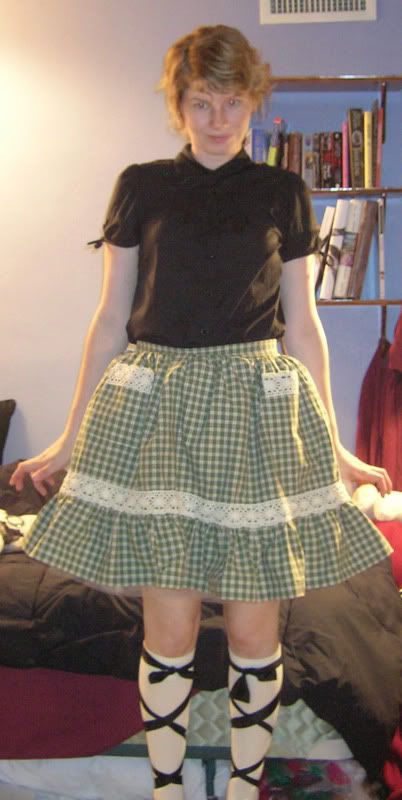 I made this with your help </a></b></a>
egl
! I asked for coodination advice witht he lace. The problem is that I don't have a shirt that goes with this! I'm sure another loli will do this much more justice then I! Since it was amde for myself it has no zipper. (I just pull things over my head and saftey pin them tight around my waist) It also has pockets. The plaid is green and ivory with a little bit of red. Ivory lace around the hem and pockets. (don't mind my ugly face) and it looks so much cuter with a petti that hasn't been rolled in a ball for the last month.
Wist is 32 in (I pin it into 28 normaly when I wear it)
$15


Red Aristocrat Top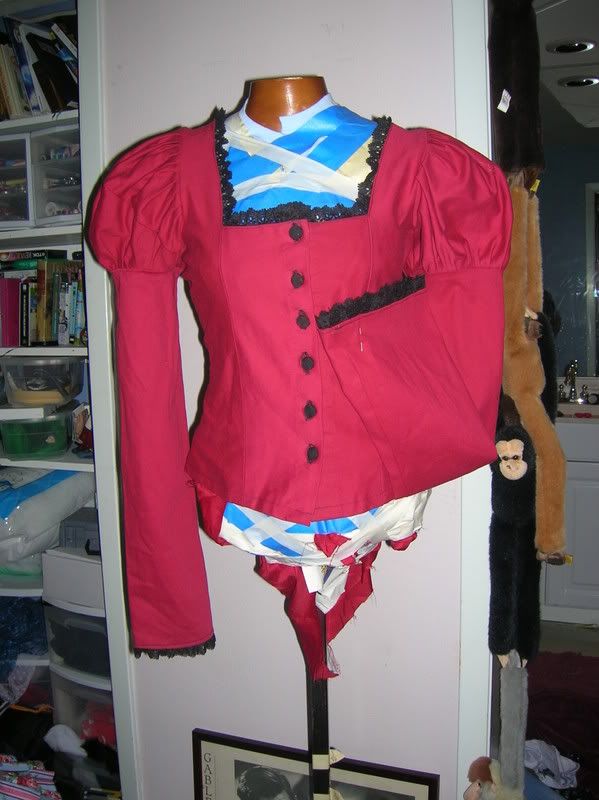 I made this a long time ago. . .and I've never worn it. I just have never made anything to match it! It's a pity becuse I think it's so pretty! I'ts been sitting around for 2 years in my closet!It has black lace trim and the fabric has a little stretch to it. It's really very nice. One of my favorites.
Bust 33-36
Waist 30-34
$25


Black Artistocrat Top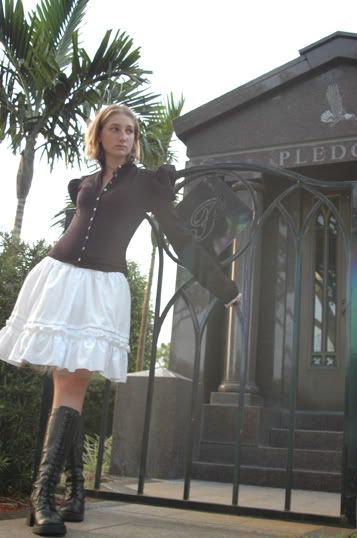 Once again something I made long ago but have never worn! I'm so sad becuse I love this so much, i just never ever wear it. (I did wear it once with jeans)
It's very fitted and hase nice fun puffy sleeves!The lace trim is very nice. It has a high collar and if anyone wants other pics just let me know.
Bust 33 in
Waist 27 inches
$25


Music Note Set


Perfect for Plus Sized lolis becuse of the elastic!A Skirt and matching Sock Topper set. My black blouse I can only wear under JSKs for gapping various reasons.As a result I have no top for this cute set! The skirt is adorably fluffy and the sock toppers are made from the same music note fabric as the stripe around the. Elastic waist in the skirt, elstic around the sock toppers. (made by me) (I also lost the bow but if I find it I'll toss it in)
Waist 27 in - 44 in max (it has elastic all the way around)
Sock toppers 12 in - 16 in (ditto to the skirt)

SOLD

Pink heart pocket skirt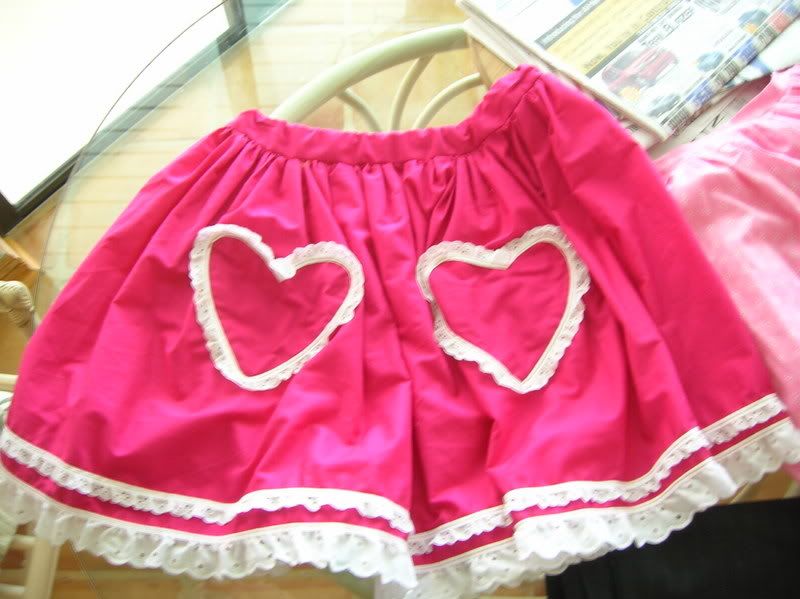 I just don't wear this anymore. Deep pink with white eyelet lace trim. Lace trimed pockets.
Waist 28in - 34 in (elastic waist)
HOLD

Black Pleated skirt w/ leggings

You've seen these too. A plain pleated skirt with leggings attatched (with buckles not rings) this has no zipper though. to big for me and since it's pleated it looks weird pinned smaller
Waist 35 in

SOLD
Red plaid vKei pants


You know these, red plaid pants with detatchable lower legs (held with D rings) and pleated panels in the front and the back (also with D rings) Has a fly with a zipper like normal pants and one back pocket (wallet sized) Made for a boy so they have croth space! (yay) Lots of work went into these and they are very nicly made (by myself
Waist 36 in (NOT A SIZE 36)
Hips also 36 in
SOLD






EVERYTHING PAST THIS IS FREE! YOU JUST PAY SHIPPING!


White Casual loli top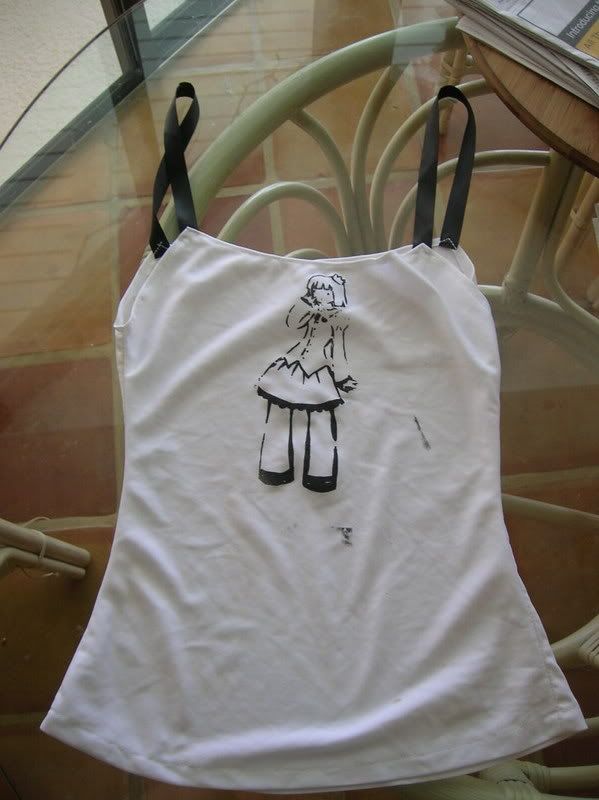 Made out of a weird silky fabric. the silk screen is messy to. I'll throw this away if no one wants it. . but if you do you can just pay shipping and have it for free.
Bust 24 in - 34
Waist 23 in - 32 in
HOLD


Mauve Plus sized casual loli top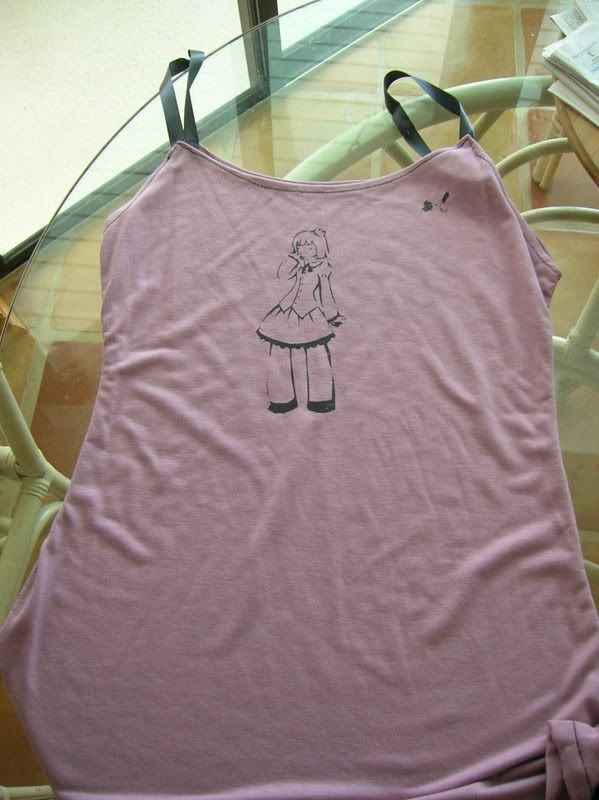 Silk screen is a little messy but other then that it's very cute! Black ribbon straps
Bust 35 in - 40 in
Waist 32 in - 38 in
HOLD


Purple casual top

Cross in black and white print. Black ribbon straps
Bust 26 in- 30 in
waist 24 in - 30 in
$3


Yellow casual Skirt

Casual skirt trimmed in maroon lace. Zipps closed. If no one wants it this time I'm going to throw it away. Also has a bow in back XD
Waist 32 in
HOLD



Ivory shoes
Tiny but oh so cute
Size 4
$3


Other things

I only accept paypal (I've had some confusion with mony orders before so i dont' do those anymore)
Feed back can be found on ebay (username taichotoki)
Please help me fund my one and only ever brand shopping spreee! (it's like a life dream)


Thank you for looking~!