Moi Meme Moitie blouse
Bust: 40in.
Shoulders: 15.5-16in.
Length: 21.5in.
Price: $95 shipped (w/in domestic U.S.)
I just bought this from closet child. I need money more now though so I'm selling it.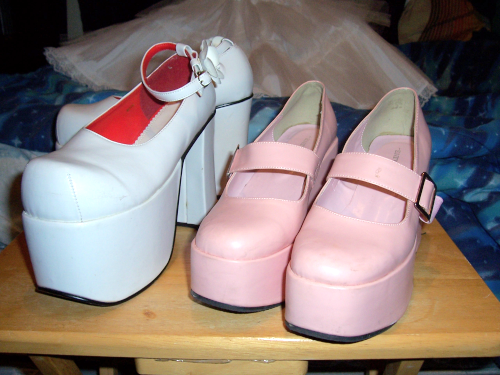 Pink Bodyline platforms
Size: L (insole measures 9in.)
Heel: approx. 4in.
Price: $40 shipped (w/in domestic U.S.)
I bought these used from
ichigonekosales. There is scuffing on the shoes but no indentation marks like on the An*ten*na ones. These don't have an actual buckle but an elasticized strap instead.
[Strap][Logo][Front][Side]



[sleeves 1][sleeves 2][Tag][Print]
Brand: H.anarchy
Length: approx. 25in
Bust: approx. 32-42in
Price: $75 shipped
I bought this used from closet child. There is some damage to the print I think. It's hard for me to tell sometimes with items like this. It does come with (unattached) original tags. The chains are in tip top shape with no rust or missing links.

Heart E cutsew
[logo]
Bust: 33-38in.
Waist: 30-36in.
Length: 17-18in.
Price: $35 shipped (w/in domestic U.S.)
This Heart E cutsew is pretty much NWOT. The previous owner only tried it on & it's the same case with me. SOLD TO
uiggu
Gloomy Bear keychains
I bought these gloomy bear keychains while in Fort Lauderdale for a con. I have pink & red only. 6.50 shipped apiece or $12 for both.
SOLD TO
cinnamonsugar
Banana Fish jacket
[Back tails][logo][pocket][tag]
Brand: Banana Fish
Length: approx. 27.5 in.
Bust: approx. 37-42in.
Price: $55 shipped
SOLD TO
syrenshaeda

Paypal only. I will ship internationally for an additional fee. Buy more than one item & save! My feedback list can be found here & my
loligoth_dbs feedback can be found here. I have kitties.