Here I am again with my MM cutsew -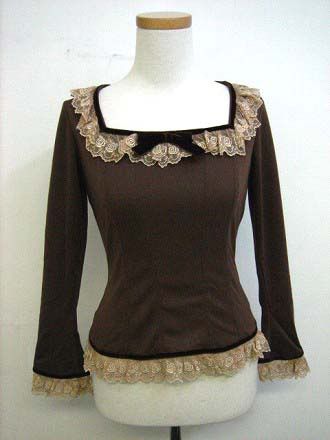 So after taking advice about coordinations in a previous post I'm ready to start looking for what's missing for an outfit, and that's about everything.
I won't be able to pay for anything before the beginning of May (the 5th I guess) but I'm posting right now because I would really like to wear this for my birthday on the 16th of May. So if you have items you are ready to hold for me it would be great. I'm a serious buyer, here's some feedback on my ebay account :
http://feedback.ebay.fr/ws/eBayISAPI.dll?ViewFeedback2&userid=clem-chan&ftab=AllFeedback&sspagename=STRK:ME:UFS
What I would like :
an antique white skirt, brand or non brand
I'm very tall (5'7) so I think that any skirt shorter than about 20-22" (50-55cm) would probably look stupid on me (I have long legs...)
Waist : ~ 29" (73cm)
My highest offer is 70$ but I guess I could consider a higher price if I really like the item.
a pair of brown or antique white shoes
considering my height again, take it easy on the heels - 3/4cm is ok, flat is good too
size : 39EU, that's 25cm
brand or non brand as well
Highest offer 70$ again I will consider depending on the offer.
(of course I consider lower prices lol)
I'm also looking for an antique white bag (brand or non brand), an antique white corsage, brown or antique white overknee socks (but then these are accessories).
Thank you ~ :)