Okay, here's the deal: I'm required to do a final project for one of my classes, and as I'm doing mine on lolita fashion, I thought I'd actually dress up for the class tomorrow. I don't feel confident enough to wear any of the skirts I've made myself to school, so I thought I'd wear this dress: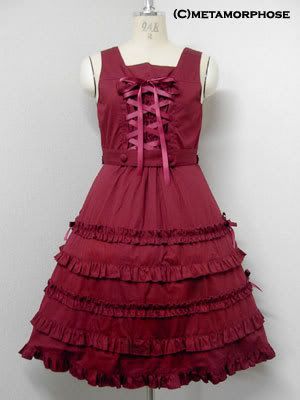 Do you think this would look better with A) a white, high-necked, long sleeved blouse B) a white blouse with short puffed sleeves and a sort of low-cut neckline that would be hidden beneath the dress, or C) a black, peter-pan collar long-sleeved blouse? Or none of the above? XD Also, if I were to wear a white blouse, do you think white rockinghorse shoes would look all right with this dress, or should I choose something a little more elegant?

Sorry for the lack of pictures, I hope you can picture the blouses based on my descriptions. If not, I can take pictures a little later on tonight.

I usually don't ask for this kind of help, but this is one time where I *really* don't want to misrepresent lolita in any way.