hey everyone~
well I was extremley excited to have my first chance to purchase something from Closet Child this week, and my dress arrived today!! on a Sunday! (the U.S. post doesn't usually deliver mail on sundays...)
I was extremley suprised, but extremley excited!!!! so I thought I would take some pics and share them....

the dress fits me beautifully. just perfect. I was afraid it would be too short, but the length is perfect~ *dances a happy dance*
and my dad of all people ecen exclaimed when I walked out of my bedroom about how awsome the dress was!!! I am on a happy high right now b/c both my parents LOVE the dress yaaaay~ finally a lolita dress they approve of and think is cool~
I can tell you, I think I iwll be buying more innocent world from now on! it fits great and is so pretty~

now you know you want to see pics b/c of how huge a dork I am!~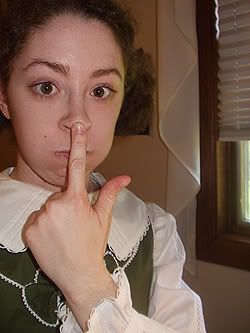 I LOVED this dress since it first came out last year at Innocent world, but I never got a chance to get it until Closet Child had it last week on their online shop. So I snatched it up! for such a great price!! only $107 with shipping!! I higjly reccomend using Closet Child! They are VERY nice! very easy to talk with. all in all I give them a
10 out of a 10
!!!!
bwahahaha Biscuit = dork to the extreme~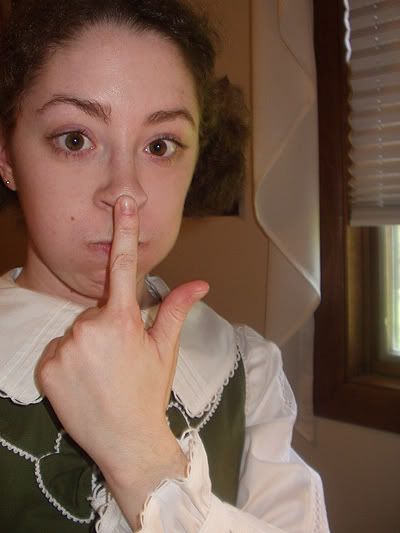 ok so my dad took these 2 pics....outside in 80 degrees (F). I was dying a slow death from all my layers.....
and I def. now see that i need a new petticoat!
the blouse I finally got to wear!
I have had it for 2 years (my mom bought it for me for X-mas last year). but I just have never found anything to wear it with. I think it goes decentley. i wsh the collar was a bit smaller...but on the whole I think it looks ok.....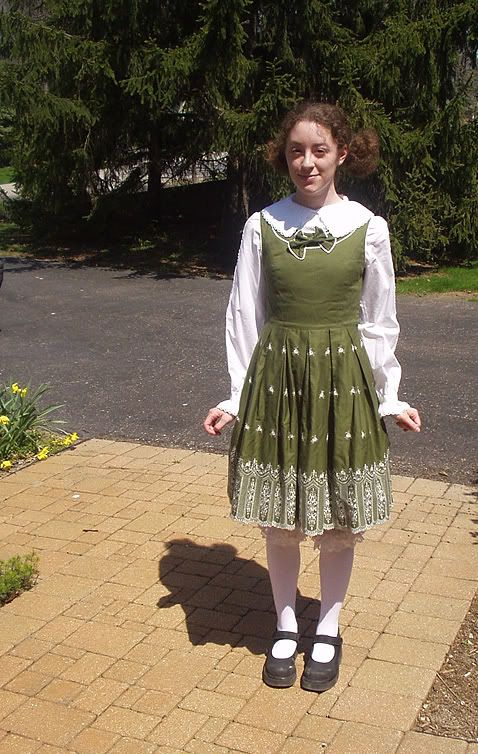 ew....ugly shoes. I need some new shoes. only brand shoes I have are red....and they uh....LOL don't really go with this dress......
fun story. While my dad was taking those two pics my neighbors and their kids were getting into their car....my dad went to talk to them while I took some "self portraits" and I could hear them commenting on such a "pretyy costume" LOL well my dad called me over...well I was embaressed b/c I wasn't wearing my glasses or contatcs and I about as blind as a bat without them. so, I walk over. and they all LOVED my outfit. They thought it was "beautiful~!" they all thought it was really cool, and the wife especially (in her late 30's) just loved my dress. she said she would love to get something like that in the mail XDD and they thought the fact that the entire outfit was from Japan was cool too.
so there is my dad in the background with them~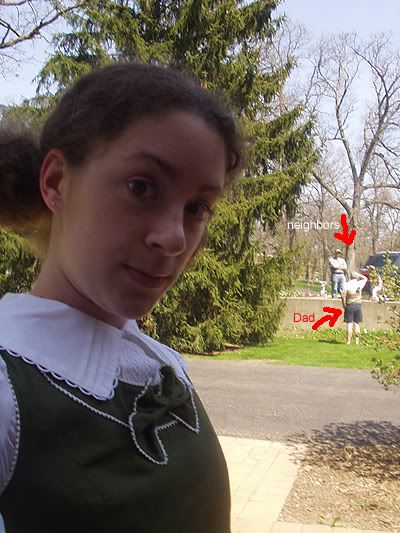 "self portrait" time~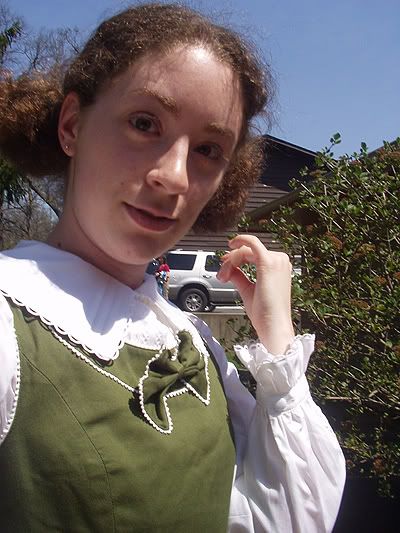 nyaaa~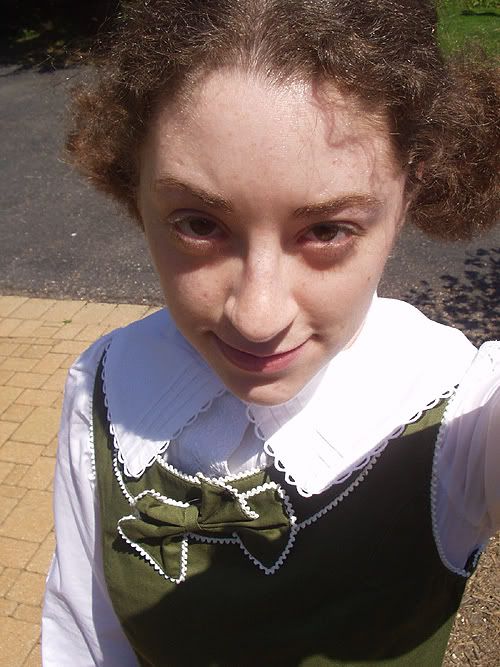 then I went inside b/c I was dying form the heat and had my mom take some pics.
which she was laying on the sofa so in the first pic I am kneeling. No! I'm not THAT short!!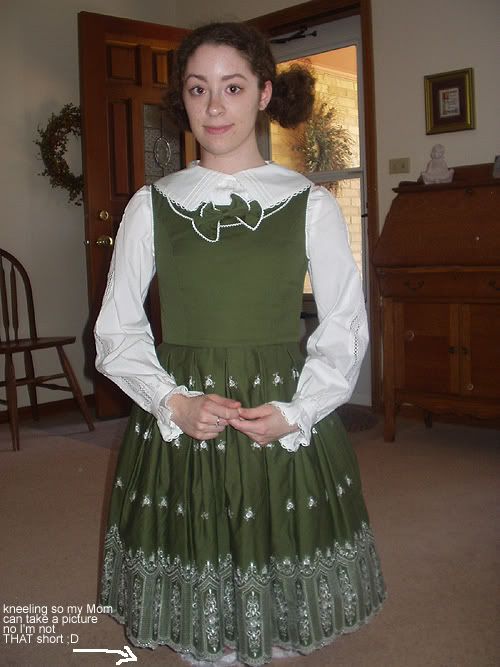 back pic......ok I was trying to be cute, but my face didn't quite cooperate...oh well..I guess we'll all live, ne?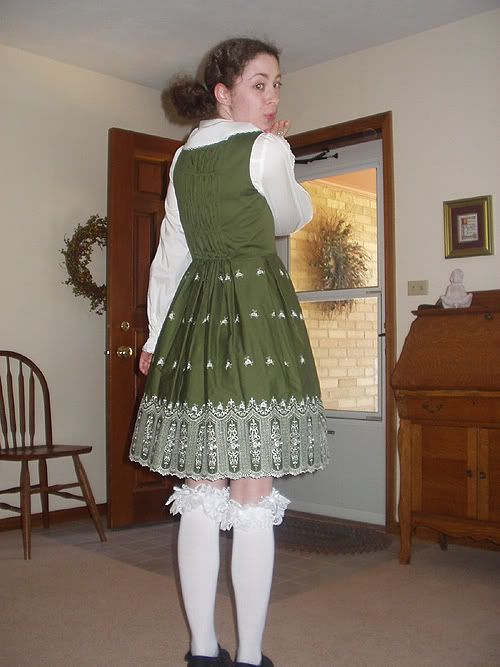 THE END~!

all in all I am VERY happy with the service I got from Closet Child and how wonderfully the dress fits and feels. It's all perfect.

and I know the socks aren't the best either.....I need knee high ones...those are overthe knee....uh so I pushed them doen *blushes*

OUTFIT RUN DOWN

JSK-

Innocent World

Blouse-

Metamorphose

Socks

- Metamorphose over the knee (pushed down)

Petticoat

- bodyline, must get new one (no bloomers b/c it was so hot and since I wasn't gong anywhere it diodn't matter....

shoes

- non-brand....had those shoes for about 7 years. I wore them to my 8th grade graduation LOL

hair:

ok bad hair day...so not the best for this outfit probably...

any hair ideas? i have a bob. what should I wear in my hair? should I straighten my hair, or let it POOF~ and what to wear in my hair? anything or go au natural~ (is that how you spell that?)


p.s. do you know how awkard it is having your dad takes pictures of you in lolita....when he usually doesn't? um...quite a bit akward..it's hard to pose "correctley".....
and no, that is not me in my icon. that is Kana......