Black Angelic Pretty JSK $150
Bought two years ago in Japan directly from the AP store. Worn two, maybe three times, it's been carefully packaged in storage for the most part.

Measurements:
Bust: 34-38"
Waist: 28-? (It has shirring in the back, but I haven't seen how far it can stretch...)
Hips: Free
Length (from top of strap to bottom of skirt): 36"

-----
Black and White Angelic Pretty Headdress $30 ($25 if purchased w/ JSK!)
Matching headress for the JSK, worn only once.

-----

Majenta Peace Now Skull Cutsew $40
Totally brand new, only removed from bag for this picture. T-shirt style with 3/4 sleeves, magenta color and skull logo. Size M.
-----
Black Baby the Stars Shine Bright Cutsew $45

Worn three or four times by me. I'm have a 34" bust, but the front part is elasticized (as you can tell from the pictures) and can stretch generously. White lace and a bow line the bust area, and black ruffles go up the sides of the collar area.
-----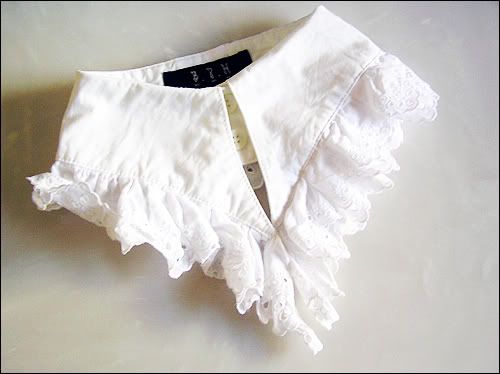 Black Peace Now Collar $30
or best offer
I bought this to fit a white blouse I ended up selling before this ever arrived. I've never worn it, so it's completely brand new. I forget how much I paid for it though, hence the best offer option.
-----
Shipping/Payment info: Shipping is not included in any of the prices, but all prices are (slightly!) negotiable. Trades will be considered, but are not guaranteed. I will ship anywhere in the world, however I am not responsible for item loss or damage during shipping. Insurance is optional, as is tracking. I accept all kinds of Paypal (+4% if using CC), eChecks, and money orders or checks (if you're in the US).
Thanks for looking!