*edit: Not aimed for people who could care less about the Gothic (non-loli) or Cyber Style in Japan and the people around it*
I don`t know if I should consider myself lucky or unlucky :X
Yesterday, after school I dropped by Harajuku to pick up comissioned items.
Now, I`ve gone to Tokyo Decadance once in my lifetime, and that was during March (for Annite). During this one event, I managed to become friends with a person called Machida (Destroy) and the Organizer, Adrien.
On my way back passing by BODYLINE, I am spotted and kidnapped till 5AM this morning by those two. I am scolded by Adrien for about 15 minutes; 10 minutes on my hairstyle (he hates it a lot and thinks I should get the Sisen haircut) and 5 minutes on why I didn`t tell him I was dropping by Harajuku.
The unlucky part is I am carrying about 20lbs. of items I didn`t want to carry all this to school tomorrow and to home :X (Which I had to do sadly)
The really awsome lucky "#%'()$#UTW#$ part was that there was Sisen right next to them. Apparently they were filming something for france and Sisen was introducing Harajuku. He comes in strutting in Kikirara and Takuya Angel. I have never seen a guy so rainbowy till now that I am blinded temporarily. I totally back away and start talking to Machida. I don`t talk to him until we`re inside Takuya Angel and he notices I`m speaking ever so perfect English with a guy who`s cantonese (and isin`t quite used to speaking Japanese). Btw, I`m here because Machida Destroy and Sisen are going to be in the flyer for the next Decadence and I am dragged by Adrien to keep a latex cap on someone`s head.
I get some chiropractic and I thought for a moment I would die (neck twisting = scary) while waiting for the photos to be finished. (God, Sisen and his little sexy poses XD)
There`s something called Gosurorikku night that Mandarake airs and I was kidnapped away to it after the Takuya Angel stuff is over.
And <3 Manamu-san is there :3 I honest to god loved those shoes she designed a long time back. (sadly I wasn`t rich enough back then (/_;))
And Sisen makes a flaw in Net-TV broadcast! *gasp* You`re technically only supposed to be talking to the people ON the screen and not OFF the screen XD Not sure if many are aware of it but there`s a big fire-show in the US. The guests this time were going to that and Sisen looks at me and goes "DO YOU KNOW?" I am all DD: and do a little panic dance behind the camera.
I am too retarded to bring a camera OR my cellphone that day so I have no photos ;A; I`m getting Sisen to send me the one he took so once I get that I shall upload :X (Should be around 3-5 more hours :X)
I`m pretty dead right now but thankfully tomorrow is no-school :3
Besides that, I want to show off the REALLY CUTE OMG TOOK FOREVER TO FIND YOU Tartan skirt by Super Lovers. (the jacket`s also superlovers too :3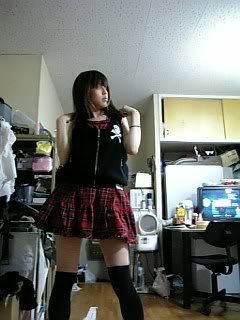 Taken from a low angle = makes you look fat :X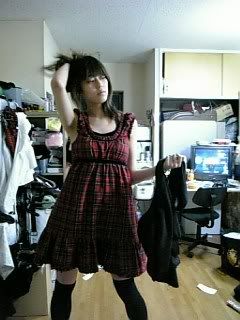 Taken from higher angle = better. But I still look fat :B
In the meantime, I got this bag with skulls instead of roses:
It`s really pretty and is the first "formal gothic" type bag I own:3
and I`ve already broken the strap I think :X
As the image, there are metal hoops that keep it in place. For some reason, one of them "Pops" off :X
See it`s connected....
and when I twist it a little bit, it pops off.
Is there some way to get it back on and keep it still on?
Do bag-fixer people exist? if so, do you think they can do this for me? :X
Machida Destroy`s Strawberry hair make TOTALLY inspired me on this one:
This being the inspiration. SO CUTE ;A; I want this done to my hair :X