Hello Everyone,


It's that time of year again when the flowers poke their heads out of the ground and it's time to tie back my hair and get some spring cleaning done. In the process of cleaning out my closet I decided it's time to let go of some rarely worn pieces. Shipping is dependent of wear you live. I'll ship worldwide. You can see my 100% positive feedback (264 feedback in all) on ebay under my name bunny_bri.

The first item up is two pieces from the Meta Antique Bouquet set in brown. These two pieces are brand new with the tags still attached. I can even send it in the meta bag they came in if you wish. The skirt fits my 28 inch waist pretty comfortably utilizing some of the elastic stretch so it could probably go slightly larger and definitely smaller.



I'll part with this set for $130.00.


The second item is a Milky Ange replica dress. This was worn once for less than 1 hour. It is a size small which is 34-36 inch bust and 25-28 inch waist. It has corset ties down the side that can be taken in or out for a more precise fit. This is made out of a medium weight cotton which makes it slightly heavier than your average brand dress. I bought this dress go for $130.00 - it is almost like new so I'd like at least $110.00 for it.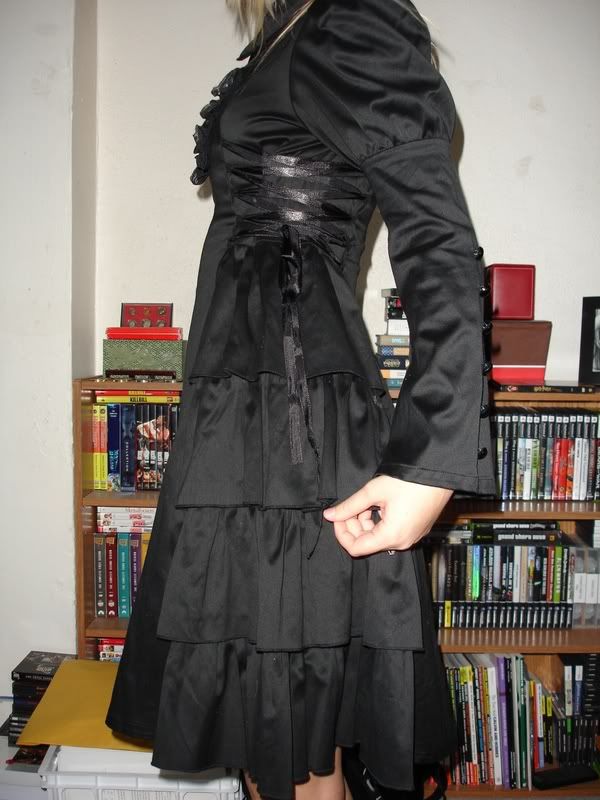 The next item up for grabs is a Lolita wig. This wig was made by wig master Katie Bair. It's a lovely blonde color and the ringlets are very soft and full of bounce. The curls are very long reaching about mid back. The curls are easy to keep in shape. This wig is brand new, never worn, and can be yours for $50.00




The last item isn't really Lolita but, I know there are some people on here who may be interested. :) This is a Rave Kitty wig also made by the wig master Katie Bair. This wig has some unique aspects to it and there aren't any others like it! This wig is also another easy one to take care of. It's very short and has no length in the back to keep it light. This wig is $60.00





If you have any questions please feel free to post them here or e-mail me directly!
Happy Shopping!
Brie