LOOKING FOR QUICK SALES! So please make offers on the prices if you like!

I'll accept payment via bank deposit (Australian) and also via Paypal (if you're paying via credit card, you'll have to pay for the paypal fees - 4%)

*ALL PRICES ARE IN AUSTRALIAN DOLLARS!

I have feedback on ebay under user id: pink_plasticgun

Email: thegirlrapes at gmail dot com

**Please comment with your email & I'll email you ASAP!

***Please note prices do not include postage

- $7.20 for express 500g (Australia)
- $10.10 for express 3kg (Australia)
Meet up also available for bulky items such as magazines in Sydney,Town Hall or Oxford St area on weekends.

International Postage varies according to weight, please comment with your contact details!



- Metamorphose White Rose Skirt With Detachable Bustle - $95AUD ON HOLD!


Measurements:
Length: 19 inches, Elastic waist: 24 to 29inch (max 30 but might be quite uncomfortable)
Purchased from Closet Child, has a pen mark 45mm long.
But it is really not noticeable when worn. I had to spend quite some time looking for it before i found it.

This will be shipped in a box to keep it fluffy, so postage will be quite abit more!


- Banana Fish Pink Tee - $35AUD - SOLD!


Measurements:
Length:22, Chest: 34 inches, Sleeves: 4 inches
Great condition, I've only worn it once but it's too pink for me.



- Banana Fish Velvet Alice Tote Bag - MAKE AN OFFER!


Measurements:
Length: 13 X 13 x 4.5 (deep), Straps: 23 inches (fits A4)
Great condition, beautiful black velvet with gold foil print and is lined on the inside.
Retails at over $60usd? Bought from another egl member last year.


- Banana Fish Cropped Short Sleeve Jacket - $180AUD


Measurements:
Length:20.5, Chest: 32 inches, Sleeves: 5.5 inches
Brand new! I've tried it on but never got a chance to wear it at all.
I think it's from the previous winter collection, purchased it last year towards the end of the year.
It's lined in red, really warm and the high collar is beautiful.
I'll love to keep it but I don't know what to wear it with.



-Refuse to be Usual Glove Hand Dress - $45AUD SOLD!


Measurements:
Length: 31, Chest: 32 - 34, Waist: 28
Is lined and is quite poofy without a petticoat underneath. Worn it once or twice but it's still in great condition.


-Gothic Lolita Handmade no. 2045 - $19AUD - SOLD!


Brand new, only looked at it briefly. Patterns are not cut up etc.


POSSIBLE SALES

-Black Lolita Lola Rocking Horse Shoes in size 6 - $95?AUD
I haven't got photos of this but they have only been tried on and they don't fit
(i can't velcro up the straps as they are too long & keep falling off)
If someone is interested, i'll be glad to sell them.

- H Naoto Black Long Sleeves Top - Make an Offer!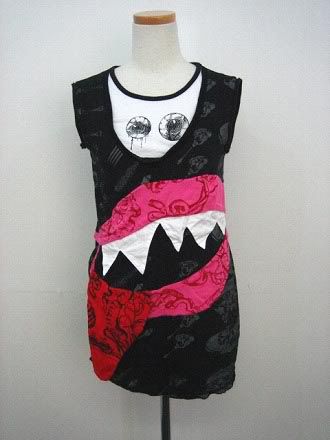 Bought from Closet Child last year, have worn it once. Will sell if I get a high enough offer.


Remember, you can make me an offer if you don't like the prices but please be reasonable.
Most of the prices are the lowest I can go, I'm already making a loss on most of them.

I might trade for:
- anything else that is Banana Fish (not tees or tights though)
- H Naoto / Gouk
- Suppurate System

I have alot of other Japanese magazines mainly Cutie/Mini in my livejournal & also selling alot of non egl related things if anyone is interested in combining postage.


EMAIL ME if you have any enquries etc.