I accept Paypal of all sorts, but I will ask for you to cover the fee for CCPaypal - please calculate at ppcalc.com! =) International buyers, please ask me about shipping.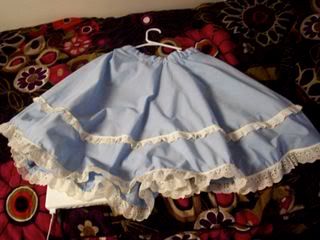 Grave Creations BluexWhite Skirt - SOLD
Elastic waist, made for a 29" waist, but I didn't tell them my hips, so it's a bit of a squeeze to get on for me - I would recommend hips no larger than my own - 36"
$20 including shipping in US.


ITS BluexWhite Headbow - SOLD
Modeled after this one from Meta, only on a headband. =) Matches the skirt above well.
$12 including shipping in US.

Rakuen Black Petticoat - SOLD
Very stretchy waist - Measuring flat, 22" min, 40"ish max for the waist.
Good for lesser amounts of poof - I have newer pettis on the way, so I'm passing this on!
$12 including shipping in US.