Time to sell off things that I don't use/need !!

Prices do not include shipping.
Shipping will be maximum 8.10 within the US, including Alaska and Hawaii, but is not likely to exceed 5$. Er. That was leftover from my other sales post. JSK, jacket are a tad heavy, so more like 6-7$. Everything else is light enough and would probably fit in a small flat rate envelope (4.05 USD)
Global rates will range from 4.25 to max 9.50, except perhaps for the white tiered skirt.
I take paypal, money order or concealed cash (US only).
If you are paying by paypal, please comment whether it is credit card or not. Fee for credit card paypal is not included.
Feel free to make your own offers.
If more than one person is interested, I will take best offer.

I have feedback here, here, and here.


infamous Hot Topic Jumperskirt - 55$ Sold!
The infamous Hot Topic jumperskirt that is probably the most loli thing to come out of that store. The laces are all good quality cotton laces. I think it's actually a rip off of an Angelic Pretty design or so some say. There are ladder laces going up the front and on the upper part, more ladder laces and ribbons are woven to the top and tied in a bow with a line of flower design lace going up the middle. The inside of the neck also has lace trim. I took out the original ribbons but they started to fray, so I've replaced them and some other ribbons that I sealed up myself. The bottom is circled by two more rows of laces. Actually, it's supposed to be three, but for some reason mine is two. I prefer it that way actually. There's a waist tie that goes from the ladder laces and ties in the back. The material is slighty stretchy. It's so cute actually.. I'm getting a Candy Violet classic set, so that's why I'm selling it.. but if I was rich, I wouldn't let go of it!

Bust - 35", but should accomdate 36 comfortably because it's stretchy. Could fit maybe 37 or 38, but it might not look as good/be uncomfortable, so I don't recommend it.
Waist - 30"
back
bottom laces detail
ribbon and upper laces detail
Beth (Victorian Maiden)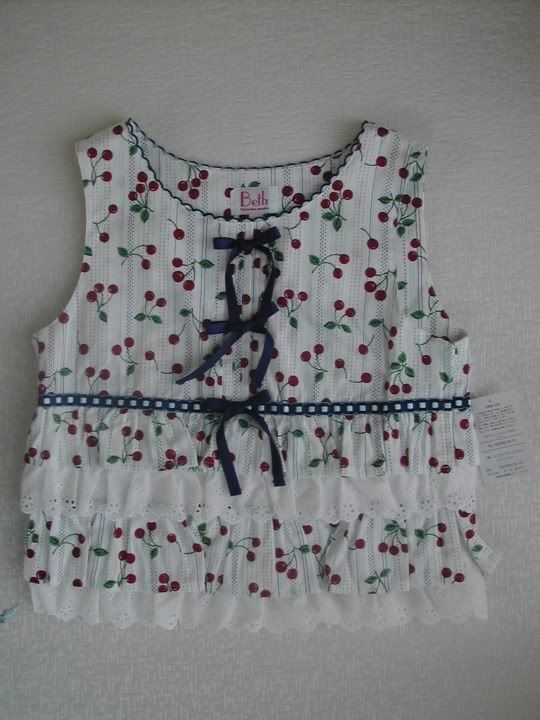 Dobby Cherry Sleeveless Frill Blouse (Blue)- 50$
Original price - 12,600 yen

Here's the original page page for some good shots.

Sleeveless blouse in the blue version of the cherry print~ The bottom is trimmed four tiers of alternating wide eyelet lace and cherry print fabric. Before the tiers is a blue ribbon with wide blocks of white thread sewn in. Down the center front are three ribbon bows and subtle vertical pintucks. And the collar is white scalloped edged in blue thread. The cherry print is cherries with different stripes of blue, blue dots, and raised thread. From the armpit down, there is a side zipper. It's also lined from the blue ribbon down until the last tier of lace.


From the website: 着丈 45cm or 17.7", length
バスト 85cm or 33.4in, bust
back
lace detail
cherry print detail and ribbon detail (the white part in the blue ribbon is actually thread)
close up of collar and tag
another close up of cherry print and ribbon and price tag
unzipped and shot of inside lining
For more pictures: http://www.victorianmaiden.com/beth/catalogue/tops/cherry-bl.html

Peace Now



Shirt with straps - 40$
shirt with spider web word design and two eyelet straps crisscrossed and tied with hoops at the side

Bust - 35"
Waist - pretty much same as bust
Length - 21.5"
Shoulder length- 14.5"
Sleeve length - 3.5"
horrible picture of it being worn
worn, closer up
front, design
back
More pictures: http://osakaneko-sales.livejournal.com/20923.html#cutid1

Auction


starting at 5$, ends 4/20 11:59pm ESTSold!
I won this thing at the ridiculous price of 5$ plus 5~$ shipping and I think it's worth at least 15$. The buttons are a little unevenly spaced, but other than that, it's a pretty good jacket. I've never really worn it, so I would rather this go to someone who would use it. It's wool, puffed sleeves, has a waist tie and the hood is lined.


Bust - 34", the seller's original measurement is 32", but I find it closer to 34~35".. however, you will probably want to leave some room for clothes
underneathback



Would anyone be interested in these chirimen (type of kimono fabric) double heart hair pins? If so, how much would you be willing to pay for them?



Also would anyone be interested in this? I'd sell it for like 30$, but I have to fix the eyelet lace a little bit, since some of the thread on some of the eyelet holes is coming loose. "Simple black skirt with black ribbon eyelet lace and wide eyelet lace trim at the bottom by
seeinglife. "

Waist - 35~37" is probably the most you'd want to stretch this out to be comfortable... the waist actually stretches up to 50", but somehow, I don't think it would feel too good.
lace detail