So I used Celga as a shopping service for Yahoo!Japan auctions! They were friendly and very patient with me, although I kept emailing them since it was my first time using a shopping service and was overall excited!

The shipping came very fast, and everything was packaged neatly in its own little bag-I found it neat that my name was all on them and the auction url was also. They were really easy to use, and I'd definitely recommend and use them again! I give them an A++++++++++!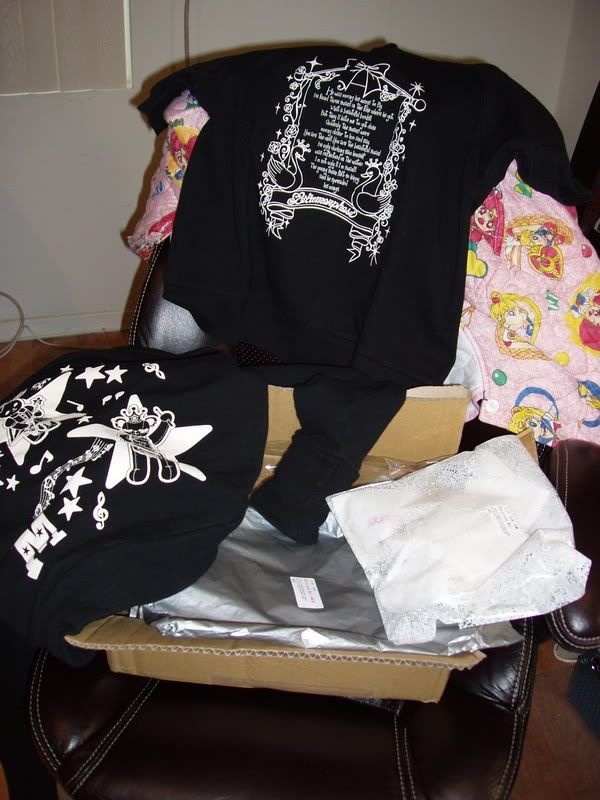 left to right: punkma band hoodie, ugly ducking hoodie, baby socks (in bag) and if anyone is curious, sailor moon robe underneath >_>

Now as for my items, I received the Meta Punkma Band hoodie, Meta Ugly duckling cutsew/hoodie, and white Baby socks.

I immediately wore the punkma hoodie, and it fits perfectly! I honestly think the max bust that would be most comfortable in it would be 35" or 36", and it is definitely a good casual piece in and out of lolita!

I do have a question though, is the ugly duckling one meant more as a hoodie over a shirt or it can be worn as a shirt and maybe a camisole underneath? I can't tell, and it's a bit tight with a shirt under.