I really need to sell these things to put some money back into the bank account and to save up for an expensive concert coming up in the future. So even though I'd like to keep many things, they must go. >____<

*Whoever can pay first with paypal gets the item. I'm sorry about that.
*These prices don't include shipping, but I can negotiate on some items if it's reasonable.




Baby the Stars Shine Bright Capelet and Lollipop Set
Price: $46.00
Comment: This capelet is very well made and detailed. The collar has rose stitchings, and a hook and ribbon to tie and rest safely on your shoulders.
The lollipop, I have no clue the flavour seeing as how it's in it's original wrapping. XD It says Baby on it.
Never worn.




Visible Frill Blouse and Capelet Set
Price: $120.00
Comment: This blouse is one of my prized possessions, but I also need to let this go. This blouse is a beautiful blouse, and good for this season because of it's short sleeves. The collar is lined with layers of lace, and then it goes down the shirt and covers the buttons. The bottom and sleeves have beautiful trimming and veil like material attached to it. The sleeves are puffy. And you can tie a ribbon in the back. It's a size M. The capelet is made to match.
Worn once outside without capelet.




Putumayo Alice T-Shirt
Price: $29.00
Comment: Black t-shirt showing the scene of Alice with the caterpillar. Made of cotton. It's a size M, but it's stretchy and comfortable. Good for casual wear.
Worn a few times outside but taken good care of.




Putumayo Alice Long Parka
Price: $45.00
Comment: Pink long parka with pictures of a tea pot on front, and on back, alice with the words "Secret tea Party." Good for casual wear. Has pockets in front. Really nice for spring season.
Worn twice outside and taken good care of. SOLD




Putumayo WhitexPink Cutsew
Price: $38.00
Comment: Cute cutsew with pink print of cat on a tombstone. You lace up the front and tie around your neck. The sleeves are puffy. Comes with tag.
Only tried on inside, and I was waiting to get my hands on a cute skirt to go with it but I must let it go now. ;_____;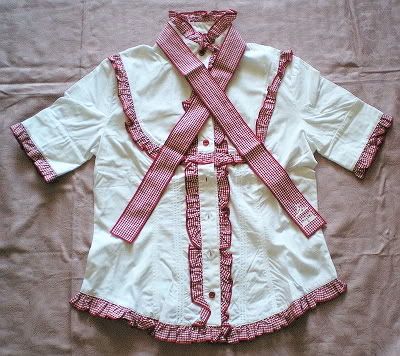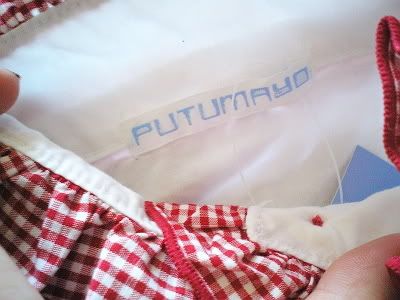 Putumayo Red Gingham Blouse
Price: $50.00
Comment: I tried to sell this a few times already, lowering the price each time. And now it went from $80 in the beginning to $50, a real bargain. But I need to sell this, so please, I hope somebody will like it. Comes with a tie/ribbon to go around the neck. Comes with tag.
Only tried on inside.


Any questions, comment away~! I am looking to sell all of this, so please help me!
And if you're curious about shipping, please ask with the country you live in or zip code if you live in the US.

Thank you and have a nice day!