Note: Please excuse the photo quality in comparison to my other sales posts -- I decided to try out my new digital camera and I'm still not quite used to its settings yet. (Which is the same camera that miffytoki has up for sale -- the red Casio Exilim -- if you were ever curious about the quality).

Angelic Pretty Pink Tartan JSK
This dress is very similar to the current Angelic Pretty tartan JSK listed on their site with the side waist ties and lace-up front bodice. It's a dark pink-reddish color, of which the fabric is in excellent condition with the exception of the stains (read below).

It also seems that this JSK is one of their larger tartan JSK's. I personally own the Heart Pocket JSK and last spring's halter-styled tartan JSK, both of which have smaller measurements than this one. The shoulder straps are also stretchy and have elastic in them.

I took this super cute dress to the drycleaners and spent a bit on it to be cleaned (just picked it up yesterday!), but they couldn't get out the stains unfortunately. T_T;; Granted, it's freshly clean -- but I'm too afraid to try spot stain remover, especially on the tartan areas of the fabric. There are 2 larger areas of staining (1/2 inch in diameter) and two tiny ones (1/8 inch in diameter) that are only seen if you look super close.

Thus, the lower price for this JSK reflects this.

Angelic Pretty Link: http://www.angelicpretty.com/shopping/jsk/72j-2243.html

Measurements:
Bust: approx. 17 inches across
Waist: approx. 14.5 inches across
Length: approx. 35 inches long

Yes; the jumperskirt's measurements can be adjusted tighter if you use the ties on the side of the dress.

Price: $135 USD SOLD!

Shipping: $8.60 USD Priority Mail + Delivery Confirmation
International buyers; please inquire for Global Priority Mail costs.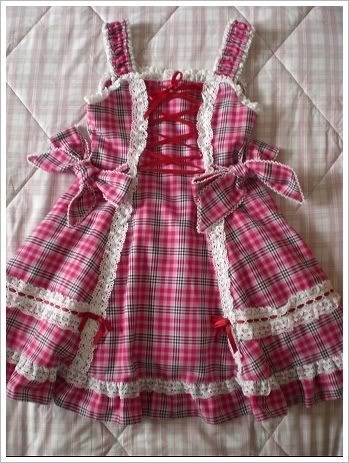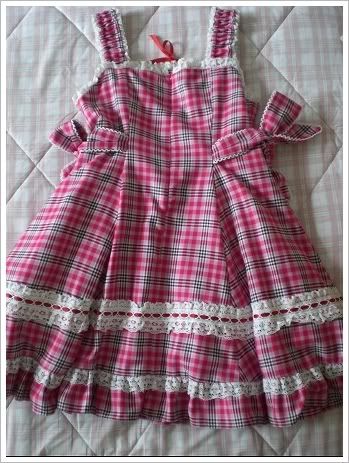 Here's another photo of the dress in full that show the location of the stains along with close-up's...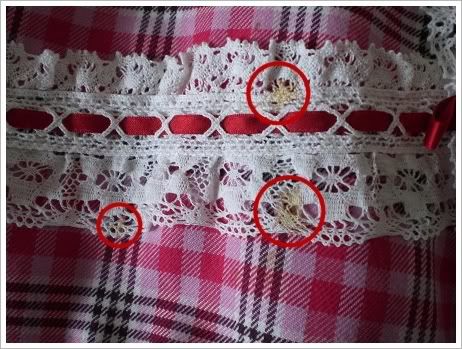 Metamorphose Cafe Teddy Patch Skirt - Red Tartan
I just received this beautiful skirt last night from an individual on EGL but alas, it's too short for me (I'm 5'7")! (Which definitely sucks because I was so excited about this skirt!) It seems to be in beautiful condition and has a half-elastic waistband and waist ties. The teddy patch is really cute and detailed!

However, please note that this is just for the skirt -- I've kept the bloomers so you won't be getting those!

Meta's link: http://www.metamorphose.gr.jp/onlineshop_eng/skirts/106402040059.php?ssid=132e21181073753826

Measurements:
Waist: approx. 25 inches (unstretched) to approx. 27 inches (stretched) -- I might even guess 28, but I'm not sure how it'll look.
Length: approx. 16.5 inches long

Price: $75 USD SOLD!

Shipping: $4.55 USD Priority Mail + Delivery Confirmation within the U.S.
International buyers; please inquire about shipping costs via Global Priority.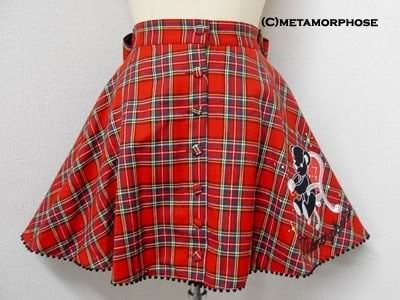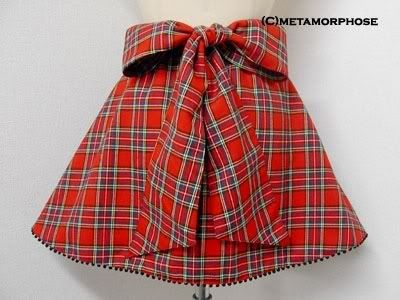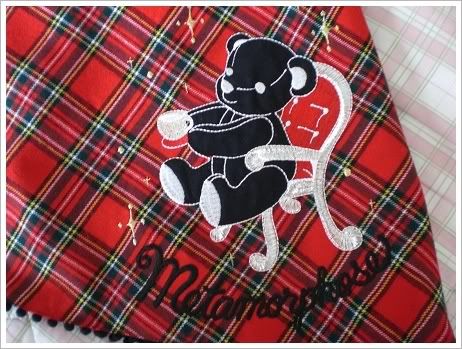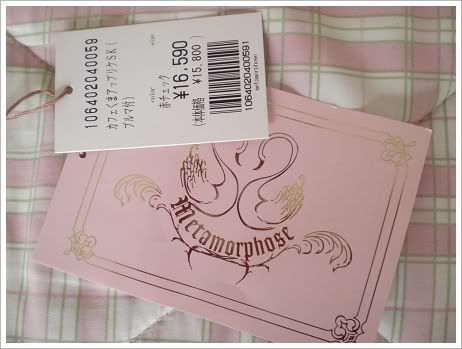 Payment types: Paypal!
Credit card Paypal'ers are responsible for 4% fees!