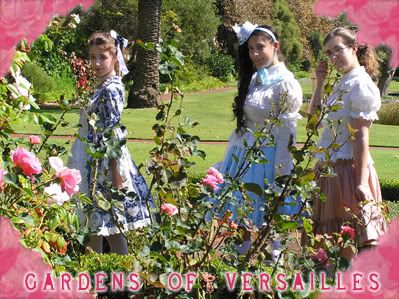 Featuring
jasmineflame as la Princess de Lamballe


skwerlie as la Duchesse du Polignac




And
skyewishes as Queen Marie Antoinette of France.




*~*~*




The Queen and her companions enjoy the heady scent of late blooming roses.




Each dressed in the latest Court fashions




The lakes are full of lily pads




Oh look! A lotus flower.




The gardens are an excellent place to share gossip




And rumours spread faster than the climbing vines!




Although it seems like paradise




You can never quite be sure who your true friends are




Its all a game really




Autumn is coming to Versailles




How beautiful the willows are




And the topiaries, elegant swans




Though not as dear as the real thing




Solitude is often required for thought




It has been such a long day.

*~*~*

Thanks to
jasmineflame and
skwerlie for coming along today and giving me an excuse to wear my new Marie Antoinette OP! Thanks also to our photographers, Eugene and Wilson for following us around all day. Next time I will remember the parasols! This photoshoot was so much fun! And we had a lovely little picnic too. The location, for those who are interested is the Queen's Gardens, in Perth.

Outfit credits


jasmineflame: BABY blouse, Handmade skirt, Handmade bows.

skwerlie: BABY blouse, Candy Violet skirt and Mini Hat

skyewishes: BABY One Piece, Rose Chocolat Shoes, Handmade headdress

Please visit my website for more images
http://www.princessportal.com