Hello Everyone,
I am doing a MASSIVE closet clean out. Please excuse the terrible quality of some of the photos. Photos of items I haven't had up for sale until now were taken on my bed quickly. I just want get rid of things, so I didn't exactly take my time. If you really need better pictures I can take them. If you do not like a price, make an offer!

Paypal only to Paranoia.chan@gmail.com
Shipping is not included. Tell me your zip code/country so it can be calculated.



Seller's Photo
My Terrible Photo
h. Naoto Shirt Dress
Free Size, mostly
Price: $23
Fits small to XL, ment to be baggy but can be worn tight up to 44in bust. I LOVE this but it just doesn't suit me. Worn twice, still have tags if you want them.



Back
Fabric
Waist: 14-17 inches flat, can go smaller due to ties
Price: $35
Shown with out a petti. Half elasticized waist. Includes head bow and tie for free! I am only charging for materials since I rushed a lot on the construction and it is used. The flaws in construction are NOT noticable when worn. The materials are high quality printed cotton and cotton cluny lace. This was made to look like the Meta Sweets line but I have a real meta sweets dress on the way so I do not need this anymore.



Gloomy Bear Hoodie by Kats
Size L-2XL
Price: $20
SOO cute! I love it but it just doesn't suit me. Good condition.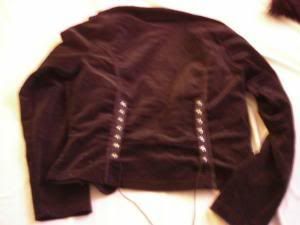 Lip Service Jacket
Size L
Price: $10
This was the jacket many people said could be very slightly altered to look like an antique beast replica. I never got around to doing it myself, and I have WAY to many jackets.



Wine Colored Morbid Threads Top
Size M-L
Price: $10
I LOVE this top but it is just too tight on my bust. Very good condition, just wrinkled. Will be washed/ironed. Has heart buttons and pintucks down the front. Bows on the small puff sleeves.



Putumayo like Lipservice Top
Size XL
Price: $8
Has white on white stripes. Very Cute print with skull. Small safety pin holes. Used but okay conditon. Very Putumayo like! Nice puff sleeves.



Fun House Tulle Skirt
Size: L-XL
Price: $8
Used Condition. Would make a good casual petti. Very cute! Lace is soft cotton.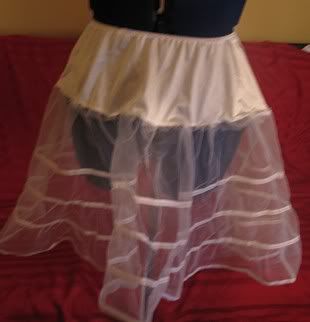 White Petticoat
Was a squaredance petti, like this one, top layer was removed to give it a lolita bell shape.
Waist: 25-32in
Price: $8

Also, PLEASE PLEASE PLEASE check out my journal! I have added so many things and will probably put more up soon! I really need to get rid of EVERYTHING. I am also having a lucky box promotion, and all orders over $15 get free accessories. Thanks so much for your interest!

http://i48.photobucket.com/albums/f228/Para_Sales/banner.jpg
Click the banner or here to see!