Hi :) I am selling a Shirley Temple Ichigo skirt and

Atelier Pierrot Shirt. Shirley Temple skirt is here

SOLD
This skirt is really cute! It has ichigo prints on it and it is elastic waist.
The waist is 25 inch~34 inch. I am US size 8 and it fits me good :)
This skirt is 51cm long. Its size is 160. (Shirley Temple's size goes
by height) I am 165 cm and it goes about my knee.
The price for this skirt will be $50 US including shipping to Canada and the US.
I am living in Canada, so people who live in Canada will get it faster :)
And you have to know it is used! because I wore it once last year.
If you would like to see the brand tag and details, you can go to
following links.

http://i178.photobucket.com/albums/w260/miya_1986/skirtdetail2.jpg
Ichigo Prints detail

http://i178.photobucket.com/albums/w260/miya_1986/skirtdetail.jpg
elastic waist on the back side of the skirt

http://i178.photobucket.com/albums/w260/miya_1986/tag2.jpg
brand tag Shirley Temple
My second item is Atelier Pierrot Shirt.

It is very cute with the Shirley Temple skirt :)
SOLD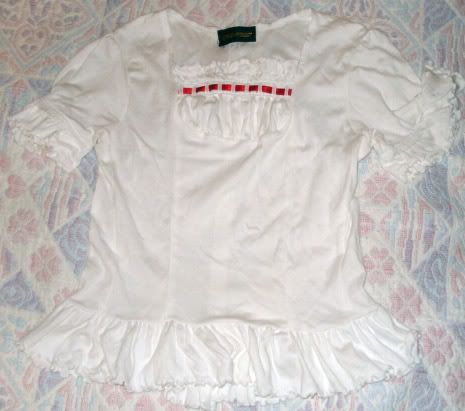 This is very good for summer, and it stretches pretty good.
The bust size is for this shirt is around 32inch~40inches.
I think anyone can wear this since it stretches pretty good..
and the total length for this shirt is 53cm.
It is a good length when you wear it with your skirt.
This shirt is $35 US including shipping to Canada and the US.
You can see the detail in below links.

http://i178.photobucket.com/albums/w260/miya_1986/shirtdetail2.jpg
http://i178.photobucket.com/albums/w260/miya_1986/shirtdetail.jpg
http://i178.photobucket.com/albums/w260/miya_1986/tag.jpg


This is photo of me wearing the skirt and the shirt together when I went to Japan:)
I have only worn them once last summer because I needed
lolita cloth once for special occasion... (I went to a concert
and most fans for this band wears lolita XD)

IF YOU'D LIKE TO PURCHASE THEM TOGETHER I WILL MAKE THEM $80US! :)

You can only pay me with PAYPAL.
I will let you know my e-mail address when you want to purchase them.
I will ship on Monday if they are sold during this weekend..
I will send you the product a day after I receive your payment.

Thank you!

This post has been deleted from btssb.